Tips:
1. Please read this manual carefully for using GLA10 correctly.
2. Please scan the QR code or log in to our website to get the G-code file that GLA10 needs.
3. Please pay attention to safety when leveling the GLA10 hot bed, so as not to hurt your fingers by the moving hot end.
Leveling Preparation
1. Insert the attached CR2032 battery in the battery holder on the GLA10. Please be careful not to install the wrong positive and negative poles when installing the battery.
2. Please enter the URL https://www.geeetech.com/wiki/index.php/GLA10 in the browser, or scan the QR code below to visit our website. Then download the GLA10 related G- code file. We provide the corresponding G-codes for different hotbed sizes. The files with the "Level" mark are the leveling auxiliary files, and the G-code files with the "Test" mark are the test files after the adjustment is completed.
3. Please select the correct G-code file according to the size of your 3D printer heat bed, copy the G-code to the Micro SD card and insert it into the printer.
4. Please clean up the residual filament on the nozzle so as not to affect the leveling accuracy.
Start Leveling
1. Power on the 3D printer, select the leveling auxiliary G-code pre-installed in the Micro SD, and start the hotbed leveling.The leveling auxiliary G-code will pause at the four corners of the hot bed for 25s respectively. After 25s, the nozzle will move to the next point. After the pause at the fourth corners, the printer will exit the leveling.
2. After the leveling starts, the nozzle of the printer will automatically lift a certain distance. At this time, please place the end of the GLA10 with a cross pattern under the nozzle, and ensure that the nozzle is directly above the cross pattern of the GLA10.
3. At this time, please press and fix the other end of the GLA10 with one hand, and then quickly adjust the bot bed leveling nut corresponding to the current position of the nozzle with the other hand. When you see the green LED on the GLA10 just lights up, it means the current height of the hot bed is just right. Now, please take out the GLA10 and wait for the hot end moving to the next point. Pay attention that the GLA10 just lights up at all four corners of the hot bed;
4. After leveling, please use the downloaded test G-code to verify the leveling effect.
5. If any problem is found during the leveling test, please re-level the hot bed.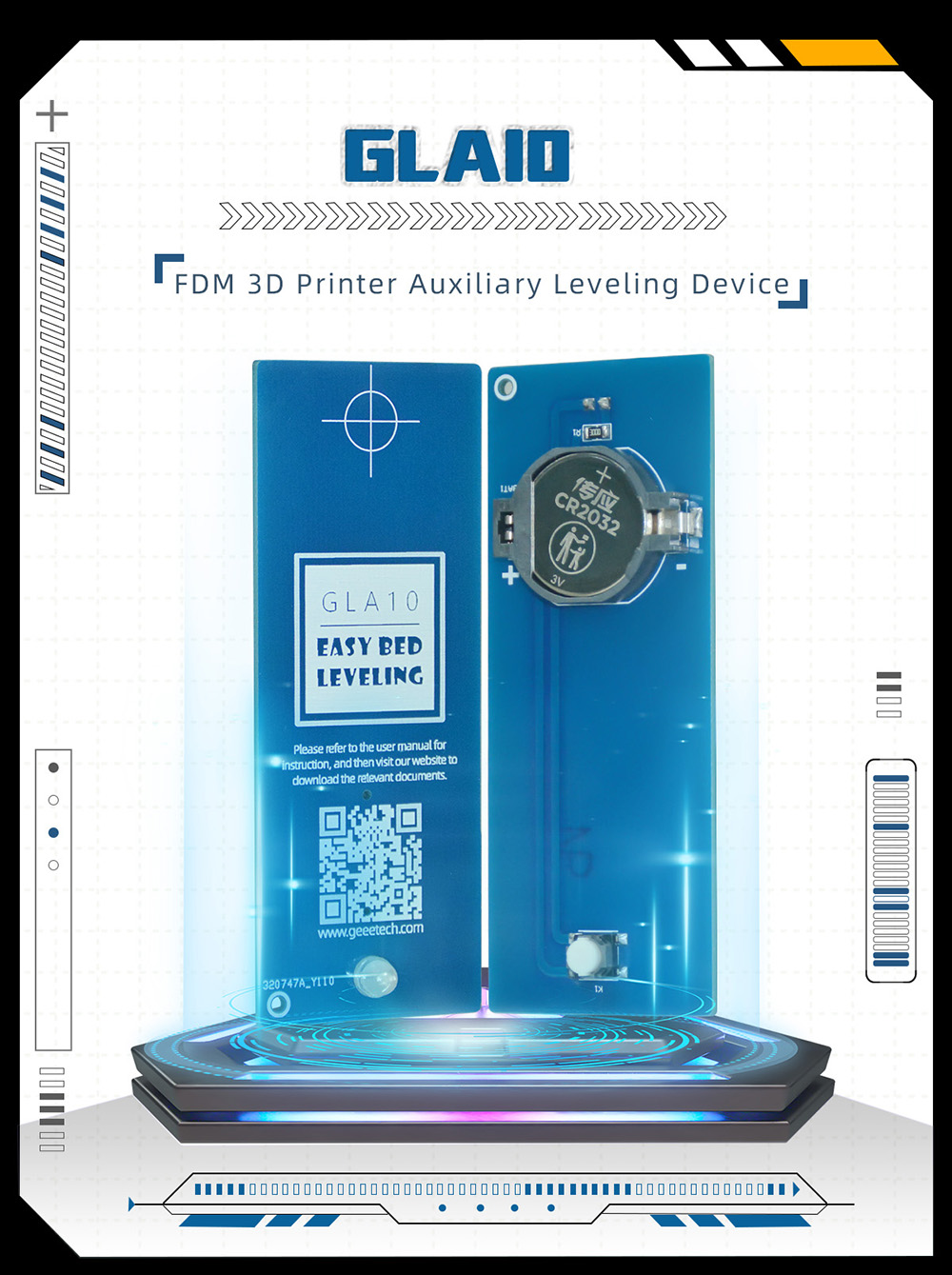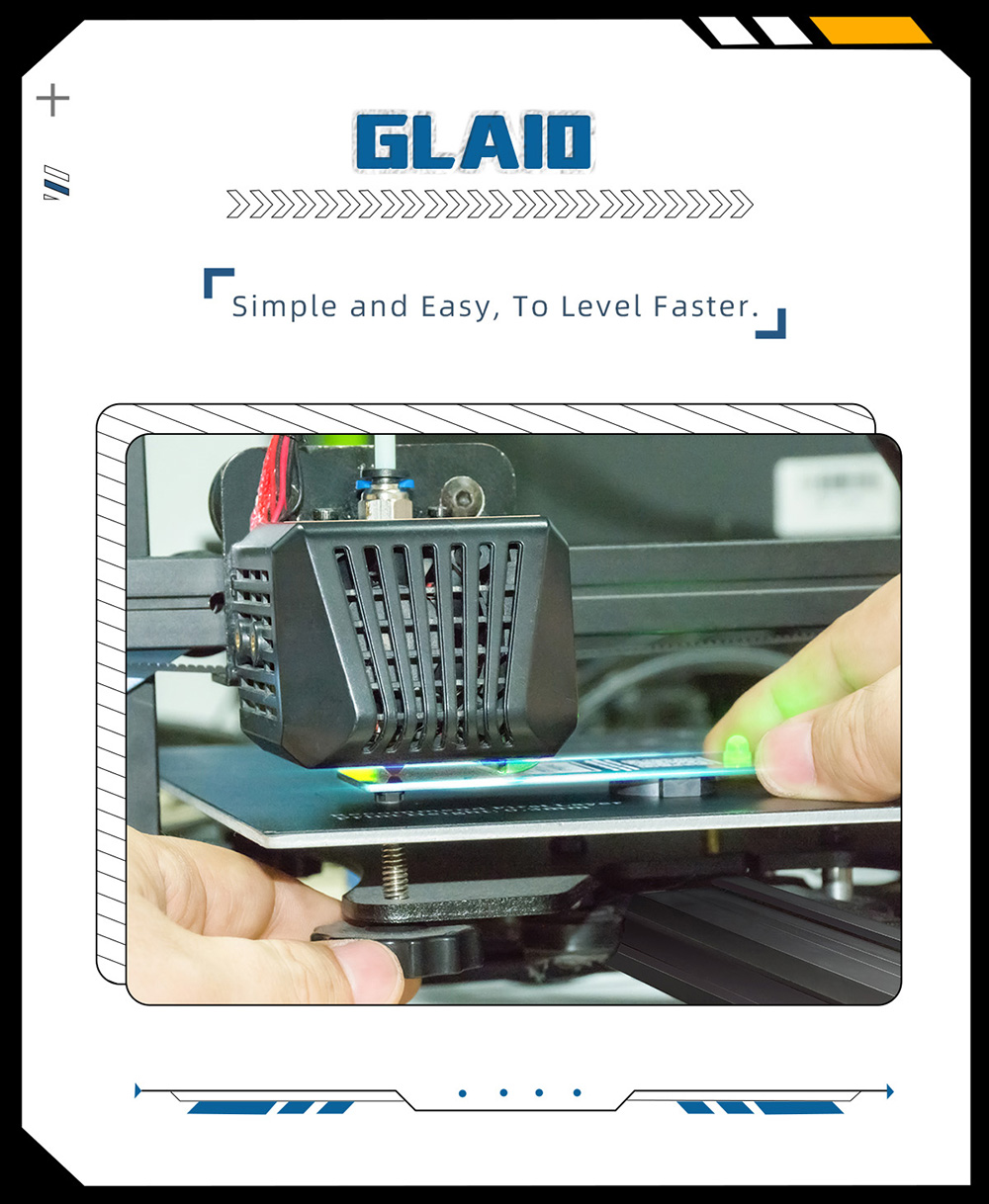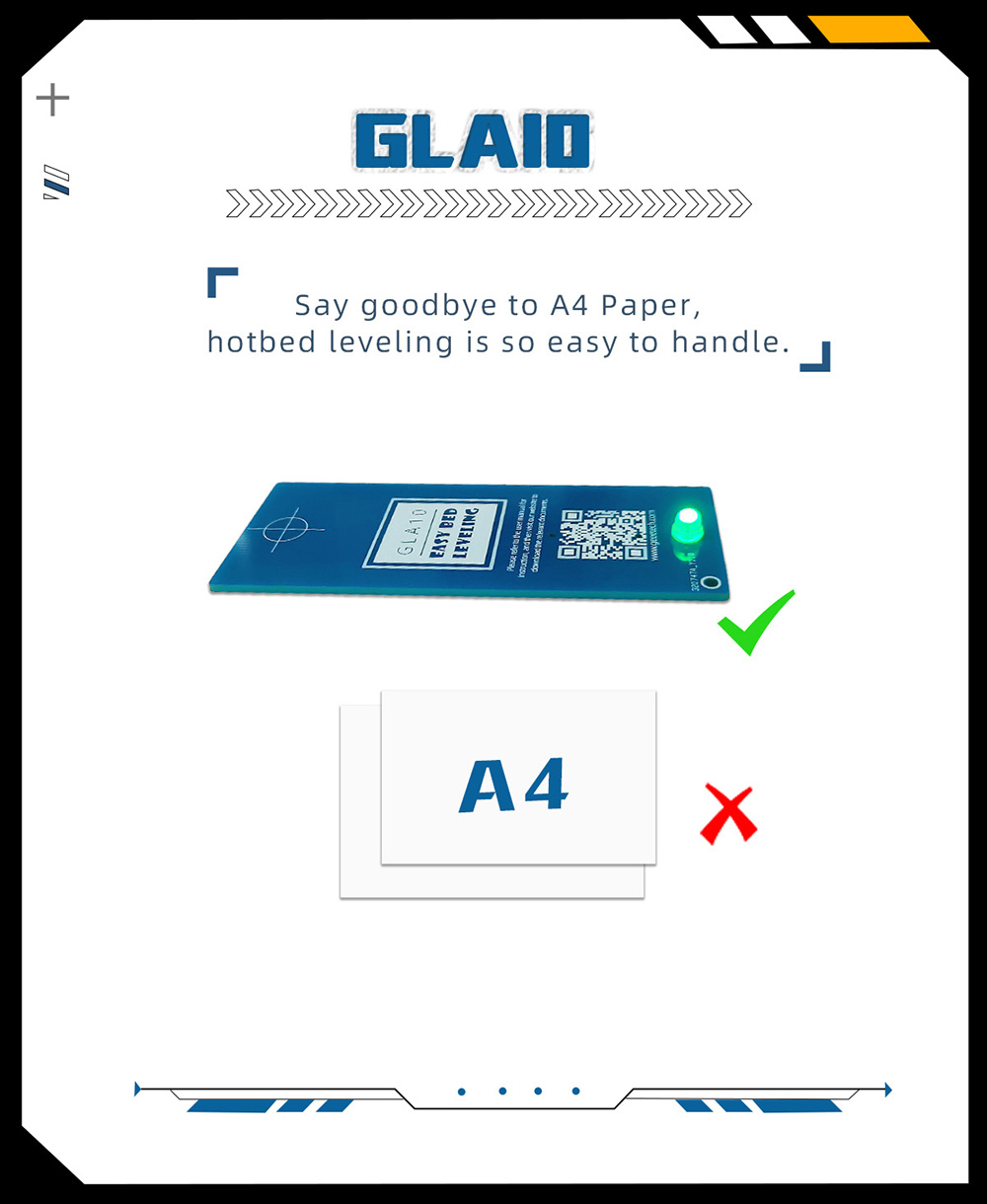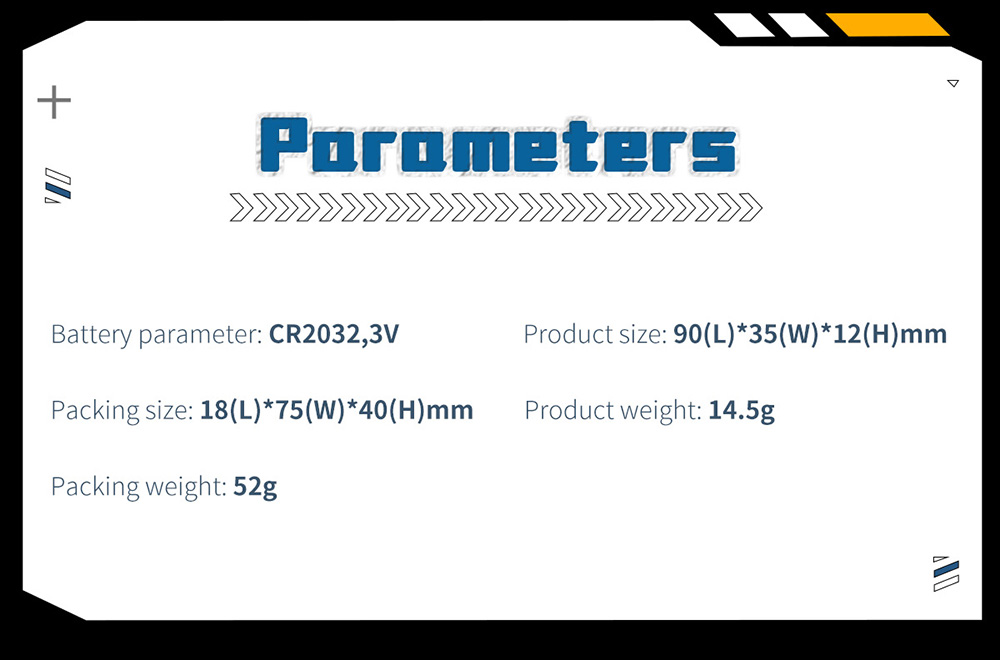 Battery parameter:CR2032,3V
Product size:90(L)*35(W)*12(H)mm
Packing size:18(L)*75(W)*40(H)mm
Product weight:14.5g
Packing weight:52g