Getechextruder GT2
From Geeetech Wiki
Description
It's a huge leap forward for personal manufacturing- you will be amazed by the improvement in your print quality, and the reliability of use obtained with theGetechextruder GT2.
Designed from scratch, Getechextruder GT2 contains a number of newly created custom manufactured parts. The GT2redesign rolls in all the innovations and user experience from the GT1 Plus into one cutting edge, pint size device! The Getechextruder GT2 is compatible for use with Prusa Mendel i2 Printer.
BOLD
Smaller format, lighter, more gumption! The GT2 uses our tried and true NEMA 17 motor to drive it- a lighter extruder with tons of torque and reliable stepper performance. The extruder design has been carefully refined, and the assembly process is faster and requires fewer pieces than ever. The GT2 represents major advances in the design, functionality, reliability, ease of use, and print quality for desktop 3D Printer extruders. We've trimmed as much from the design as we could, and what's left is a tightly functioning device that has only one reason to exist- to extrude endlessly!
FAST
We're proud of what we can offer you with the GT2- the shortest build time of any of our extruders. Our assembler Colin, who has built more GT2's than anyone, reports that it takes less than half of the time to build a GT2 than any of our previous extruders.
The GT2 is still fully modular, and any component can be replaced or worked on without replacing the entire unit. We're trading up for easier, faster assembly so you can get back to the business at hand- printing! The lasercut acrylic pieces from previous designs have been removed in favor of precision-milled aluminum and high strength injection-molded plastic components.The extruder heats up faster too- knocking minutes off start up time, and saving hours of your time throughout it's use.
LIST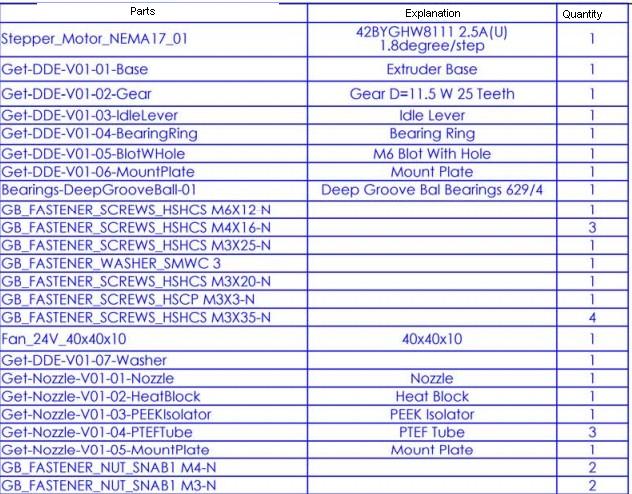 Stepper motor nema17
extrude base
gear 25 teeth
idlelever
bearing
blotwhole
mountplate
fan 40x40x10
Aluminum Thermal Core
4.7Ω 8w Power Resistors
B25/50 100k Thermistors
How to buy
Click here: http://www.geeetech.com/getechextruder-gt2-stepper-extruder-p-771.html