These 3d printed shoes are made exclusively for the next GEN, must have collection!
Shoes are an essential element of our lifestyle. We always shop for the trendiest shoe and check what goes with our look and clothes. So customizing your own shoe just the way you want is way better than wasting time in finding one and avoiding the discrepancies like no size available, no color available in your size or when you like the color but not the design.The great manufacturers are coming out with the all innovative and new 3D PRINTED SHOES.
You can get your own 3D printed shoes with all the customizations you want, ain't that great? These companies are helping you get the shoe exactly as you want.There is a lot of buzz going around the 3D Printed industry and everyone wants to make a mark of its own.
It goes to show there is a big market for 3D printed shoes, although it may take some time until all consumers see the merit of purchasing such a pair. The companies below feel now is the time to experiment with 3D printed footwear, that much is certain.
Nike
In this long race, Nike is obviously in the forefront. It is developing prototypes and has partnered with Prodways to consume the manufacturing cost and time and creating more comfort for the users. Nike is gonna develop prototypes from thermoplastic polyurethane (TPU) material. Basically, the outsoles, insoles, and midsoles will be 3d printed.The CEO of Nike Mark Parker said: "We have embraced sustainable innovation as a powerful engine for growth and a catalyst for change."
They are developing their products in all the new eco-friendly way, all the products are 71% recycled. With the aim to grow further, Nike is thinking of developing products which are 100% recycled.It entered in 2013 with the Nike Vapor Laser Talon Football kit, which became the first 3D printed plate to be used in the sports.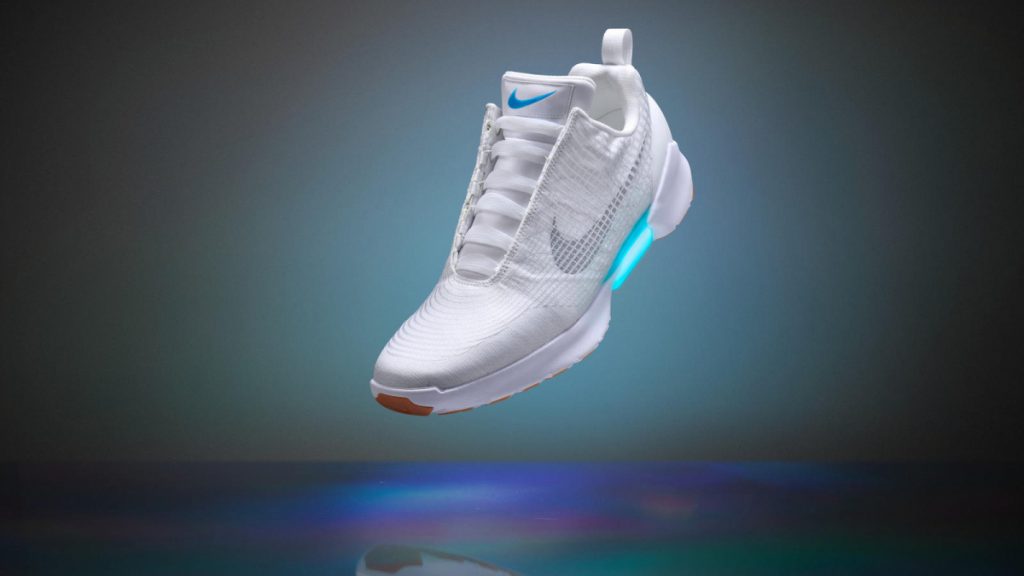 It developed another shoe that is the hyper agility kit for better agility.Nike released the Air Zoom KD9  which offers wearers support, comfort, and responsiveness via the most cohesive pairing of Nike Flyknit and Zoom Air technologies to date, modified for the needs and demands of basketball. Nike has partnered with HP to focus more on 3D Printing.It is focusing more on the athletic performance of the shoe rather than lifestyle.
Adidas
Adidas had taken a great care of the cushioning needs of an individual by making a unique 3D printed running shoe midsole called as Futurecraft 3D.The mass production 3D printing can be turned into reality by using the method Carbon developed by Silicon Valley.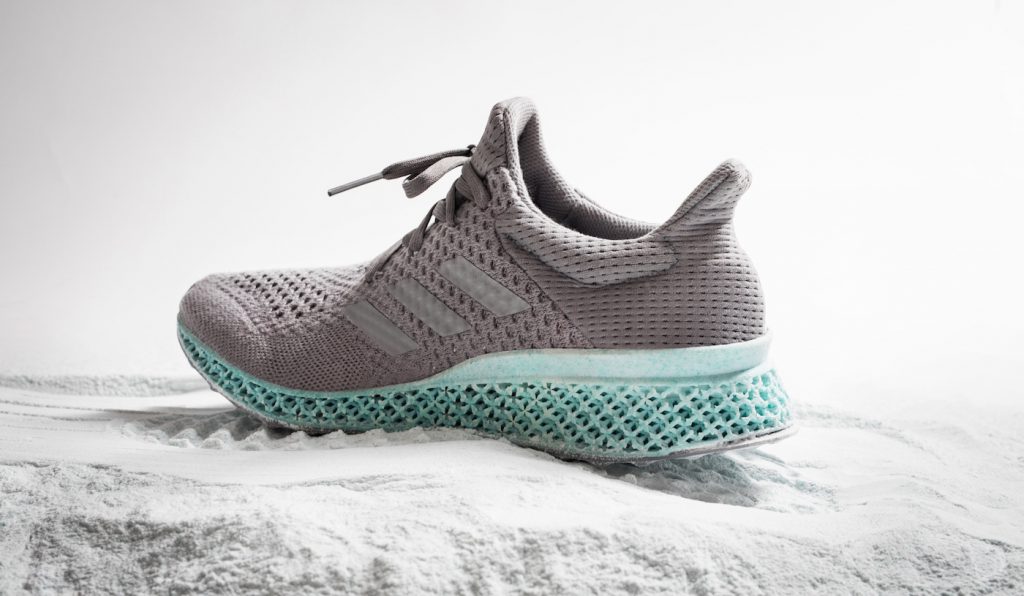 Creating a flexible, fully breathable carbon copy of the athlete's own footprint, matching exact contours and pressure points, it will set the athlete up for the best running experience. Linked with existing data sourcing and foot scan technologies, it opens unique opportunities for immediate in-store fittings.
Under Armour
In March 2016 Under Armour has debuted 96 shoes with the 3D Printing technology. They have made a 3D-printed lattice structure midsole and 3D-printed upper design for the shoes. The uniqueness is hybrid of stability and cushioning.Under Armour has announced The Architect for its star athlete Michael Phelps ahead of the Rio Olympics.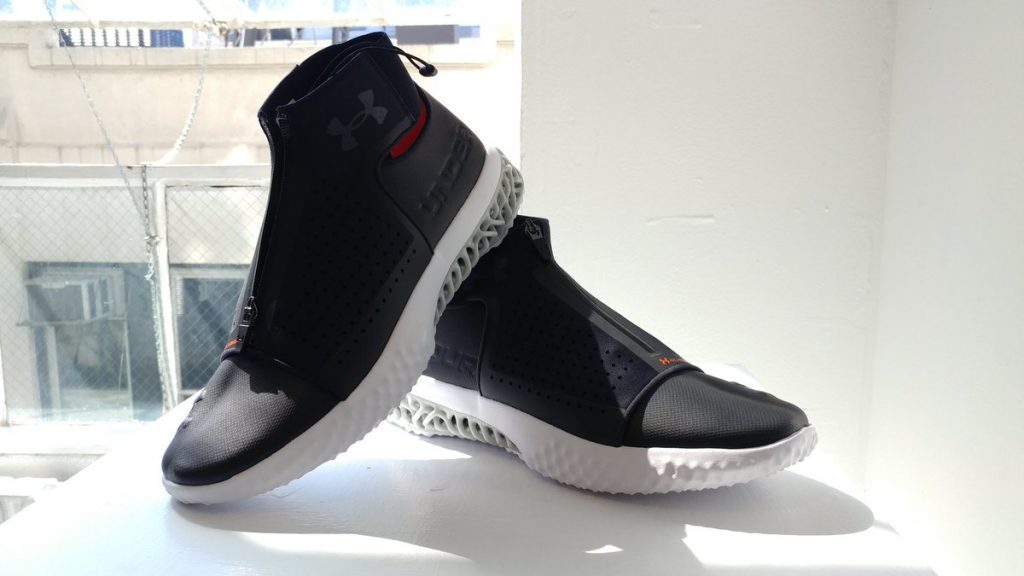 Under Armour is still figuring out whether they want to compete Nike in the sports section or continue their presence with 3D Printing in Lifestyle like Adidas.
New Balance
New Balance had used the users' biomechanical data to make customizable spike plates so that the athletes going for long races have improved performance for the 2012 US Olympic Athlete, Kim Conley; 2012 Great Britain Olympic athlete, Barbara Parker; and four-time all-American runner in the 800m, 1500m, and the mile, Jack Bolas.They released there first 3d printed shoe for the public called the Zante Generate.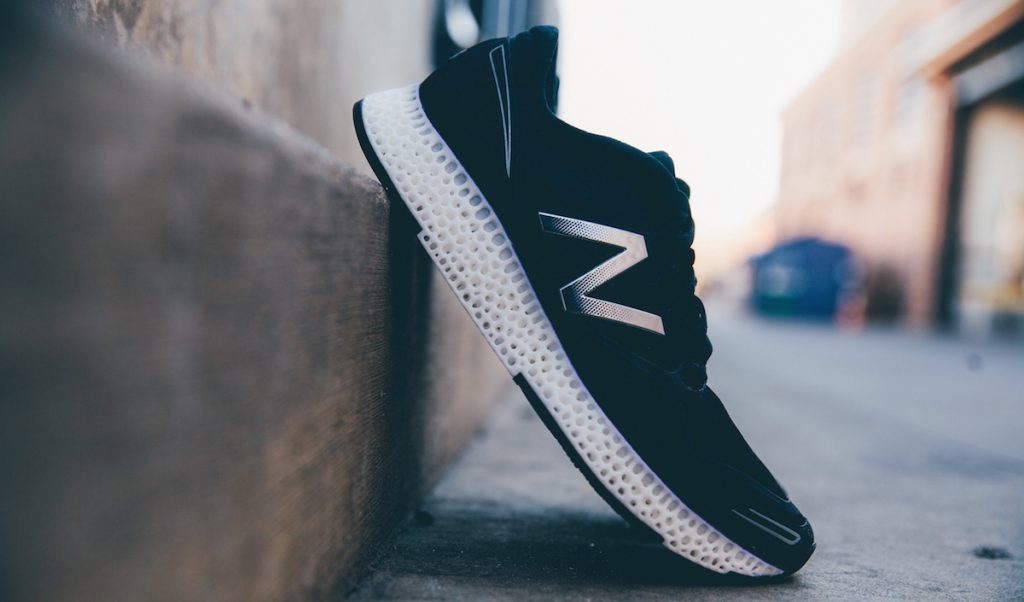 The 3D-printed midsoles were created by converting new powder material into solid cross-sections, which in turn achieved an optimal balance of flexibility, strength, weight, and durability due in large part because of the hundreds of small, open cells that provided cushioning and structure.
If you are a sneaker fan and also a 3d Printing Passionist you actually can 3D print your own shoe which can be more comfortable and appealing to cater your demands. Hurry up and get a 3D printer right now just at Geeetech.
Credits: Highsnobiety.com, 3dprint.com.