Prusa I3 X-2
From Geeetech Wiki
Geeetech Prusa I3 X-2 is the dual extruder version of I3 X, a new member of the prestigious Prusa I3 family, it was engineered to provide redefined usability, quality, performance and most important, best affordability in desktop 3D printer market. The Geeetech Prusa I3 X-2 is made from piano-black laser-cut acrylic frame. To maintain the garage-built feel and the handmade charm, Geeetech Prusa I3 X-2 is also a DIY kit, which provide you an unforgettable step-by-step learning experience of 3D printer from scratch. Geeetech Prusa I3 X-2 has a wide range of customers , young or old, professional or amateur, as long as you have a passion for creativity, you can not afford to miss our Prusa I3 X-2.
Features
Multiple 3D printing filament supportable: PLA,ABS, Wood-Polymer, Nylon, flexible PLA and PVA.
Switchable from dual extruder to single extruder, generating multiple printing effect.
200x200x140mm printing volume, just right for you.
0.05mm printing precision.
8-mm-thick laser cut acrylic frame for rigidity and long life.
Stainless steel rail rods, gears, bearings and connectors for smoother movement.
All metal pulleys for improved functionality and performance.
Super-flat aluminum alloy print surface for better adherence.
Quick-release feed gears for faster and fluent filament feeding.
Custom nozzles in 5 sizes: 0.30mm,0.35mm.
Specification
Printing specifications:
Print technology: Fused Filament Fabrication (FFF).
Build volume: 200 x200x140mm
Layer resolution: 0.05-0.3mm
Positioning Precision: 0.1-0.3mm
Filament diameter: 1.75mm
Nozzle diameter: 0.3mm, 0.35mm
Filament type: PLA,ABS, Wood-Polymer, Nylon, flexible PLA and PVA.

Software:
Operating system: Windows/Mac/Linux
Control software: Repetier-Host, Printrun
File format: .STL, G-code

Temperature:
Max heated bed temperature: about 110
Max extruder temperature: about 260°C

Electrical:
Power supply:
Input: 115V/1.5A or 230V/0.75A
Output:DC12V/0-20A
Connectivity: USB, SD card (support off-line printing)

Mechanical:
Frame: Laser-cut Acrylic plate of 8 mm thickness
Build Platform: Super-flat aluminum alloy+MK2A heat-bed
XYZ Rods: Wear-resistant, stainless steel
Stepper Motors: 1.8°step angle with 1/16 micro-stepping

Physical Dimensions & Weight:
Dimensions: 490 x 450 x 490 mm
Shipping box: 520 x 420 x 230 mm
Net weight: 9.5kg
Shipping weight: 10.5kg
Assembly
click this:[1]
Install the drivers and software
Install the drivers
Installing Drivers Before printing, you'll need to install drivers. The kind of driver that a Prusa I3 requires in order to operate properly is called a USB Serial Driver. A USB Serial Driver is software that establishes a COM port.
Plug the USB into a USB port on your computer. Windows Update should automatically find and install the drivers. You're done with installing the drivers!
Windows 8
When you attempt to install the unsigned 3rd party driver on Windows 8, you will most likely not be able to install because the file is not digitally signed. To get around this restriction, you must temporarily remove this restriction by following the instructions here .
Once you have followed the directions to disable driver signature enforcement, download the driver and click to install. This is only a temporary change, however, and restarting your computer after you have installed the driver will return your computer to its normal state.
Note that this involves restarting your computer, so make sure to close out all other windows. You may want to print out these instructions so you can refer to them while your computer is restarting.
Windows Manual Install
Note: In some cases the drivers will not install on their own. The drivers for Windows can be found in the following link:
drivers for GT2560 and Sanguinololu

If the driver was not automatically installed, you may see this screen:
In this case, a. Click "Change Settings…" b. Select "Install driver software from Windows Update". c. Click "Save Changes". The FTDI drivers should now install successfully.


Attention: For those having difficulty selecting your COM port
If you have installed the USB serial driver successfully and you are still not able to connenct to your printer in Repetier Host, then windows has not recognized the newly installed driver. In Repetier Host, you may even notice an error message that is similar to this one:
Serial com error:System.IO.Ports.SerialErrorReceivedEventArgs
In some situations, a computer running windows will not automatically recognize a newly installed Serial driver. This means that you will have to update your newly installed driver manually.
To manually update the driver, you will first need to plug the USB cable into your printer and attache the other end directly to one of your computer's USB ports. Now, enter the 'Device Manager' in Windows and navigate to the hardware category called Ports (COM & LPT) and then left click on it once. You should notice the Ports category expand to reveal a Sub-Category called USB Serial (Communication Class, Abstract Control Model) (COM X); where X is the COM port number. You should be looking for that COM port number in Repetier Host after this procedure is completed; which can be found in "Printer Settings."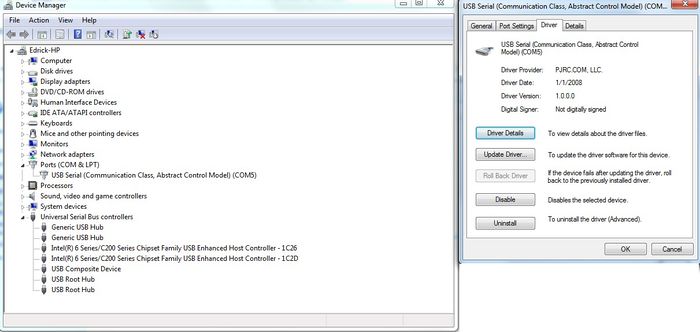 You will need to right click on the USB Serial Sub-class and select proprties. In the drivers tab you will find a selection to update drivers, click on Update Drivers to access the next menu.
Now that you have selected which driver to update, you will have to tell Windows where the "updated" driver can be found. You should be presented with two options. Select "Browse my computer for driver software" to locate and install the driver software manually.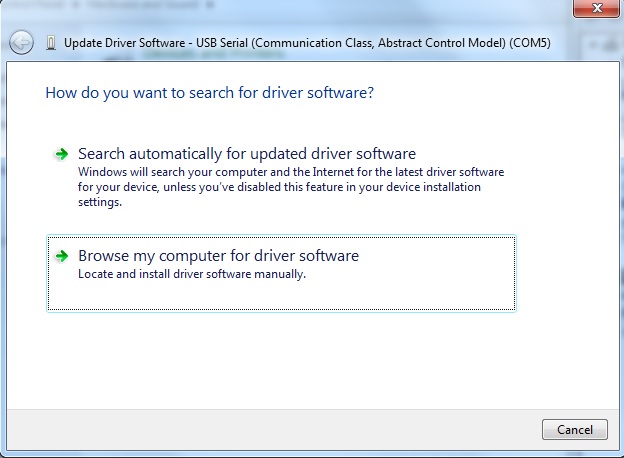 Next, you will be greeted by a menu that allows you to "Browse for driver software on your computer" You will be presented with two choices, select "Let me pick from a list of device drivers on my computer." Now select the Serial port device and proceed with the installation.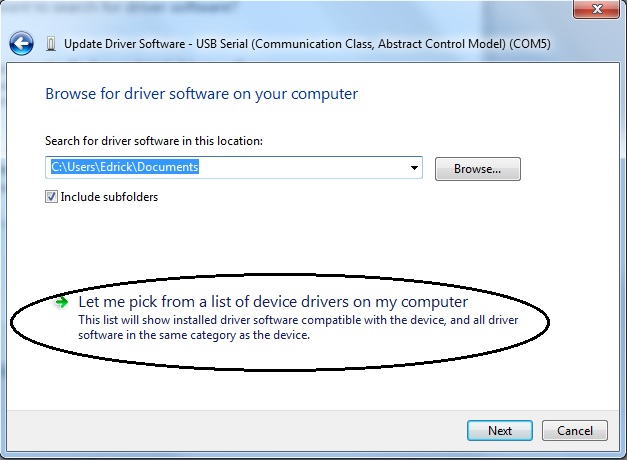 That is pretty much all there is to it. You will then see an installation indicator bar.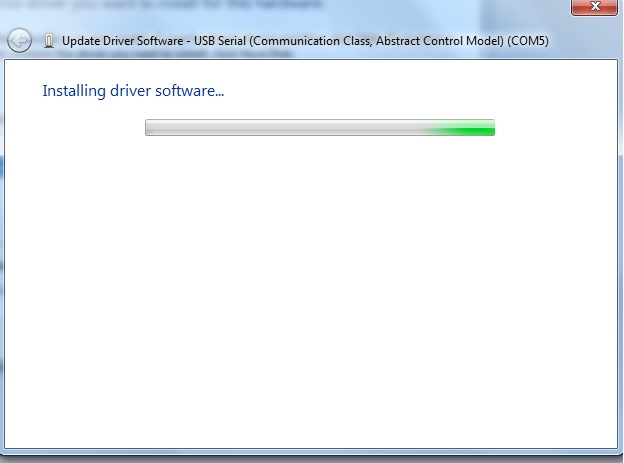 Once the installation is complete you will be notified that "Windows has successfully updated your driver software." You will be prompted to restart your computer; you should do so.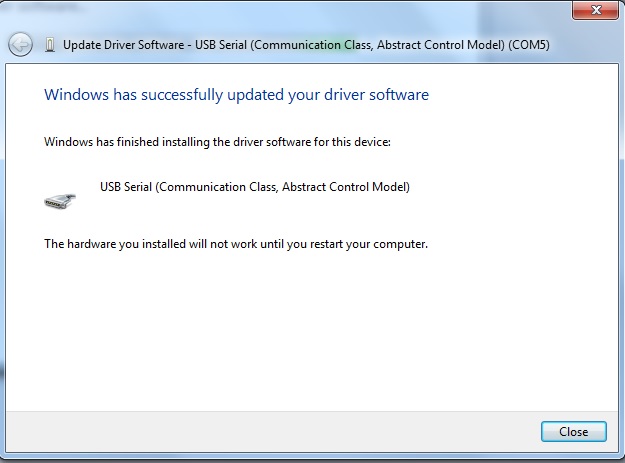 Macbook (OS X) Manual Install
Download link of driver: http://www.ftdichip.com/Drivers/VCP.htm
Download the driver that is compatible with system version.
Open the downloaded file, you will see a .pkg file, Open "FTDIUSBSerial.pkg"

Click "Continue" in Instruction.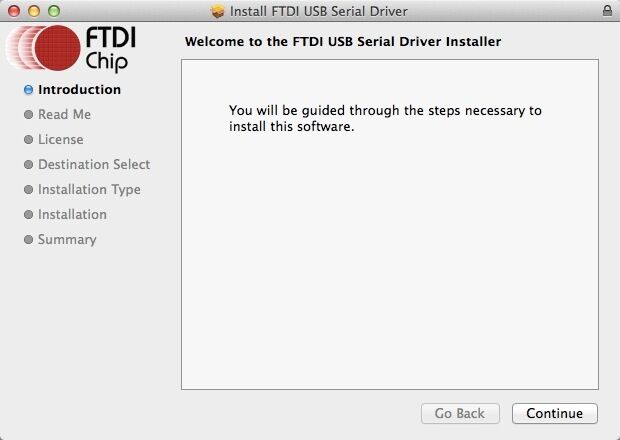 Click "Continue" in Read me.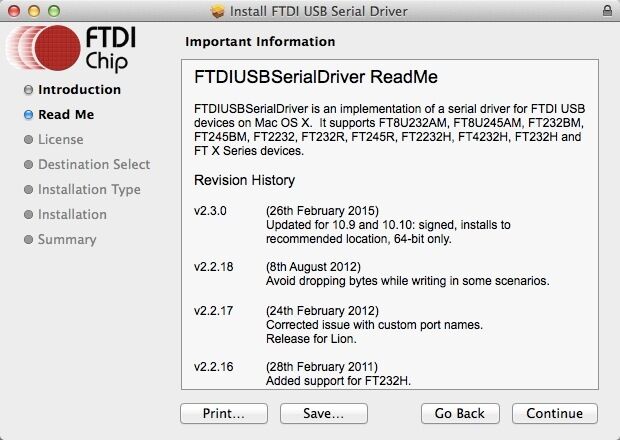 Click "Continue" in License.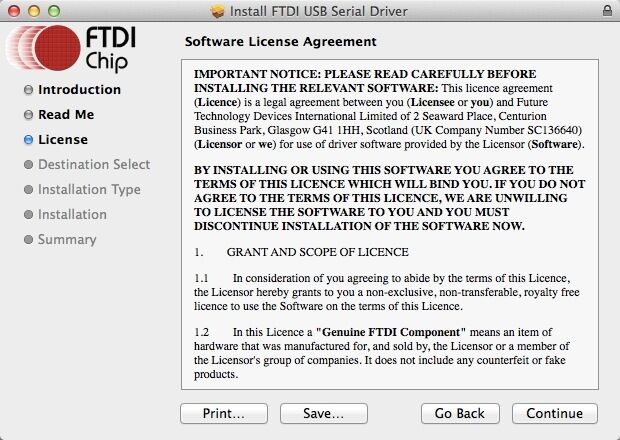 Click "Agree" to continue installation.


Select the installing destination and click "Continue".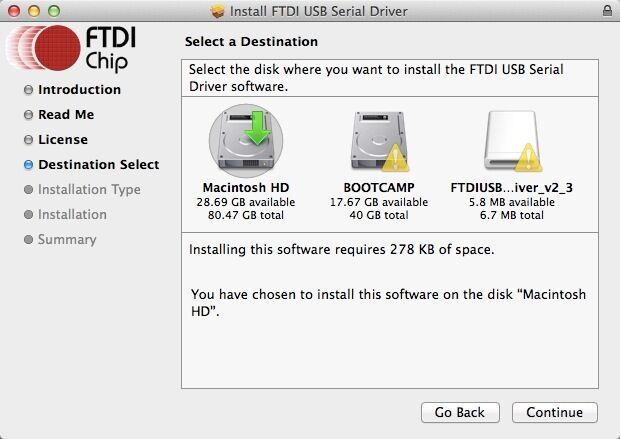 Click "Install" in Installatin Type.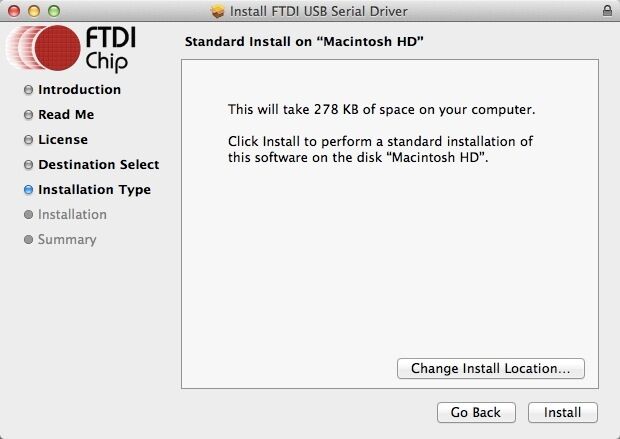 Mac will start to install the driver: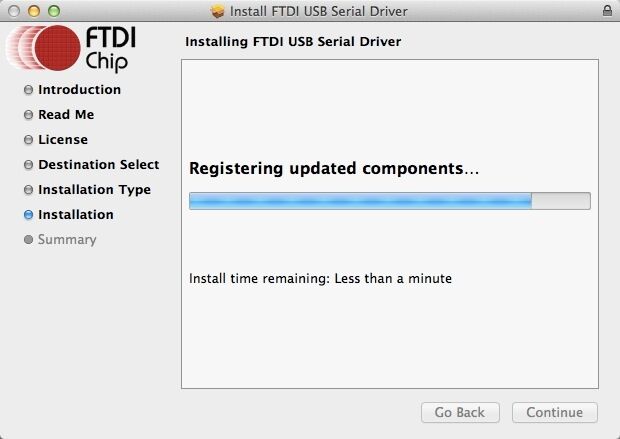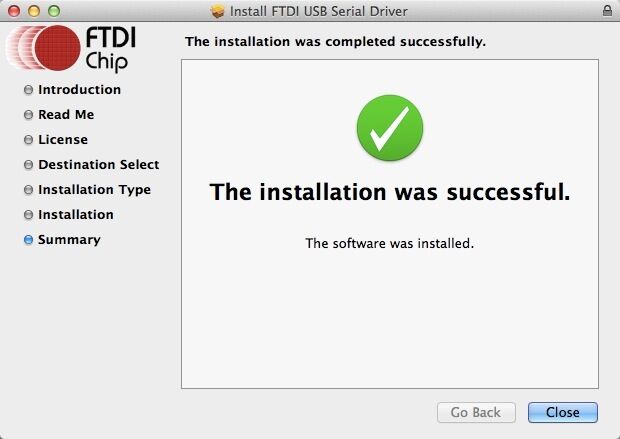 Once your computer restarts, try selecting the appropriate COM port and baud rate in Repetier Host and then connect.
Install Software
we will take windows OS as an example.
To install all required software by Prusa I3, please follow the steps provided below.
1) Download and install: RepetierGEtechSetup.exe
step 1,start the installer,choose the display language. step 2,click next to continue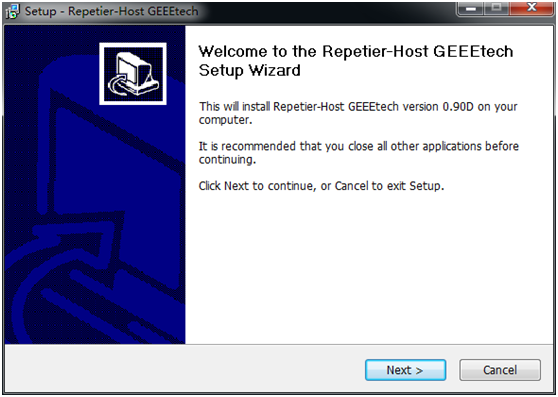 step3,select the destination where you would like to install the RepetierGEtechSetup.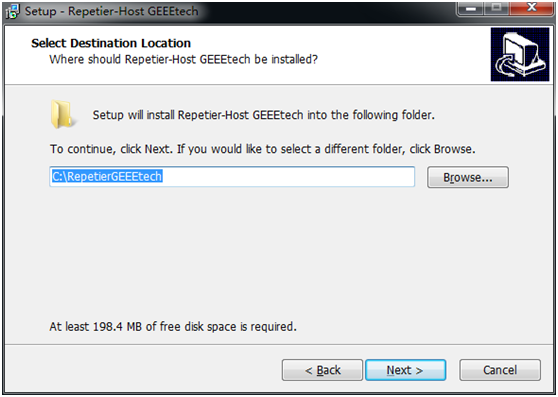 step4,select start menu folder and create a shortcut, click next to continue.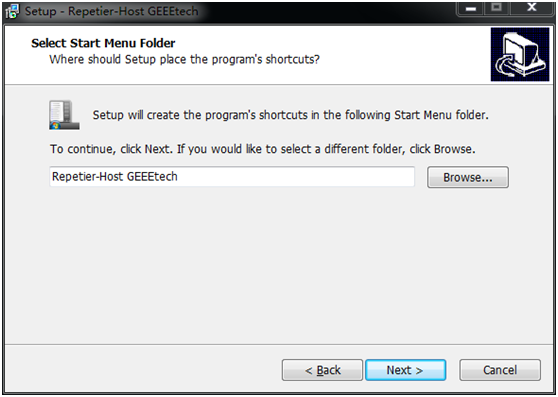 step 5,get ready to install. Click install.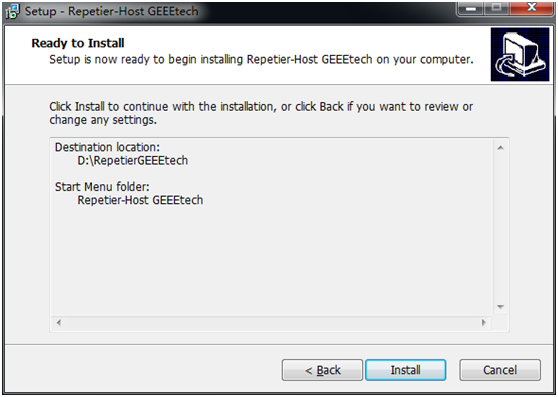 step 6,wait about half a minute while installing. The green bar will show you the rate.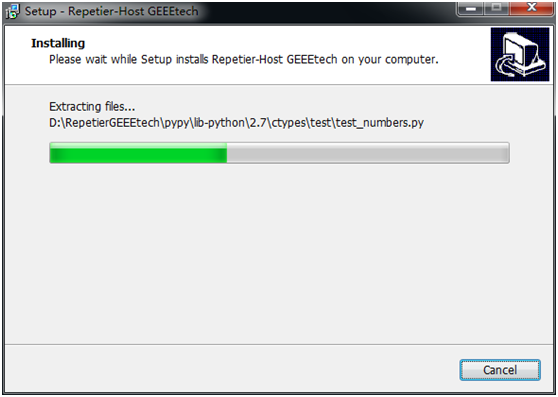 step 7,set up has finished the installing, you can choose to launch it immediately or exit out.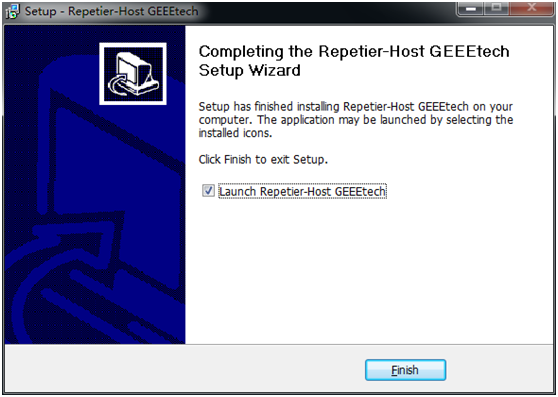 2) Plug the power cord into a wall outlet and the USB cable into a USB port on your computer. Windows should detect your motherboard and assign the appropriate driver.
3) Open Repetier Host and Connect to your Prusa I3!
Click on the Manual Controls Tab and click in a direction X or Y to test your connection. If you are having difficulty connecting, please review the following supportive documentation: Installing Drivers and How to connect.
Please note that if you have difficulty connecting, there might have been an issue with the installation process. Ensure that the following have been installed:
Download and install the Serial Driver.
Download and install Microsoft .netFrameWork 3.5
In Mac, you can download Repetier for Mac" at:
After downloading, open "Repetier-Host-Mac_56.dmg",then you will see the icon of "Repetier Host", open it.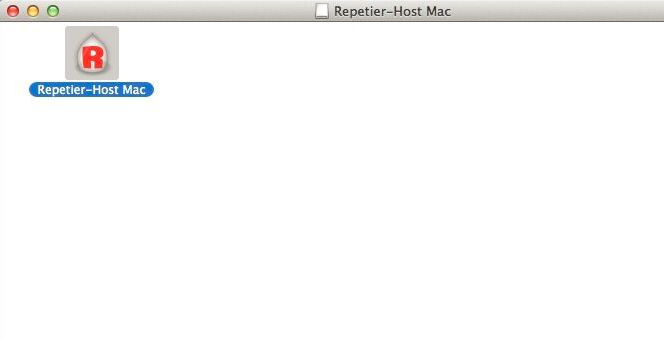 How to print with dual extruder
Before reading this text,please make sure you have already read the set up guide of the version of 13B single extruder and you can use it to print 3D models. If not, please learn how to operate the single extruder. Of course, you can take this one as the single extruder version to start.
Step 1
Open Repetier Host,click Config/Printer Settings to set up the connection.
1. Name your printer.
2. Select the corresponding COM port and baud rate. Baud rate is generally 115200 or250000.
3. If you are not sure about the COM port, you can check it in your device menager.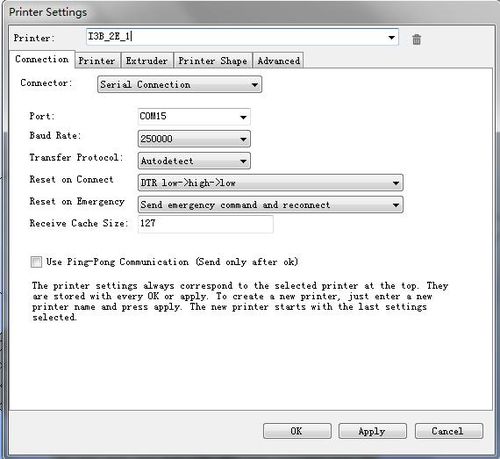 Step 2
Set up your extruder
1.Choose the number of extruder, here we choose 2.
2.Set up the diameter and color of filament
3.Offset X/Y refers to the distance between the two extruders,which can be adjusted based on real situations. You can leave it alone now.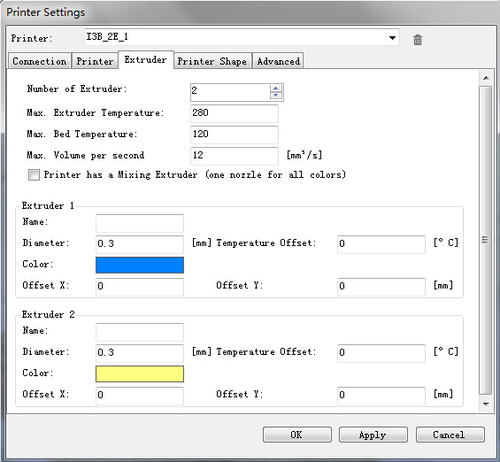 Step 3
Set up the shape of printer
Choose Classic printer as the printer type.
Home X: min Home Y: min Home Z: min
Print height: 150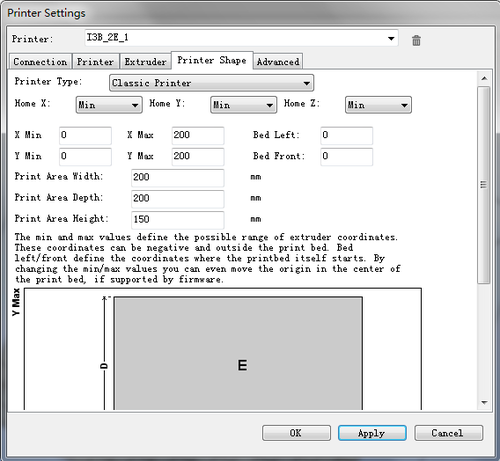 Now,you can click the Connect button on the left corner to check whether it can connect with your printer. If it fails, please recheck the COM port and Baud rate.
Step 4
Manual control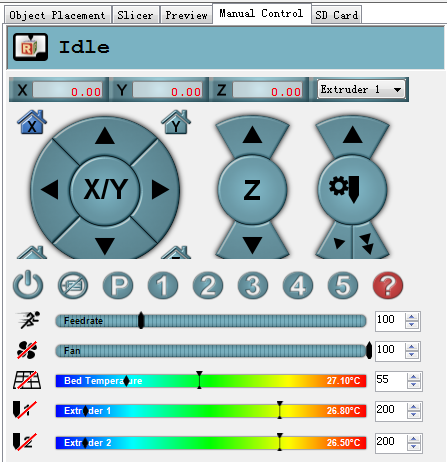 1. X home
Click X home to home the X axis, or you can click the right/left arrow to move the axis to check whether the direction and distance is normal or not;
2. Check Y axis and Z axis respectively in the same way
3. Click the icon of heated bed on RH to heat up the bed. observe whether the temperature is rising to a pre-set value
4. Click the icon of heated bed and extruder, observe whether it is heating up to the pre-set temperature and keeps at that value
5. When the temperature of extruder surpass 170 °C , choose extruder1 and extruder2 respectively, you can move them and check their directions
Step 5
leveling the two extruders.
Leveling the two extruder is very important if you want to printer with two extruders at the same time.
First, you can adjust one extruder to make it parallel with the surface of the heated bed in (the same way you level for the single extruder) , click the button of Z home to adjust the distance between the nozzle and the heated bed, make sure the vertical distances of the nozzle to the four corners of the bed are the same.
Then, you can adjust the distance between the second extruder and heated bed by adjust the screws, as shown in the following picture: Loose the screws, you can adjust the distance between two extruders and heated bed.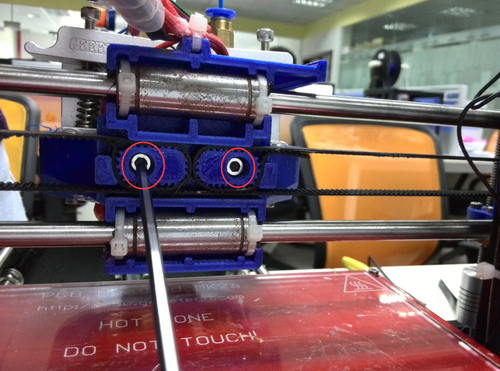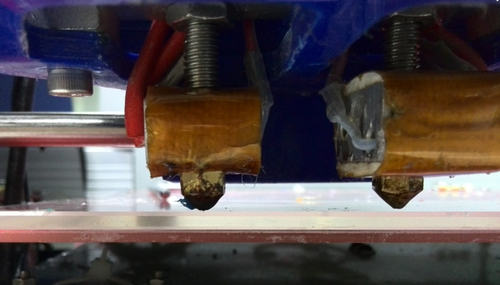 you may need to adjust again and again at this step to get both extruders in Parallel to heat-bed and with equal distance.
But it doesn't matter, once you level them, you wont bother to adjust it later.
The settings mentioned above are set on Repetier Host,which only involves the control of 3D printer and the preview of model.
All the settings don't concern the final printing effect but the slicing. So we will continue with the slicing setting. The slicer is independent with Repetier Host. So,should we set up slicer? Take it easy,let's see whether our printer can run normally.
Step 6
If the printer goes well. We can go on with the slicing. First let's get a quick view of the slicer.
RepetierHost supports many slicers, Slic3r and CuraEngine are most frequently; Slic3r is more powerful in function, but CuraEngine's comes with more optimized slice velocity.

You can choose slicer here. Upon selecting the slicer, please click Configuration, RepetierHost will bring up a wizard of the corresponding slicer that will walk you through the configuration.
Here we take Slic3r as an demonstration. As to the configuration of CuraEngine,we will pick it up in the follow-up study in our forum www.geeetech.com/forum/, so, please stay tuned. If you are experienced in CuraEngine, we would be very appreciated if you can share with us.
Next, download the file:two_color_cube.zip, unzip the file and put it somewhere, you will need it later.

Step 7
Click Configuration,open Slic3r
Step 8
We have prepared a set of parameters for I3B_2E dual extruder, that is, I3B_2E_config_bundle.ini. You need import those parameters to software slic3r from here.
In Slic3r, under file> Load Config Bundle.. navigate to the folder we just downloaded and unziped, open I3B_2E_config_bundle.ini,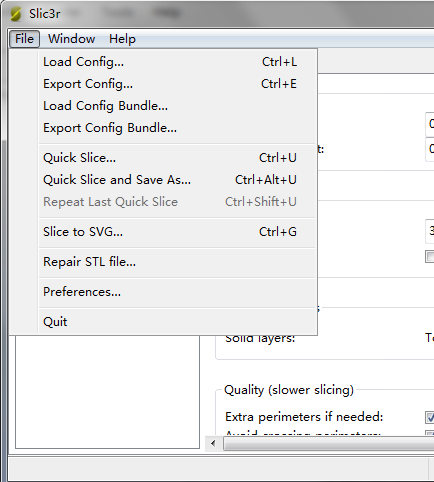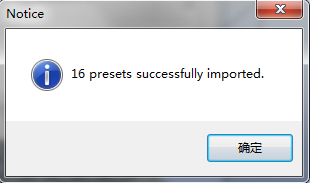 Step 9
After loading, you can find the option of Geeetech_I3B_2E in the drop-down manual.
In my case, i use the geeetech pro C model,(i refer the I3B_2E in this article),extruder is MK8(1.75cm-0.4mm),PLA filament, so we choose Geee_I3B_2E, PLA 1.75mm, and Geeetech_I3B_2E respectively .
All the parameters you set can be saved, you can select it in RepetierHost next time.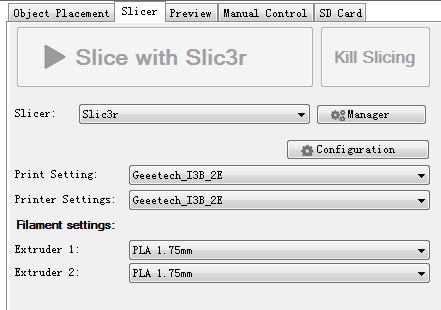 Step 10
Unzip two_color_cube.zip,click Load to import the .stl files,choose two_color_cube_1.stl and two_color_cube_2.stl respectively.
Actually, two_color_cube is composed of two .stl file. each nozzle print one .stl document, then different color print tasks can be completed.
After loading the file, you can see them in the preview area. The two files are separated, now you need to adjust the locations to combine them together.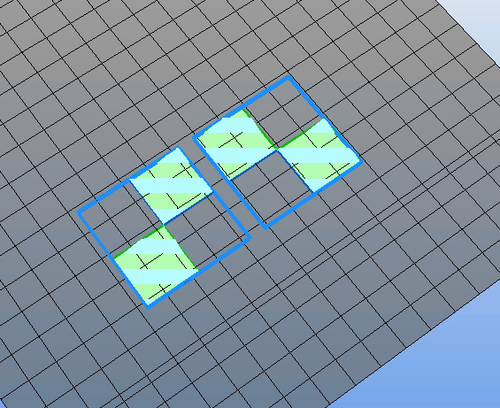 Select Object Group 2 and click center, then select Object Group 1 and click center. Now the two models are combined as one model.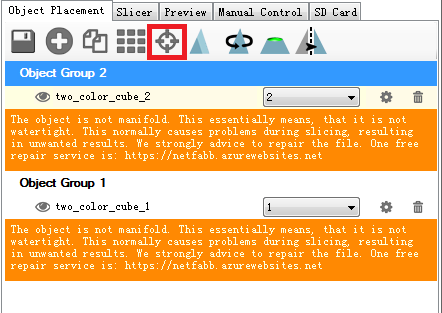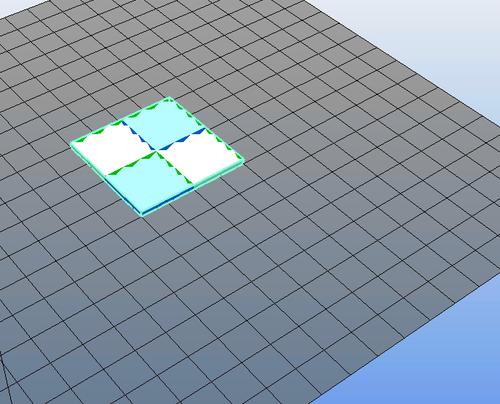 Assign printing task for both extruders respectively.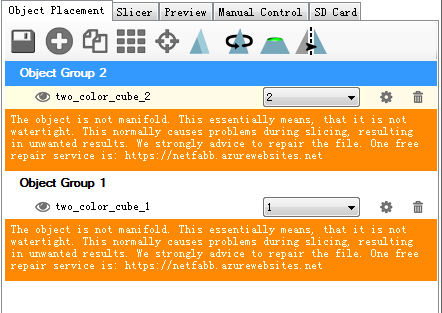 Step 11: Slice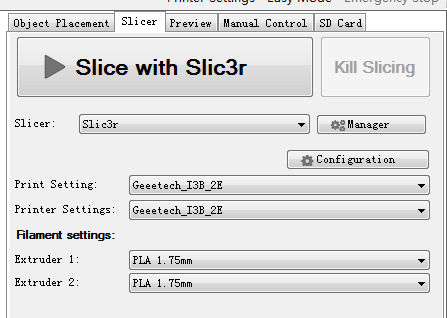 If this warning appears,choose NO

G-code is generated successfully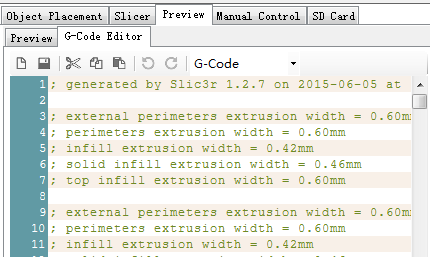 Step 12: you can print direct via serial port (USB connector)or save the G-code to SD card, and print stand-alone.
Step 13': The end