MK8 Extruder
From Geeetech Wiki
Introduction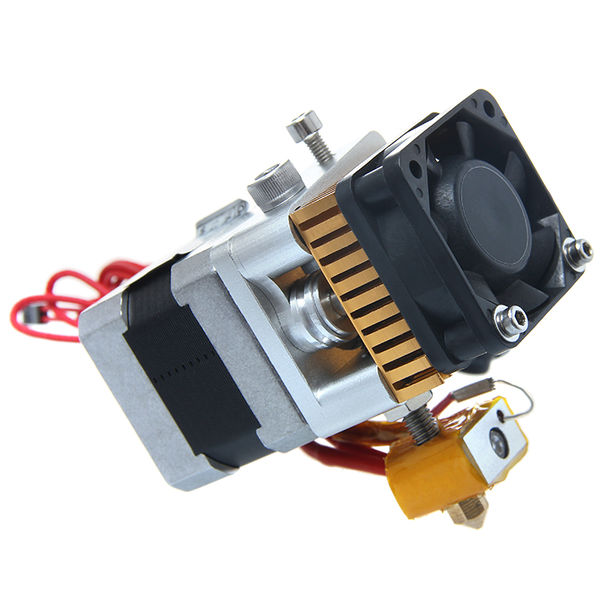 This is Geeetech upgraded single head MK8 extruder, which has outstanding quality and the best performance for DIY and professional systems. By simply adding a holder, you can assemble your own dual head extrusion. With 42BYGHW818 stepper motor, you will find it easy to solve the problems of uneven extrusion, regularly plugging and material reloading.
Extrusion nozzle: 0.3mm,0.35m,0.4mm,0.5mm (optional)
Material of Print: 1.75mm or 3mm PLA/ABS
Flow rate of Nozzle: about 24cc / h
Sports shaft speed:40mm/s
Voltage of heating nozzle: 12V
Thermistor: 100K NTC
Operating voltage of cooling fan: 12V
Heating rods: 6mm, 12V, 30W
Net weight: 450g
Normal working temperature: 190°- 230°
NOTE: Make sure the maximum temperature is less than 280°
Feature
42mm high quality stepper motor with larger torque and less heat buildup
Special ceramic insulation cotton ensures the stability of heating; electricity-saving
Direct transmission, without the heavy gears, compact size and weight
A variety of specifications to choose, the most suitable is the best
MK8 Drive Gear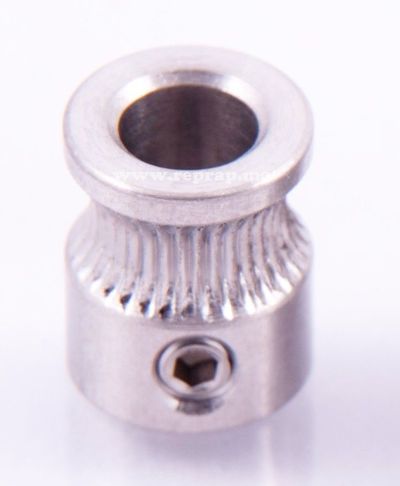 This is a evolution of the MK7 Drive Gear. The smaller diameter gives 35% more power.
If you need a replacement gear, or you're designing your own custom project, this is the part! Very sharp teeth to dig into the plastic filament for the best grip ever. Direct drive of the filament will give better prints.
Our MK8 Drive Gear was Best In Test in the benchmark test from Airtripper.
You can find the benchmark test here: 3D Printer Extruder Filament Drive Gear Review & Benchmark
Made by precise machining of stainless steel. The drive gear includes a M3 set screw and is suitable for typical NEMA17 motor shaft (5mm).
Dimension: 11mm (height) x 9mm (diameter) Effective diameter: 7mm Bore dimension: ø5mm
MK8 Printhead Extruder Nozzle
Material: Brass
Size: 5x13mm
Output Diameter: 0.4mm
3D Printing Application:

Can replace extruder nozzles included in certain printers.
How to buy
Click here to buy: http://www.geeetech.com/assembled-mk8-extruder-p-857.html