3 d touch and Capacitive Proximity Switch have the same function, just need choose one of them depend on your needs.
Please also note that the printer need buy wifi module and auto leveling sensor separately if you need.
Geeetech A30 is a new addition to Geeetech's extensive range of desktop 3D printers. Embellished with blue strips, it looks solemn and vigorous, representing its quality printing performance and good craftsmanship.
adopt aluminum plate and Superplate glass printing platform.
The sturdy frame, strong and wear-resistant, greatly improves the stability of the machine during printing.Besides, this new printer comes almost fully assembled and you just need to fix several screws. The extruder is of remote style, ensuring that the printing head could move quickly, accurately and stably.
With a build volume of 320*320*420 mm, A30 enables you to print large-size 3D models. When it comes to the printing performance, A30 prints at the accuracy of 0.05mm and at the speed of 80-110mm/s, able to deliver items with nice surface and strong structure.
The building platform is of good adhesion, freeing you from the headache of first layer warping. We choose silicon carbide glass with microporous coating as A30 building platform, without the need of attaching the masking tape. The silicon carbide glass is of chemical stability, high heat conductivity coefficient, good wear-resistance and can withstand extreme temperature. The special coating is inorganic and has a hardness of 8 Mohs, hence of high durability. Compared with aluminum plate, this kind of tempered glass is of better adhesion and flatness and easy to take prints off. Besides, it is easy to clean with water or alcohol.
Placing the control box aside makes the whole frame simpler without reducing its stability. The touch screen and filament holder perfectly fit on the box, convenient for you to direct control over the printer and load filament.What's more, the Geeetech logo is eye-catching but not out of place against the black tone.
Its two other user-oriented features are filament detector and break-resuming capability. The former will detect the abnormal situation of filament, such as filament fracture and outage, and trigger a signal to remind you to change printing material in time. The latter, a resurrection system, is added to save real-time printing status and resume the printing job exactly at the same place where it has been stopped. This add-on totally drives away the hassle of repetitive and time-consuming printing jobs caused by unexpected power outage. Totally get you out of worries about printing large-size 3D models.
A30 could be controlled via the touch screen, EasyPrint 3D App, or the host software on a computer. The 3.2″ full-color touch screen, intuitive and easy-to-use, enables you to manually control the whole printing process. Combining the touch screen with a TF card, the printer could run untethered to the computer.
It is also practical for beginners and pros to control the printer with Geeetech self-developed printing and control software EasyPrint 3D, via which it is easy to slice a model, set the relevant printing parameters and upgrade firmware in time.
In addition, after simple Wi-Fi configuration with our 3D WiFi module (optional add-on), you could use EasyPrint 3D App to remote control A30 and enjoy a large number of free 3D models.
A30 supports auto-leveling function with a capacitive proximity sensor (optional add-on), ensuring that the printout has a flat first layer and strong structure.
Besides, A30 is compatible with a wide range of filaments, covering PLA, ABS, nylon, wood polymers, etc. You could produce items of various styles and obtain indescribable printing joys.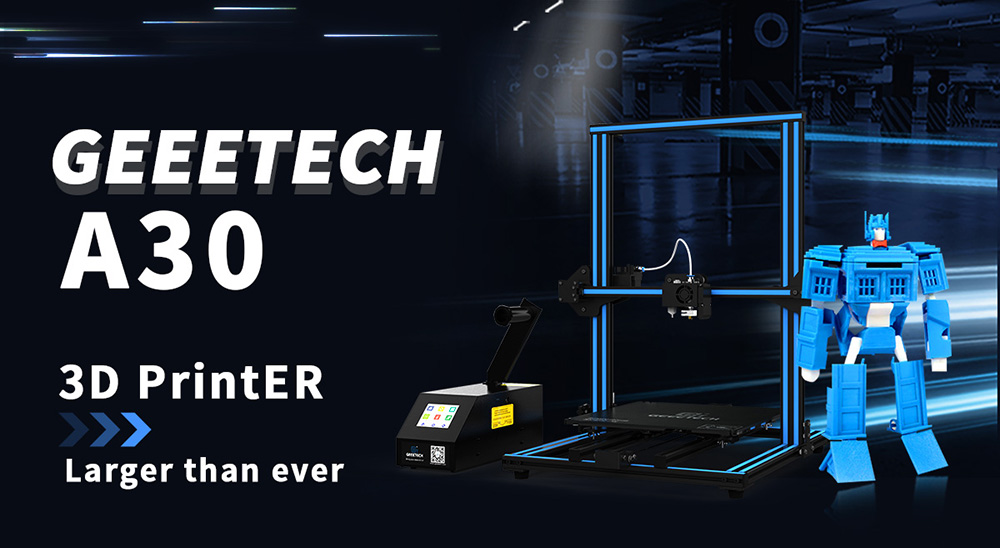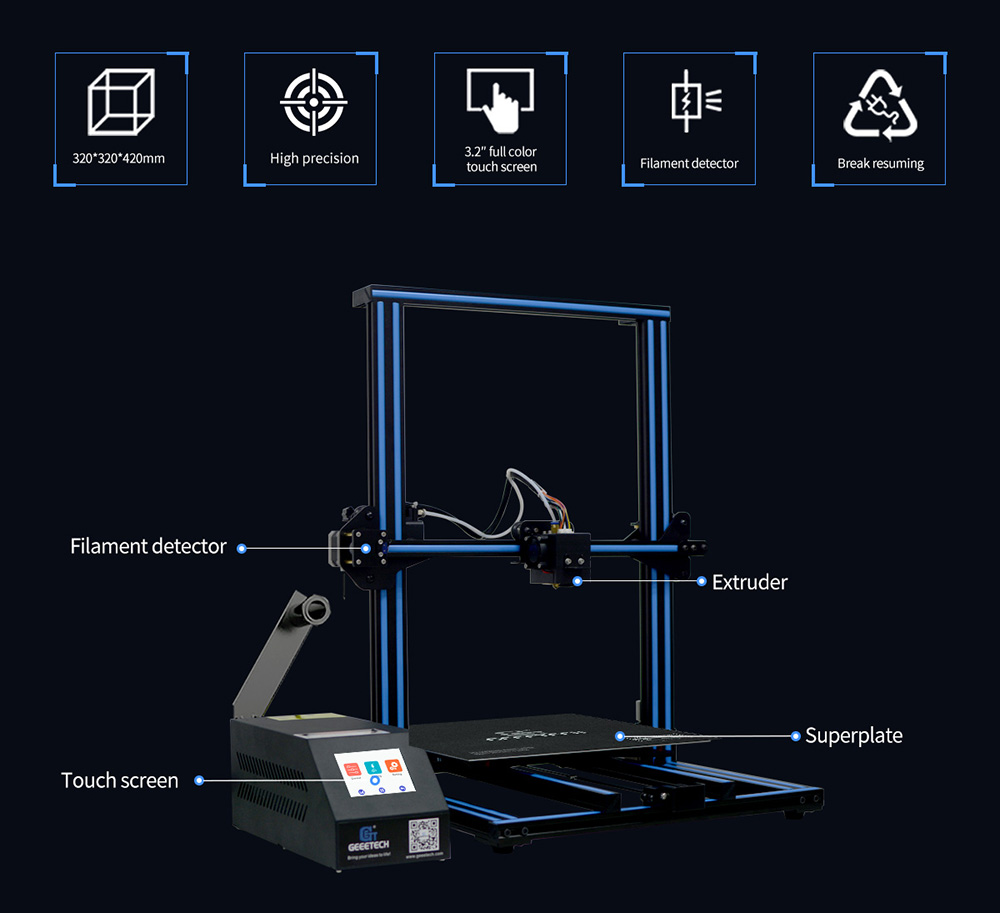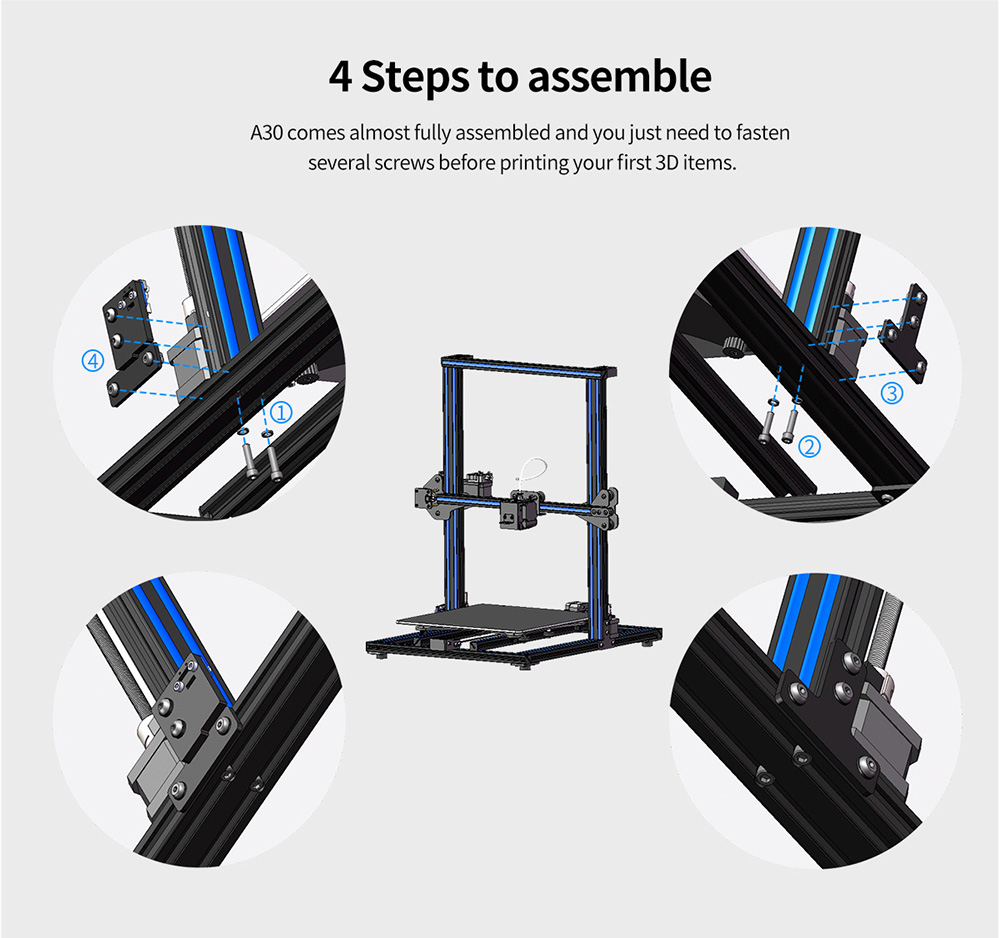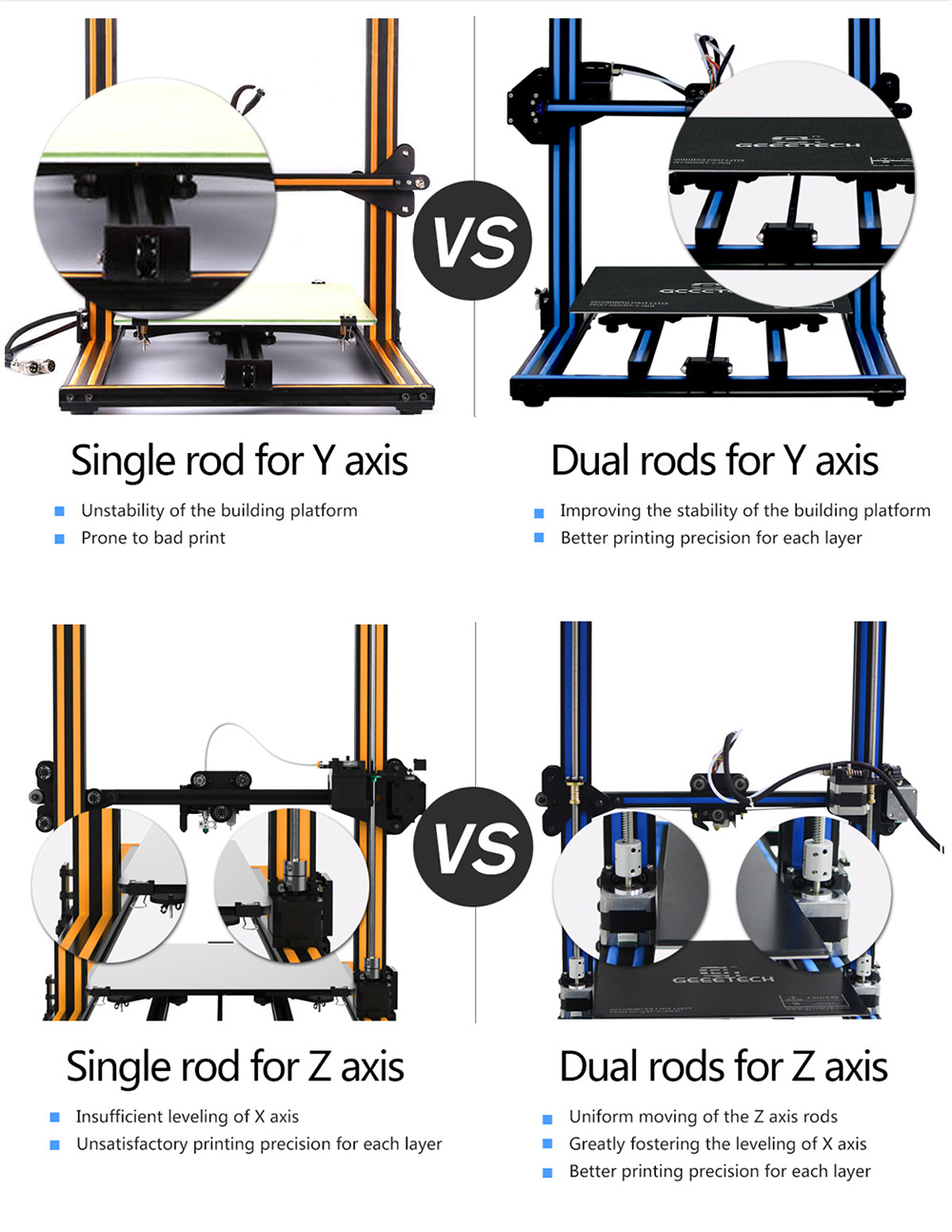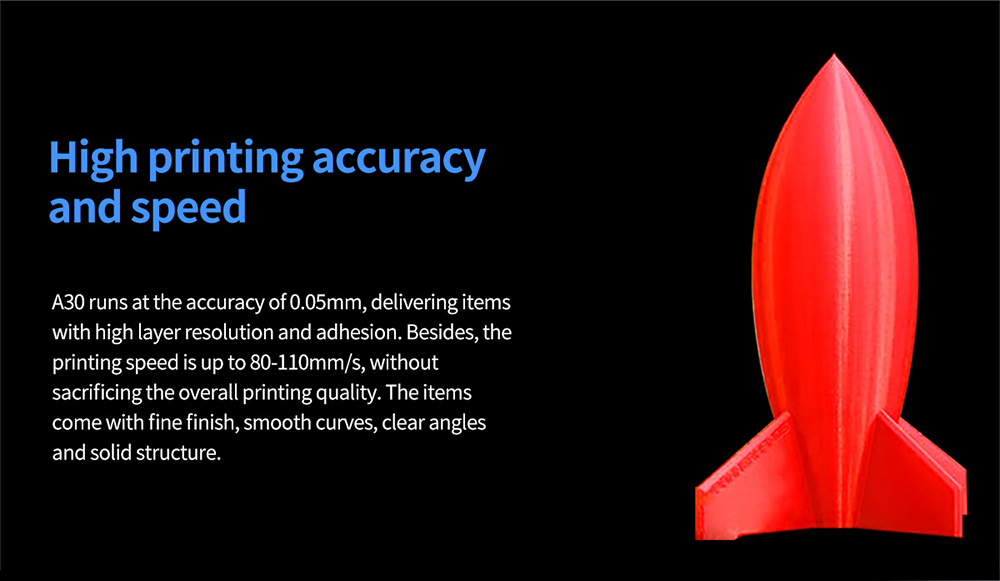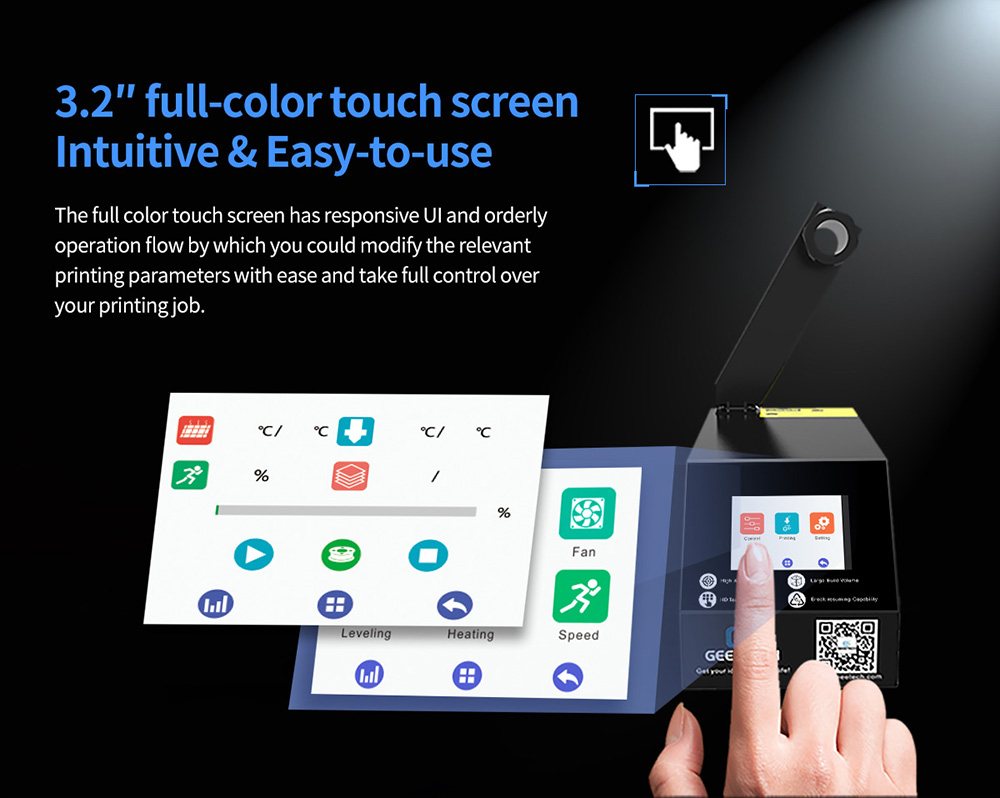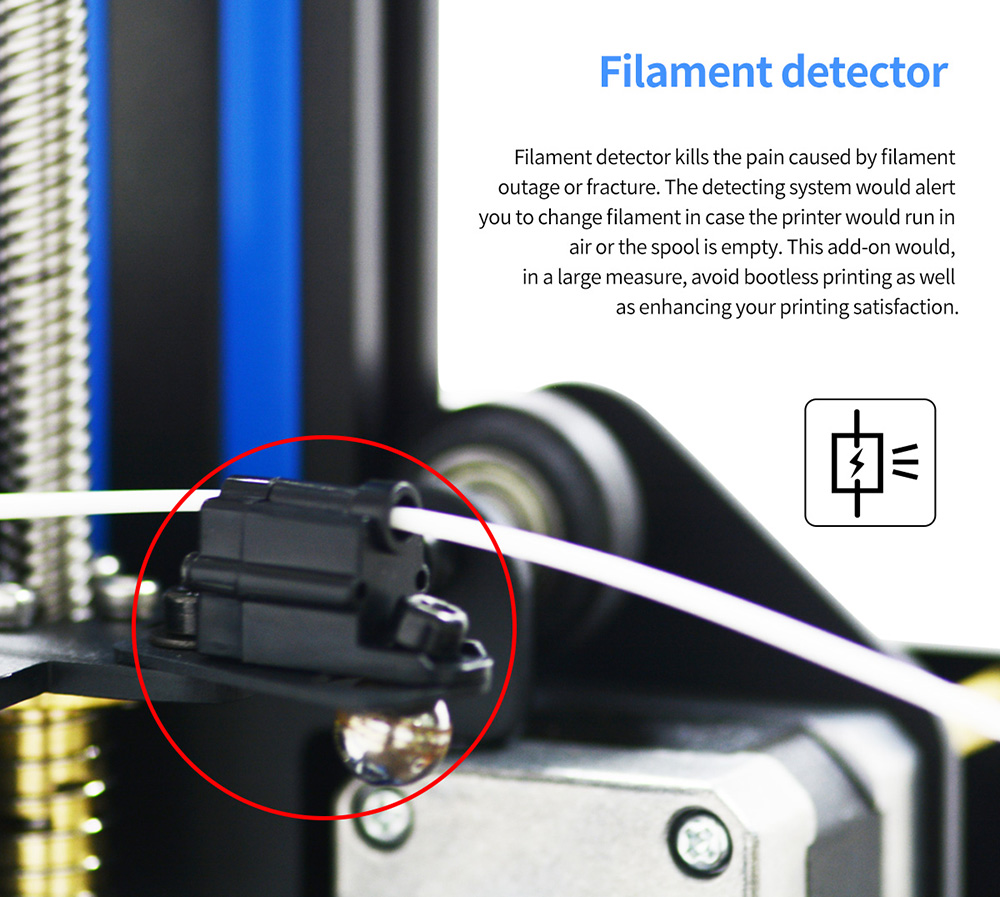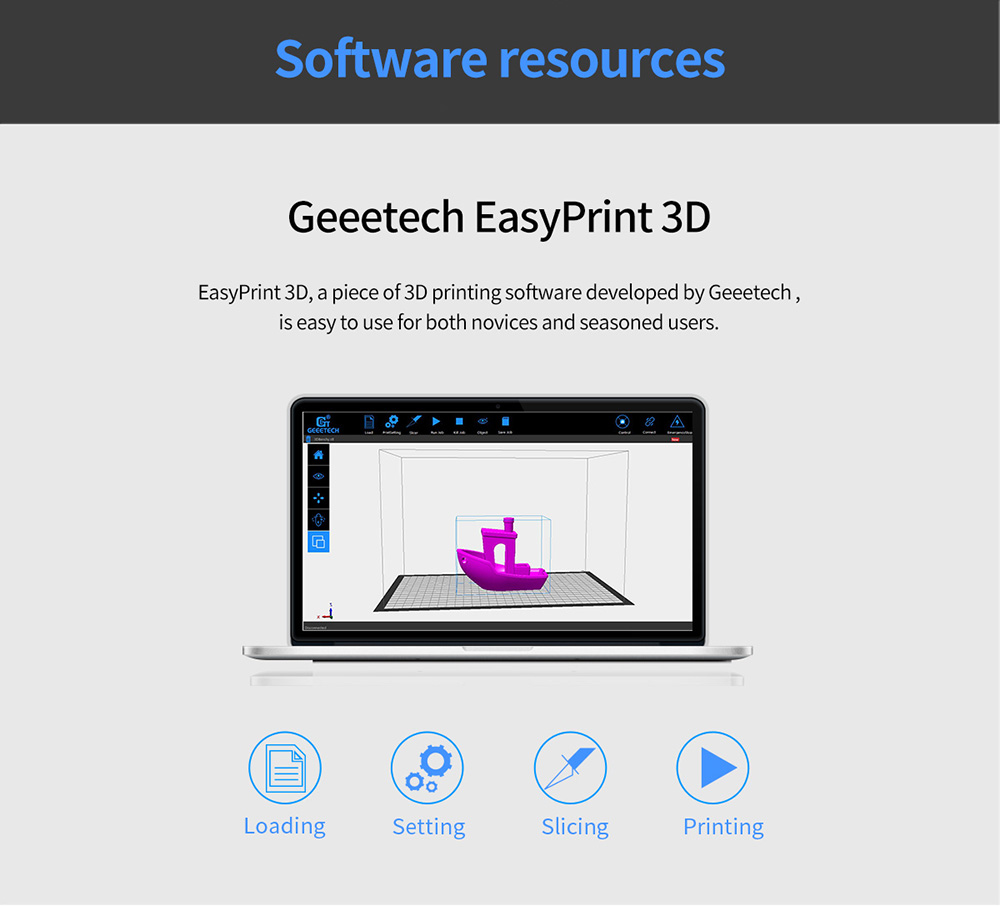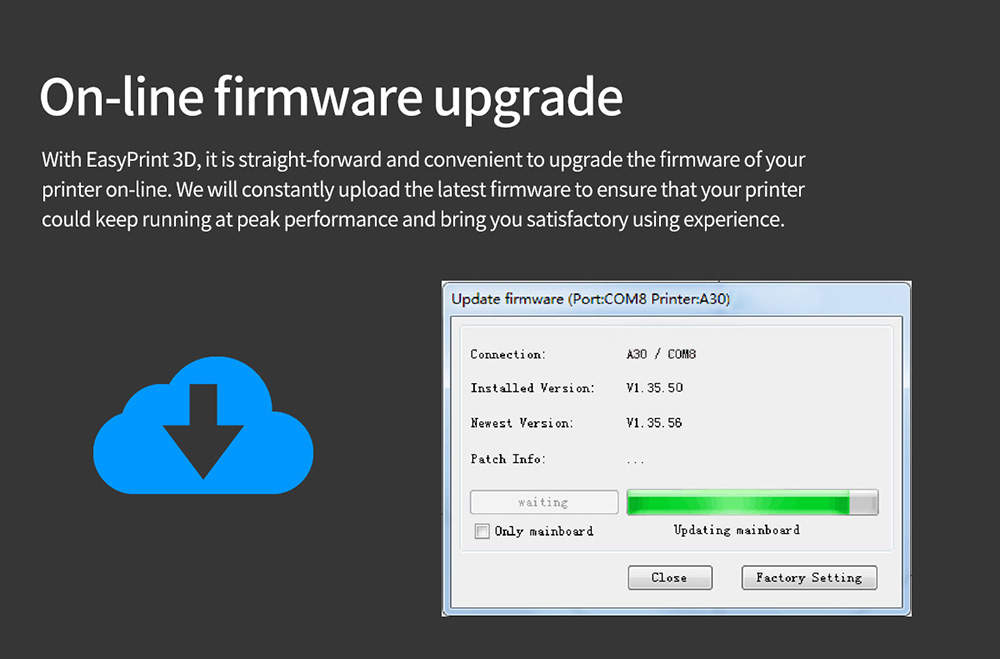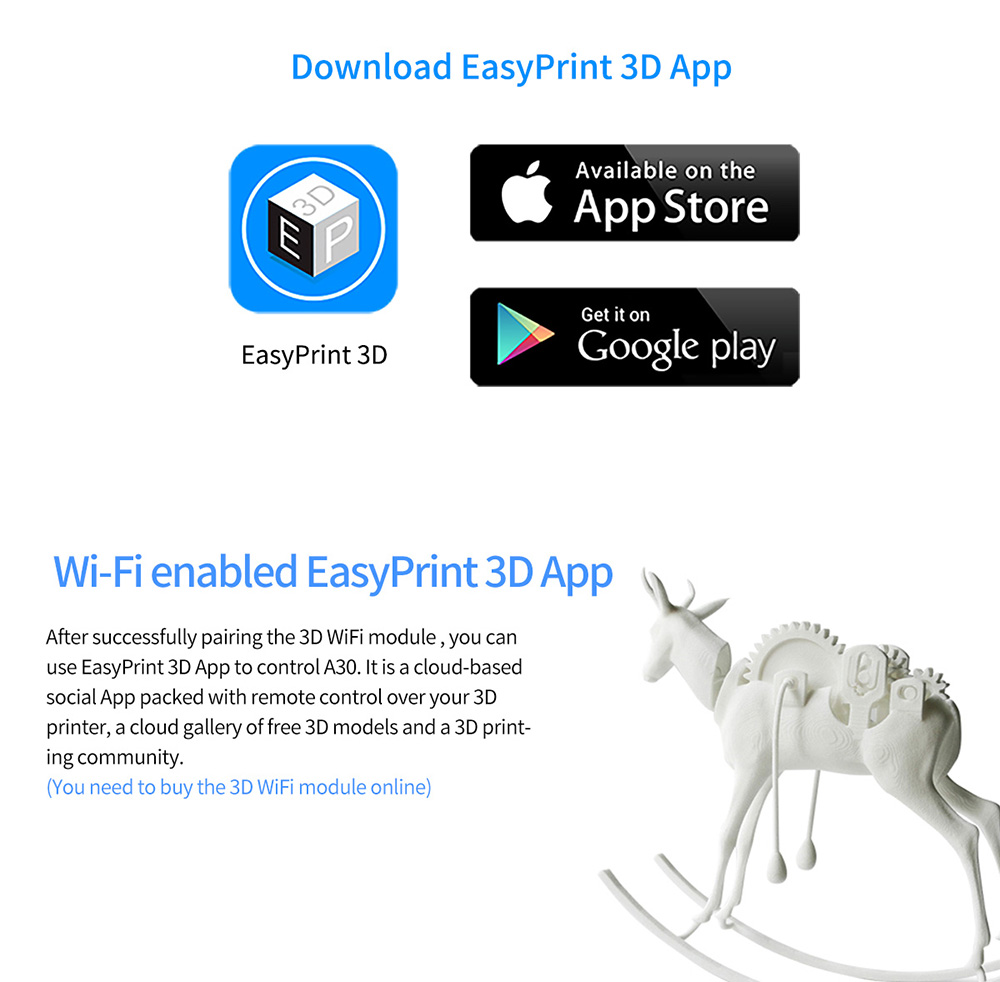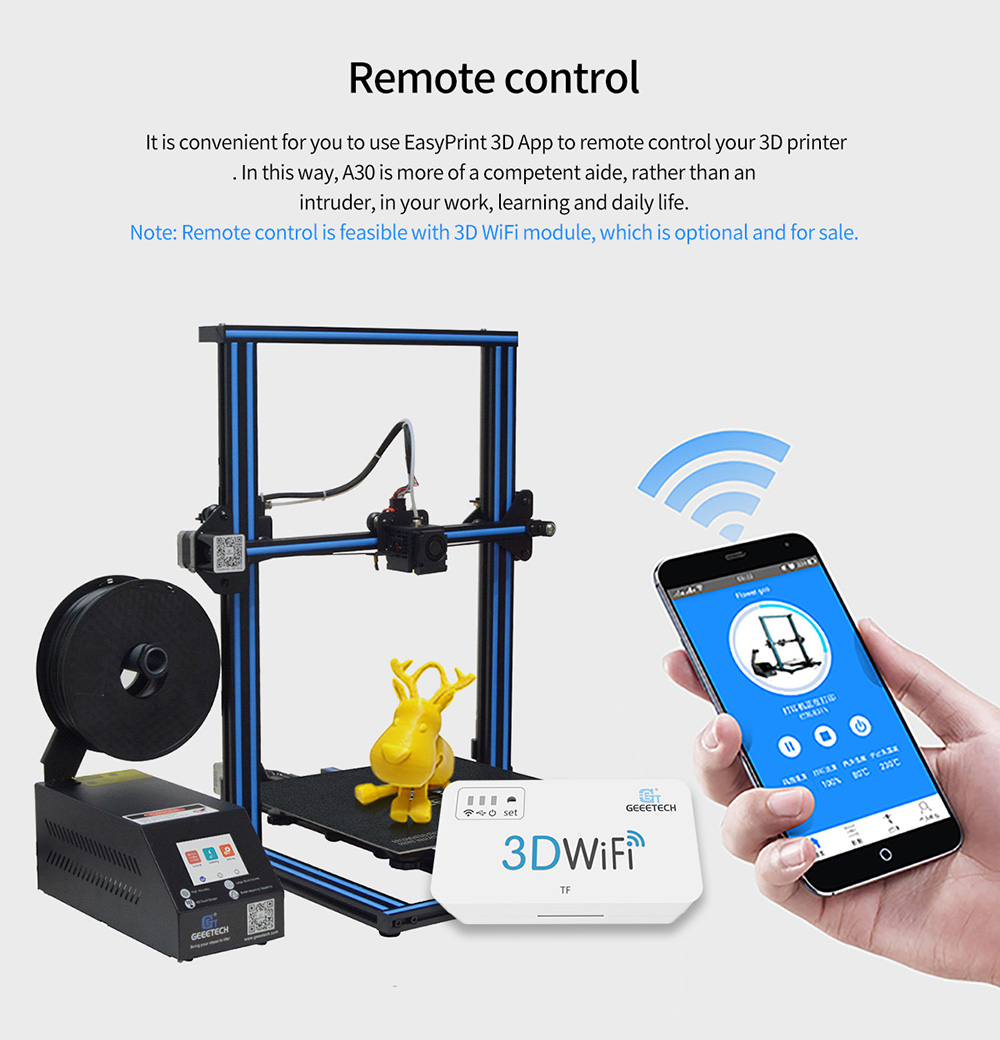 Printing parameters
Printing technology: FDM
Build volume: 320*320*420mm
Printing accuracy: 0.05mm
Positioning precision: X/Y:0.11mm. Z: 0.0025mm
Printing speed: 80-110mm/s recommended
Filament diameter: 1.75mm
Nozzle diameter: 0.4mm
Filament: PLA, ABS, nylon, wood polymers, etc.
Max temp for hotbed: 100℃
Max temp for extruder: 250℃
Software resources
Operating system: Windows, MAC, Linux
Remote App: EasyPrint 3D App
Control software: EasyPrint 3D, Cura,Repetier-Host,Simplify3D
File format: STL,OBJ,Gcode
Electrical
Power supply: 115V/230V, 50HZ~60HZ
Connectivity: Wi-Fi (with an optional 3D WiFi module), USB,
SD card (support stand-alone printing)
Display screen: 3.2″ full-color touch screen
Mechanical:
Frame: Aluminum profile
Build Platform: Aluminum heatbed+ tempered glass
XY Rods: Wear-resistant aluminum profile
Z axis: Lead screw
Stepper Motors: 1.8°step angle with 1/16 micro-stepping
Physical Dimensions & Weight
Machine Dimension: 508x615.5x630.5 mm
Shipping box Dimension: 670x560x300 mm
Machine Net weight: 11.70 kg
Machine Gross weight: 14.60 kg