This Handy TG-21 3D Pen Allows You to Liberate Your Imagination
3D printing pen, often used as a toy or a novelty for children who are desperate for a versatile printing gadget, is always limited in its monotonous function in the past. Nevertheless, in most recent years, the 3D printing pens have gained their momentum and become more sophisticated entering a packed marketplace, with more features and compatible materials. They are no longer only regarded as a toy but something defined as an idea generator to make every possible idea into reality. Would you like to have a MAGIC PEN in hand, which will bring you into a wonderland created by your own? Then here's a recommendation for you, come join me and get to know the newly released Geeetech TG-21 3D printing pen.
DEBUT OF GEEETECH TG-21 PRINTING PEN
In pursuing the greatest performance of the printing pen effect, we have officially launched our latest 3D printing pen– TG-21. Sleek, dynamic and user-friendly designed, the newly released Geeetech 3D pen is an advanced printing pen which is much compatible with various filaments such as ABS, PLA and PCL. It will surely offer you every possibility with the flexibility to get approach to the easy-to-use technology. A highly recommended and perfectly go-to 3D printing solution for your every creative thought with just a pen IN HAND.
Eager for more details? Let's just take a precise look on it.
Designed With Comfort |

ART OF MINIMALIST
In this newly launched 3D printing pen, we adopt a far more concise and delicate appearance. From its outermost shell, we design it with a frosted material in pursuing the best touching experience of its gripping feelings. From its colors, three hues of minimalist are included in this series, namely White, Grey and Black.
LCD Display |

REAL-TIME MONITORING
Equipped with LCD screen for displaying printing information, this latest 3D printing pen allows you to intuitively observe the current working status of the printing pen, updating every single detail of the working status. Meantime, the visually digital statistics delivers you the feedback in time revealing the real-time monitoring.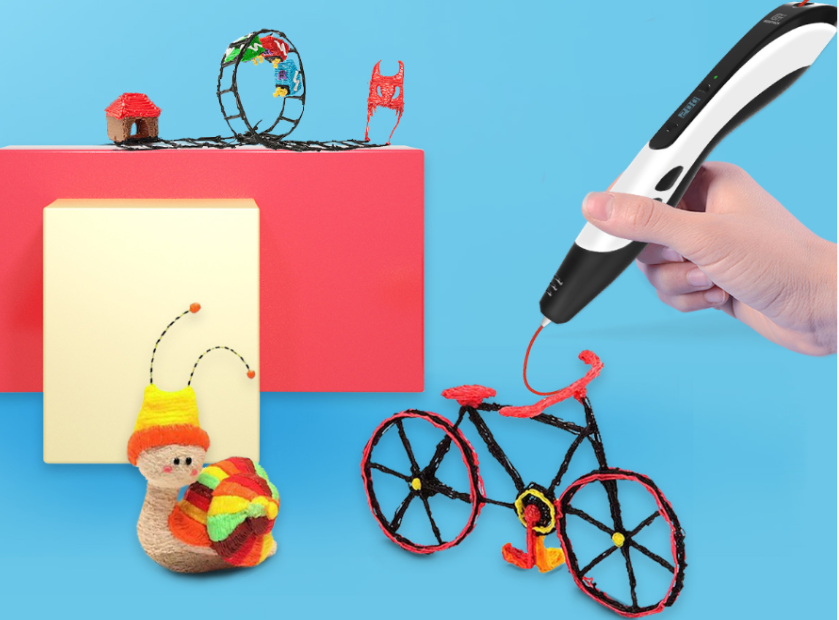 Eight Speed Modes |

ADJUSTABLE LOADING SPEED
As every 3D printing lovers know, the loading speed of the filament will directly influence the thickness and the even heat of the extruded filaments. Owing to the fact that printing speed is one of the most crucial factors in the 3D printing process, an adjustable speed gear should be a must-have function in a 3D printing pen design. This new Geeetech 3D printing pen possesses 8 speed modes, which allows you to adjust and control the whole printing process in real time without pausing. In this function you can select a suitable speed mode for your models of variant shape and complex structure.
Adjustable Temperature |

OPTIMAL FINE-TUNING
For SMOOTH PRINTING Experience. As another one of the most crucial factors in 3D printing, temperature adjustment function will always be an essential part in most 3D printing machines, and, of course 3D printing pens require it as well. With this Geeetech TG-21 printing pen, you can adjust the printing temperature and speed without pausing your drawing process. And it will surely bring you the fluent and smooth operation, while never bothering and impeding your time for any DIY ideas.
Smart Sleep Mode |

AUTO-PROTECTION MECHANISM
Adopting an automatic protection mechanism, the product will automatically turn into its sleep mode if it hasn't been working for 1 minute, or, it has continuously been working for 8 minutes. In this mechanism, it will protect the pen to the largest extent, ensuring the service life of itself. So if your Geeetech 3D printing pen is going to shut down, don't worry, it is not going on strike but just wants to take a break.
Excellent Ergonomic Design |

SLEEK AND SMOOTH CURVE
This Geeetech 3D printing pen adopts an excellent ergonomic design with a sleek and smooth curve, which, as we promise, will offer you the most comfortable touch feelings when you are applying it. With a superb outfit of delicate craftsmanship, it gives you a smoother usage, and in the meantime, allowing you to enjoy the creating time as well as the delight the technology brings to you. In addition, it is equipped with an easily detachable pen tip with ceramic nozzle, and is quite easy for the users to exchange the partial components.
Geeetech TG-21 will be sold at ONLY $42.9 on our official website and can be shipped to worldwide countries. It will be displayed with 3 different colors: grey, black and white. To know more about our newly released 3D printing pen, please check out our website for further details.