Geeetech 2020 Biggest Year-end Sale Ever
As 2020, the toughest year ever, finally and almost came to its end. Geeetech sincerely hope that you will have a happy upcoming new year.
In welcoming the New year and biding farewell to 2020, most Geeetech printing machines, filaments and other products are NOW on a 2020 year end sale, with up to 30% off from their original prices and starting from $17. Just check it out and don't miss any chance of this annually grand sales promotion.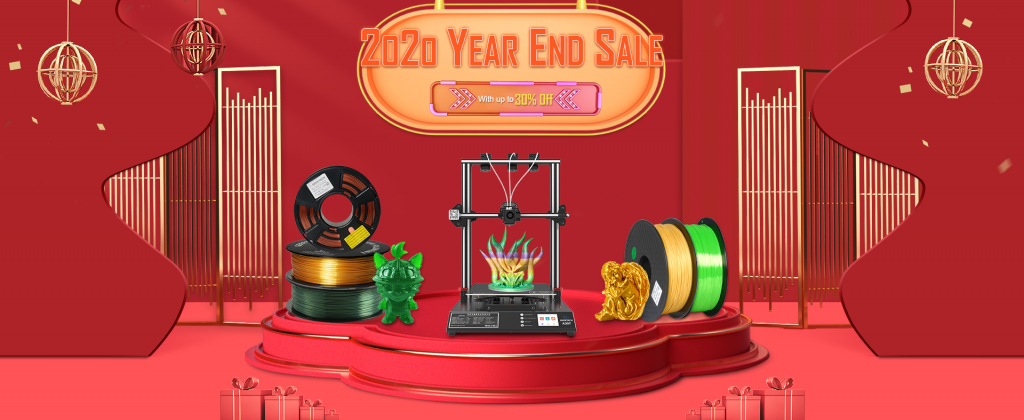 Discount on Geeetech Official Website:
Geeetech Printers on promotion: A10 Pro(Hot-sell), A20(Hot-sell), A10M(Hot-sell), A20M(Hot-sell), A10T, A20T, A30 Pro, A30M, A30T, I3 Pro B
Geeetech Filaments on promotion: PLA, Silk, PETG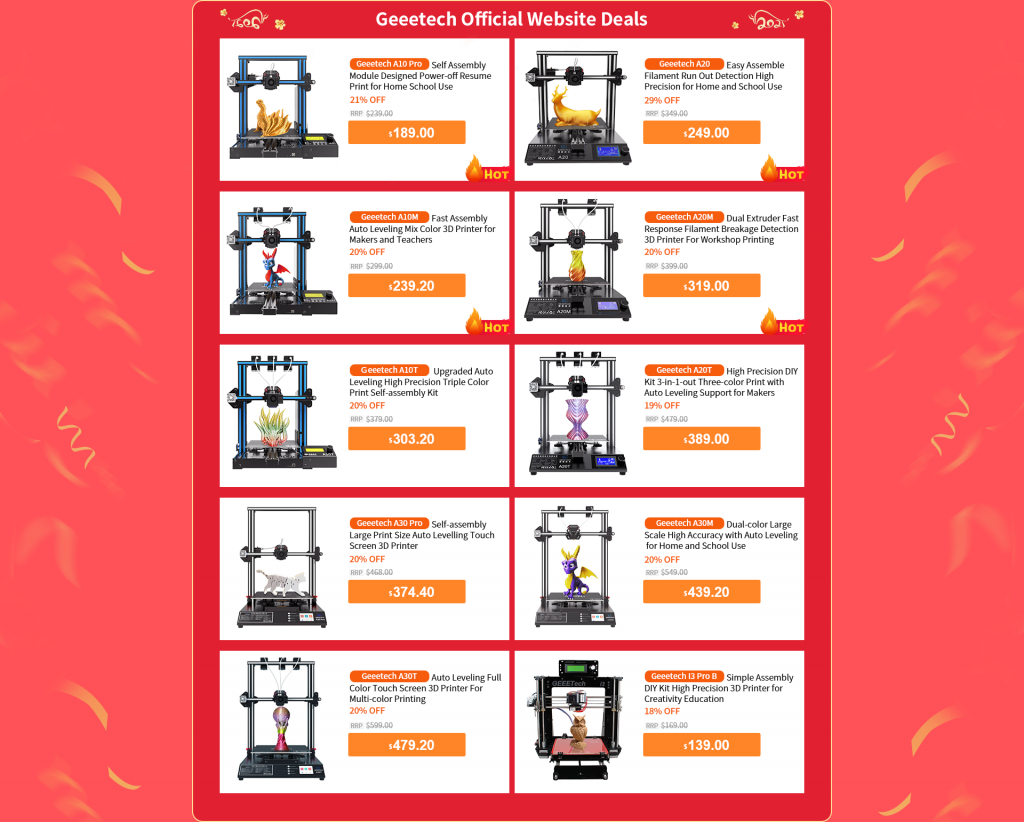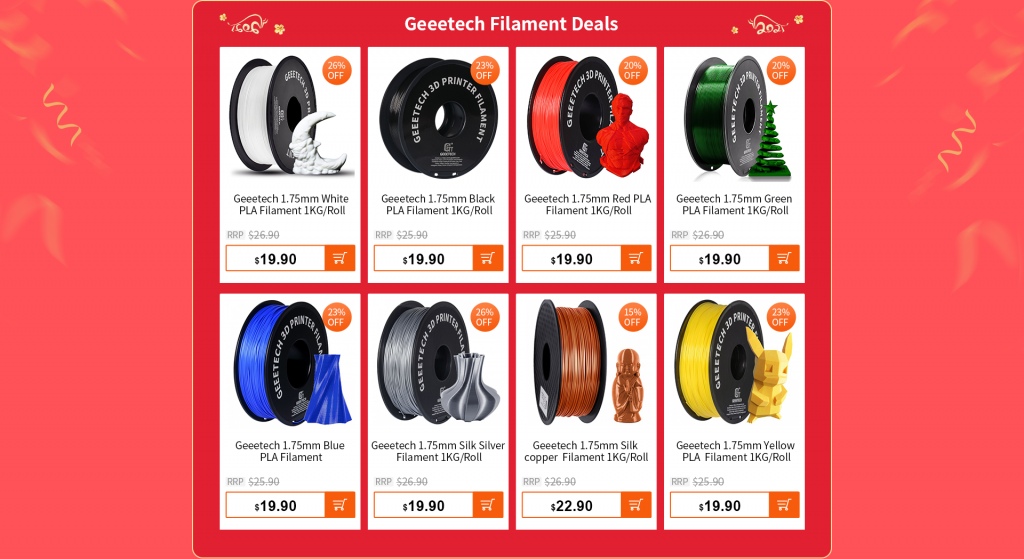 Detailed Promotions on Our Official Website:
3D Printers: Up to 29% OFF
·Geeetech A10 Pro: 21% OFF, Final Price $189.00
·Geeetech A20: 29% OFF, Final Price $249.00
·Geeetech A10M: 20% OFF, Final Price $239.20
·Geeetech A20M: 20% OFF, Final Price $319.00
·Geeetech A10T: 20% OFF, Final Price $303.20
·Geeetech A20T: 19% OFF, Final Price $389.00
·Geeetech A30 Pro: 20% OFF, Final Price $374.40
·Geeetech A30M: 20% OFF, Final Price $439.20
Filaments: Up to 26% OFF
·Geeetech 1.75mm White PLA Filament: 26% OFF, Final Price $19.90
·Geeetech 1.75mm Black PLA Filament: 23% OFF, Final Price $19.90
·Geeetech 1.75mm Red PLA Filament: 23% OFF, Final Price $19.90
·Geeetech 1.75mm Green PLA Filament: 23% OFF, Final Price $19.90
·Geeetech 1.75mm Blue PLA Filament: 23% OFF, Final Price $19.90
·Geeetech 1.75mm Silk Silver Filament: 26% OFF, Final Price $19.90
·Geeetech 1.75mm Silver Copper Filament: 15% OFF, Final Price $22.90
·Geeetech 1.75mm Yellow PLA Filament: 23% OFF, Final Price $19.90
Geeetech Amazon Store Deals:
Geeetech Printers on promotion: A10, A10M, A10T, A20, A20M, A10 Pro, I3 Pro W, I3 Pro B
Geeetech Filaments on promotion: PLA, Silk
Other Products on promotion: 3D Touch, Solar Light Outdoor, 3D Pen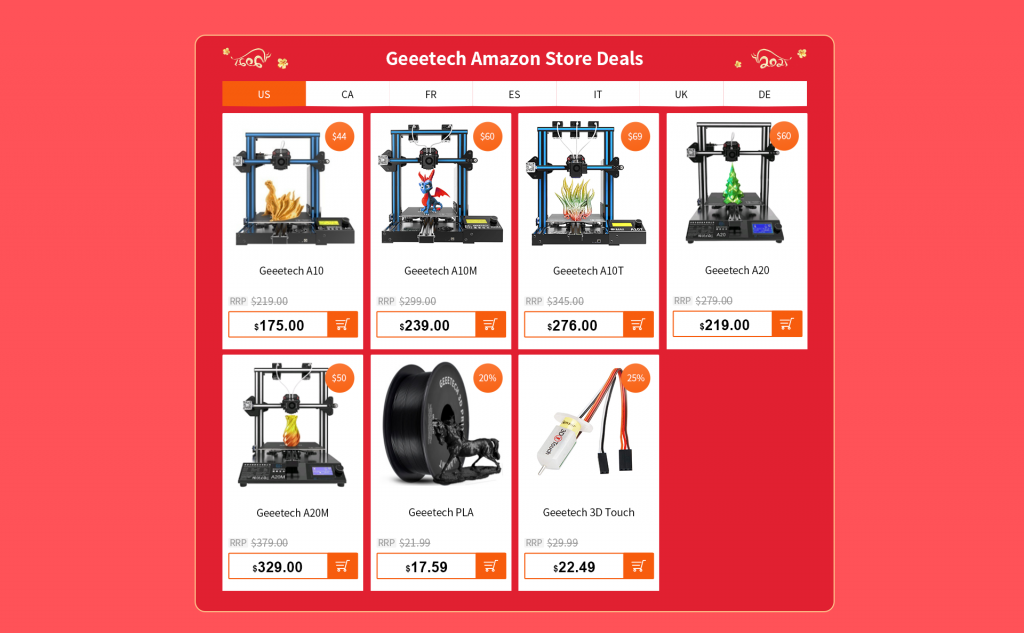 US
3D Printers
Promotion Time: Dec 29, 2020- Jan 04, 2021
Geeetech A10
Discount: $44 OFF, Final Price $175.00 instead of $219.00
Link: http://amz.do/gbUIGT
Geeetech A10M
Discount: $60 OFF, Final Price $239.00 instead of $299.00
Link: http://amz.do/5utaMj
Geeetech A10T
Discount: $69 OFF, Final Price $276.00 instead of $345.00
Link: http://amz.do/fPnzeG
Geeetech A20
Discount: $60 OFF, Final Price $219.00 instead of $279.00
Link: http://amz.do/7Vjk6j
Geeetech A20M
Discount: $50 OFF, Final Price $329.00 instead of $379.00
Link: http://amz.do/ihgHdV
Filaments
Geeetech PLA
Discount: 20% OFF, Final Price $17.59 instead of 21.99
Link: http://amz.do/1ChmE6
Other Products
Geeetech 3D Touch
Promotion Time: Dec 29, 2020 4:30 AM PST – Dec 29, 2020 10:30 AM PST
Discount: 25% OFF, Final Price $22.49 instead of 29.99
Link: http://amz.do/fDL2K0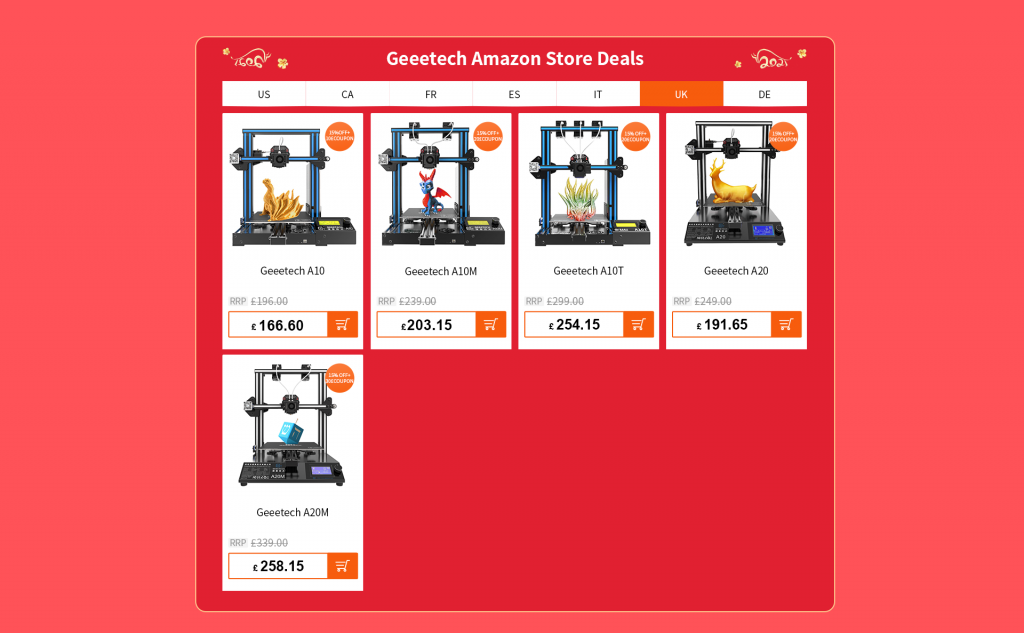 UK
3D Printers
Geeetech A10
Promotion Time: Dec 26, 2020 – Jan 01, 2021
Discount: 15% OFF+ €10 COUPON, Final Price €166.6 instead of €196.00
Link: https://amzn.to/39Qj4JP
Geeetech A10M
Promotion Time: Dec 28, 2020 – Jan 03, 2021
Discount: 15% OFF + €20 COUPON, Final Price €203.15 instead of €239.00
Link: https://amzn.to/2WhQ4H2
Geeetech A10T
Promotion Time: Dec 28, 2020 – Jan 03, 2021
Discount: 15% OFF + €20 COUPON, Final Price €254.15 instead of €299.00
Link: https://amzn.to/2WipE87
Geeetech A20
Promotion Time: Dec 28, 2020 – Jan 03, 2021
Discount: 15% OFF + €20 COUPON, Final Price €191.65 instead of €249.00
Link: https://amzn.to/2wbgmQy
Geeetech A20M
Promotion Time: Dec 28, 2020 – Jan 02, 2021
Discount: 15% OFF + €30 COUPON, Final Price €258.15 instead of €339.00
Link: https://amzn.to/2TTRG8h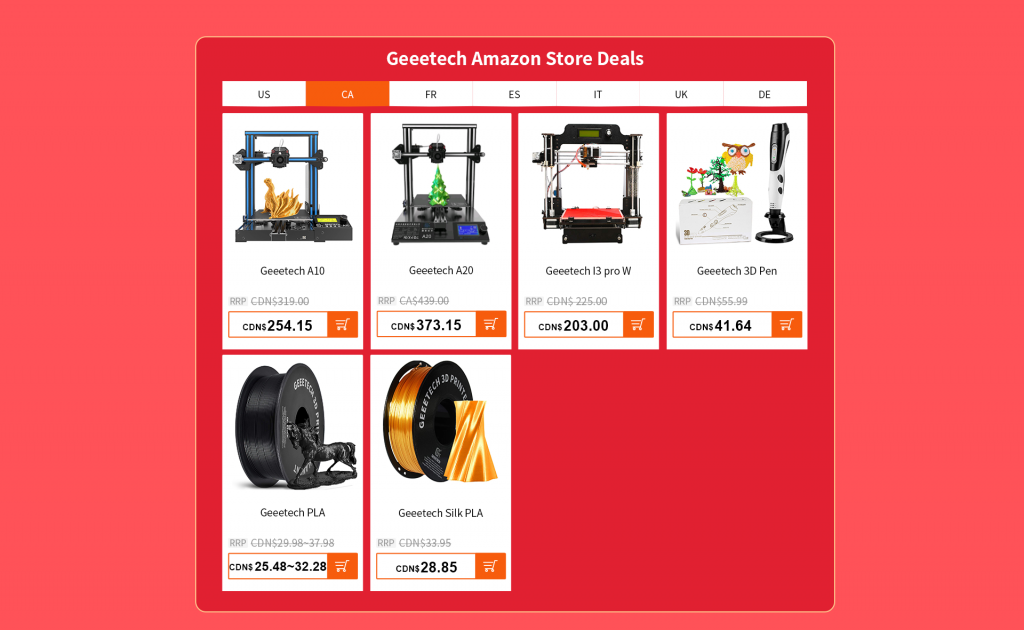 CA
Geeetech A10
Promotion Time:3-Jan-2021 2:10 AM PST – 3-Jan-2021 8:10 AM PST
Discount:CDN$64.85 OFF, Final Price CDN$254.15 instead of CDN$319.00
Link: http://amz.do/3onAIB
Geeetech A20
Promotion Time: 4-Jan-2021 12:00 AM PST – 10-Jan-2021 11:59 PM PST
Discount: CDN$65.85 OFF, Final Price CDN$373.15 instead of CDN$439.00
Link: http://amz.do/lpX8x8
Geeetech I3 Pro W
Promotion Time: 25-Dec-2020 12:00 AM PST – 10-Jan-2021 11:59 PM PST
Discount: CDN$22.00 OFF, Final Price CDN$203.00 instead of CDN$225.00
Link: http://amz.do/9qPfEf
Geeetech 3D Pen
Promotion Time: 28-Dec-2020 3:05 PM PST – 28-Dec-2020 9:05 PM PST
Time: 4-Jan-2021 12:00 AM PST – 10-Jan-2021 11:59 PM PST
Discount: CDN$14.35 OFF, Final Price CDN$41.64 instead of CDN$55.99
Link: http://amz.do/5xWddR
Filaments
Geeetech PLA
Promotion Time: 2-Jan-2021 10:35 AM PST – 2-Jan-2021 4:35 PM PST
Discount: CDN$4.50~CDN$5.7 OFF, Final Price CDN$25.48~32.28 instead of CDN$29.98~37.98
Link: http://amz.do/fbduaB
Geeetech Silk PLA
Promotion Time: 30-Dec-2020 7:30 AM PST – 30-Dec-2020 1:30 PM PST
Discount: CDN$5.1 OFF, Final Price CDN$28.85 instead of CDN$33.95
Link: http://amz.do/7DuDA6

FR
3D Printers
Geeetech A10 Pro
Promotion Time: Dec 28, 2020 – Jan 3, 2021
Discount: 15% OFF, Final price €203,15 instead of €239,00
Link: https://amzn.to/3gd1J0S
Filaments
Geeetech Filament PETG
Promotion Time: Dec 29, 2020
Discount: 15% OFF, Final price €17,84 instead of €20,99
Link: https://amzn.to/3aFAKsO
Geeetech Silk Filament
Promotion Time: Dec 28, 2020
Discount: 15% OFF, Final price €22,09 instead of €25,99
Link: https://amzn.to/2SRRtBb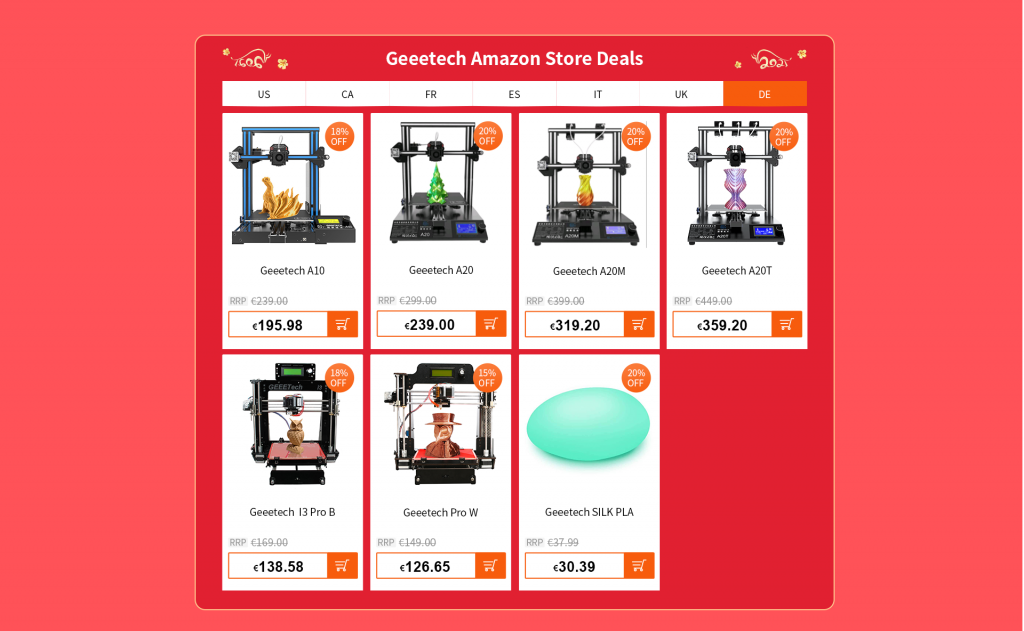 DE
3D Printers
Promotion Time: Dec 28, 2020 – Jan 01, 2021
Geeetech A10
Discount: 18% OFF, Final price €195,98 instead of €239,00
Link: https://amzn.to/39Agicf
Geeetech A20
Discount: 20% OFF, Final price €239,00 instead of €299,00
Link: https://amzn.to/3fTyNuz
Geeetech A20M
Discount: 20% OFF, Final price €319,20 instead of €399,00
Link: https://amzn.to/3avrWWp
Geeetech A20T
Discount: 20% OFF, Final price €359,20 instead of €449,00
Link: https://amzn.to/2U5yTXB
Geeetech I3 Pro B
Discount: 18% OFF, Final price €138,58 instead of €169,00
Link: https://amzn.to/3a0nGxR
Geeetech Pro W
Discount: 15% OFF, Final Price €126,65 instead of €149,00
Link: https://amzn.to/3fuvAk8
Filament
Geeetech SILK PLA
Discount: 20% OFF, Final Price €30,39 instead of €37,99
Link: https://amzn.to/3amaOT1

IT
3D Printer
Geeetech A10 Pro
Promotion Time: Dec 29, 2020
Discount: 15% OFF, Final Price €203,15 instead of €239,00
Link: https://amzn.to/2m7vPeS
Filament
Geeetech Deruc PLA
Promotion Time: Dec 29, 2020 – Jan 3, 2021
Discount: 15% OFF, Final Price €21,24 instead of €24,99
Link: https://amzn.to/37V1S7z

ES
3D Printers
Geeetech A10
Promotion Time: Dec 28, 2020 – Jan 03, 2021
Discount: 15% OFF+ COUPON, Final Price €203,15 instead of €239,00
Link: https://amzn.to/3mLxMYf
Geeetech A20
Promotion Time: Dec 28, 2020 – Jan 03, 2021
Discount: 20% OFF, Final Price €239,20 instead of €299,00
Link: http://amzn.to/37IQeMW
Geeetech I3 Pro B
Promotion Time: Dec 28, 2020 – Jan 03, 2021
Discount: 15% OFF+ COUPON, Final Price €152,00 instead of €179,00
Link: https://amzn.to/3rrCYE4
Other Products
Geeetech Solar Light Outdoor
Promotion Time: Dec 28, 2020 – Jan 03, 2021
Discount: 20% OFF+ COUPON, Final Price €31,99 instead of €39,99
Link: https://amzn.to/2WHaWGB
Geeetech EBAY Store Deals

US
3D Printers
Geeetech A10
Discount: 10%OFF, Final Price $179.00 instead of $199.00
Link: https://www.ebay.com/itm/273384214057
Geeetech A30 Pro
Discount: 20%OFF, Final Price $379.00 instead of $468.00
Link: https://www.ebay.com/itm/323986321590
Filament
Geeetech White PLA
Discount: Final Price $29.90 instead of $35.00
Link: https://www.ebay.com/itm/303812541045

UK
3D Printers
Geeetech A10
Discount: 8% OFF, Final Price €165.00 instead of €179.00
Link: https://www.ebay.co.uk/itm/173487706633
Geeetech A20M
Discount: 20% OFF, Final Price €279.00 instead of €350.00
Link: https://www.ebay.co.uk/itm/273859113307
Filament
Geeetech Black PLA
Discount: Final Price €14.99 instead of €25.99
Link: https://www.ebay.co.uk/itm/123149665008

AUS
3D Printers
Geeetech A10
Discount: 10% OFF, Final Price $249.00 instead of $276.00
Link: https://www.ebay.com.au/itm/323376195724
Geeetech A30M
Discount: 13% OFF, Final Price $599.00 instead of $689.00
Link: https://www.ebay.com.au/itm/233628418418
Filament
Geeetech Silk Filament
Discount: Final Price $35.99 instead of $41.00
Link: https://www.ebay.com.au/itm/232838457915

DE
3D Printers
Geeetech A30T
Discount: 18% OFF, Final Price €469.00 instead of €569.00
Link: https://www.ebay.de/itm/324225967162
Geeetech A10M
Discount: 20% OFF, Final Price €229.00 instead of €289.00
Link: https://www.ebay.de/itm/332806418889
Filament
Geeetech PLA
Discount: Final Price €16.99 instead of €25.99
Link: https://www.ebay.de/itm/224012239514
Geeetech AliExpress Store Deals
AliExpress
(geeetech.aliexpress.com / geeetechglobal.aliexpress.com)
Geeetech A10T: 20% OFF, Final Price $348.00
Geeetech A20T: 20% OFF, Final Price $448.80
Geeetech PLA: 20% OFF, Final Price $35.99
Link: https://www.aliexpress.com/item/33046226654.html