The Biggest Geeetech Black Friday Deals 2020
When it comes to Black Friday, we typically think about long queues in the store. You just can't have it this year. Yes,the biggest change is going to be more shopping online. Now you can get the Black Friday deals of our Geeetech products you couldn't get anywhere else,any time else.Add to your cart now!
The Geeetech Black Friday Deals are up to 42.4% off ,starting from 11 EUR.You can get 7-day deals (20% off )on most of our products.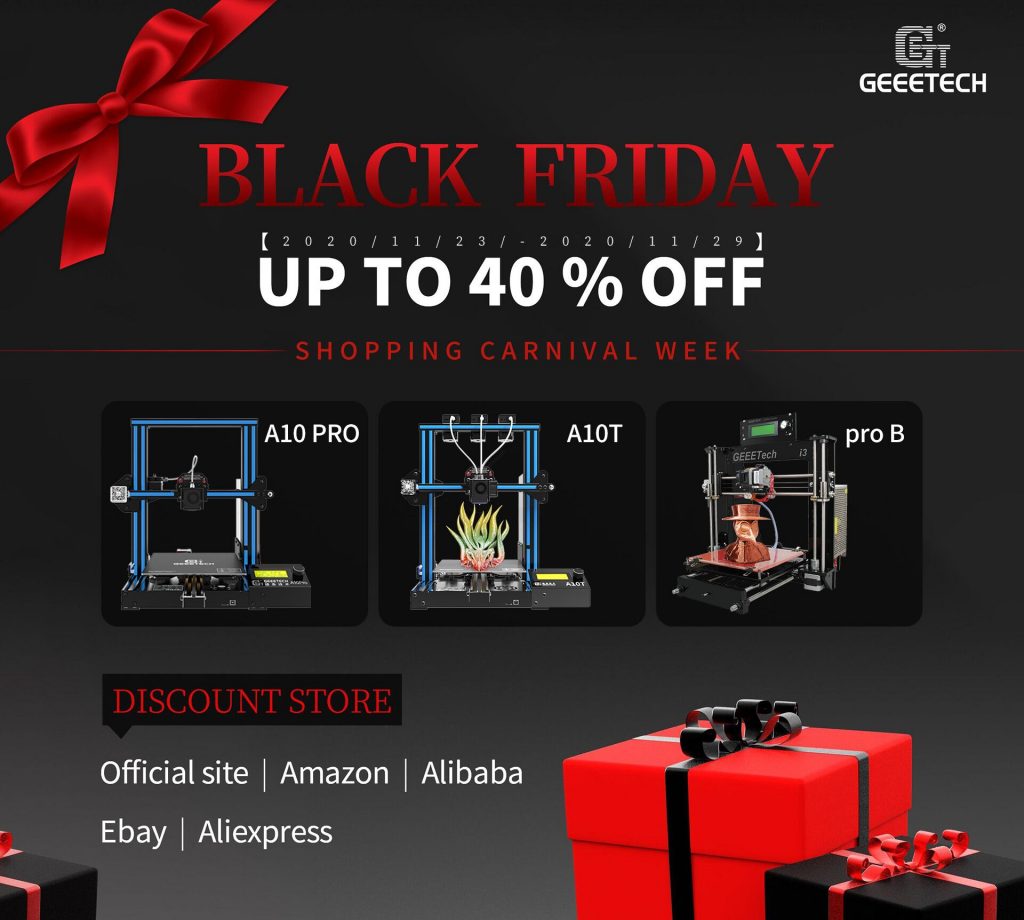 Best deals on Amazon:
Geeetech printers:A10 Pro, A10M,A10T, A20, A20M, A20T, Pro B, Pro W,A30 Pro.
Geeetech filaments:PLA,Silk ,PETG.
other products:3D Pen,Solar light and etc.
Time:Nov 23,2020-Nov 29,2020
UK Only
Geeetech A20
Final price £179.2 instead of £ 249 【28% off】
Filaments:
Geeetech PLA filament
Final price £14.25-18.99 instead of £ 17.82-23.99【24% off】
Geeetech SILK filament
Final price £17.59-21.59 instead of £ 21.99-26.99 【20% off】
FR Only
3D printers:
Filaments:
Geeetech Silk Filament (different colors)
Final price €20.79 instead of €25.99 【20% off】
Other products:
DE Only
3D printers:
Filaments:
Other products:
ES Only
3D printers:
Filaments: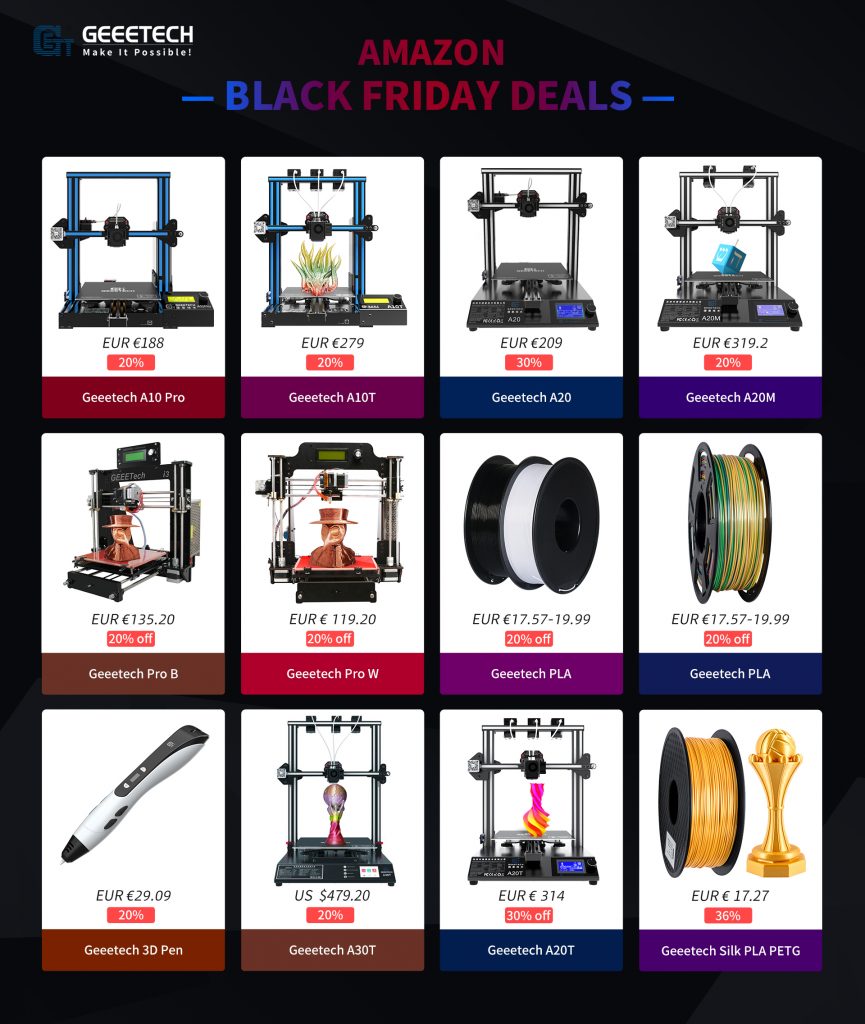 IT Only
3D printers:
Filaments:
Geeetech PLA Filaments
Final price 17.57€ instead of 21.99€ (white & black)
Final price 19.99€ instead of 24.99€ (other colors)
Link: https://amzn.to/3hh6Cq4
CA Only
Printers:
Time: 2020/11/26 12:00AM- 2020/11/30 11:59PM
Geeetech A20
Final price CA$329.25【25%off】
Geeetech A20M
Final price CA$431.20【20%off】
Geeetech A10
Final price CA$239【25%off】
Geeetech A10M
Final price CA$319【24%off】
Filaments:
Geeetech Silk PLA
Time: 2020/11/26 7:25AM – 2020/11/26 1:25PM
Final price CA$27.16【20%off】
Geeetech PLA
Time: 2020/11/26 7:40AM – 2020/11/26 1:40PM
Time: 2020/11/28 12:00AM-2020/11/30 11:59PM
Final price CA$21.92-23.98【20%off】
Other products:
Geeetech Solar Lights Outdoor Garden
Time: 2020/12/7 12:00AM – 2020/12/13 11:45PM
Final price CA$14 instead of CA$37.99
Geeetech 3d Pen
Time: 2020/11/27 7:00 AM – 2020/11/27 1:00 PM
Time: 2020/12/4 2:15 AM- 2020/12/4 8:15 AM
Final price CA$39.19【30%off】
US Only(Black Friday & Cyber Monday)
Time:Nov. 27th-Nov. 30th,all 20% off
3D printers:
Filaments:
Geeetech Authorized Store:
3D printers:
UK Only
FR Only
Geeetech A10Pro
Final price 191.2 € instead of 239€ 【20% off】
Get a gift here: a roll of PETG (black or white)
Link: https://amzn.to/3pWC9Tg
Geeetech A20
Final price 209 € instead of 299€ 【30% off】
Get a gift here: a roll of PETG (black or white)
Link: https://amzn.to/35D6bSo
Geeetech A20M
Final price 319.2 € instead of 399€ 【20% off】
Get a gift here: a roll of PETG (black or white)
Link: https://amzn.to/3nGeuV4
Geeetech A20T
Final price 349 € instead of 449€
Get a gift here: a roll of PETG (black or white)
Link: https://amzn.to/3nPg7ja
IT Only
CA Only
Spain Only
Geeetech A10:
Final price € 179 instead of € 239 【25%off】
Geeetech A20T:
Final price € 314 instead of € 449 【30% off】
Geeetech Pro W :
Final price € 119.20 instead of € 149 【20% off】
US Only(Black Friday & Cyber Monday)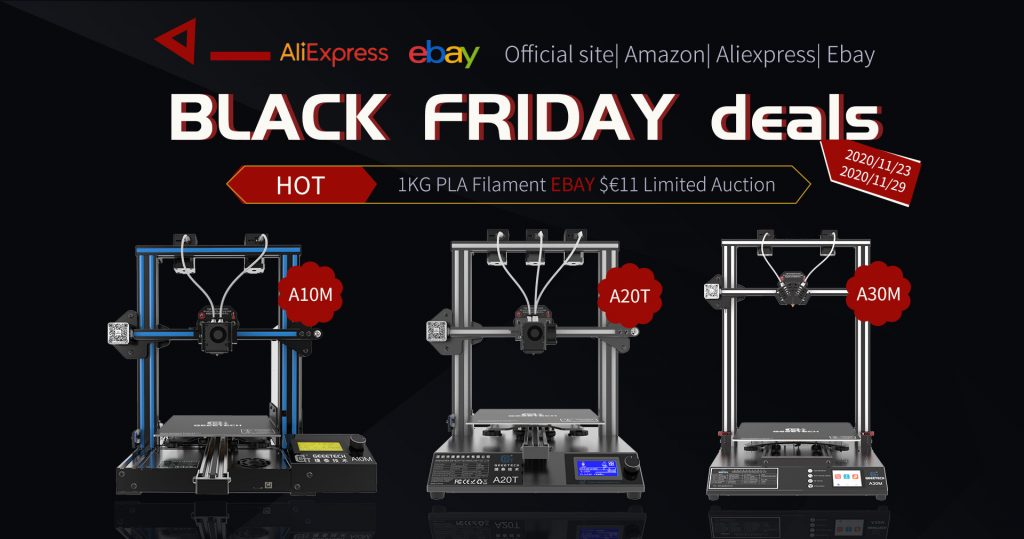 eBay/AliExpress
Time:
eBay: 23/11/2020-01/12/2020 (Local time)
eBay has a limited auction of PLA Filament for 11€
AliExpress: 23/11/2020-27/11/2020 (US time)
Shop Address:
eBay:
France: A10M
Final Price 229€【8% off】
Italy: A20M
Final Price 344€【11% off】
Spain: A30M
Final Price 429€【14% off】
AliExpress:
(geeetech.aliexpress.com / geeetechglobal.aliexpress.com)
Geeetech A10:
Final price$183.52【26% off】
Geeetech A10M:
Final price$213.64【34% off】
Geeetech A10T:
Final price$313.92【28% off】
Geeetech A20M:
Final price$297.37【35% off】
Geeetech A20T:
Final price $403.92【28% off】
Geeetech A30M:
Final price$436.62【30% off】
Geeetech A30T:
Final price$497.87【30% off】
Special Offers on Official Website:
3D printers: All 20% OFF
Filaments: Up to 26% off
Geeetech A30M
Final price $439.20
Geeetech A30T
Final price $479.20
Geeetech A20
Final price $261.00
Geeetech A20M
Final price $319.20
Geeetech A20T
Final price $389.00
Geeetech A10 Pro
Final price $189.00
Geeetech A10M
Final price $239.20
Geeetech A10T
Final price $303.20