3d filament,3d printer,3d printing application,3d printing design,activities,Announcement,cool things,discount,dual extruder,Promotion,Sales,useful things,worth sharing
Halloween Deals Hot Now: Huge Discount on Geeetech Amazon Stores
If you're the kind of person who waits for special days to get a good deal, now's the time to start hunting!

Halloween is around the corner.However,you may choose to celebrate safely at home because of the ongoing COVID-19 pandemic.So why not spend your time with your favorite 3D printers?

Look at these great 3D printers and filaments for some holiday fun on the cheap.Now we offered deep discounts on our Amazon products.The Promotion for 3D printers,up to 20% off with extra coupon,starting from 135.20€ .We have multicoloured filaments to choose from in addition to the basic black and white filaments,up to 45%off,starting from 15.69€.Hurry up and buy!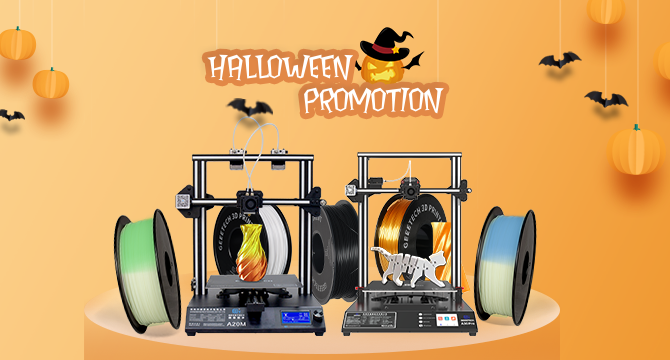 US:
Duration: Oct.22.2020-Nov.1.2020
Check out the link below to take 12% off oders and Save an extra $35.00 now:
The coupon shown on the Amazon product page is available to everyone and can be superimposed upon the discount. You can get around 20% off on the total price on some items.
Five countries in Europe:
Duration:Oct.26.2020-Nov.1.2020
pro B,pro W:5%off
A10,A20:20%off
PLA:15%off(Silk PLA/Grow in dark filament)