12 most innovative 3D printing materials.
When it comes to 3D printing, it's hard to ignore the various types of materials it leverages: plastics, metals, ceramics and etc. There are, however, plenty of "raw" materials that will leave you wondering: "how is this even possible?" In light of this, 3Dnatives has chosen 12 of the most unusual 3D printing materials, which will blow you away.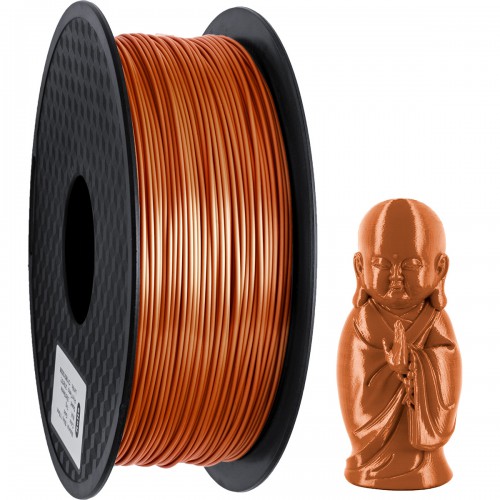 TOP1- Edible filament

At the mention of chocolate, a smile naturally appears on people's faces. So I should tell you that it is possible to 3D print chocolate using FDM technology:chocolate is extruded through the nozzle onto the bed layer by layer. The process is slow and takes a long time, for the printing temperature is relatively low (this is to preserve the flavor of the chocolate).
TOP2-Dust to dust, dust to …a statue?
Everyone wants to be remembered in one way or another after they perish. The Chinese artist ZhuFei fulfills such wish with a unique idea. He uses the ashes as material to 3D print a statue of the deceased. The whole process takes only three hours, after which the family can leave with the statue. The idea is outrageous, but it could help people retain memories of loved ones they lost.
TOP3-Beer is not only drinkable but also used to make long fiber!
An American fibre producer, best known for its biomaterials based on coffee and hemp, recently developed a long fiber made from beer. The long fibers have the natural color of beer, and the main materials are PLA and waste product from beer brewing. The 500g/roll of long fiber that 3D-Fuel sells costs $39.99 (about £32). Now you can make a beer mug out of your favorite beer. It's amazing!
TOP4- Sand and Sahara
S&S (initials) is a 3D printer type invented by Kay,whose goal is to make 3D printers meet the needs of resource conservation. The printer is based on laser sintering technology, which leverages solar radiation to heat and melt materials made of sand and gravel collected in the desert.
TOP5- Art of granulated sugar
Sugar( in the form of a powder) was first used as material for 3D printing by a US firm. The company wanted to demonstrate its printer's capabilities by using 3D-printed sugar to decorate the Chateau DE Versailles cake. A few months before, Victor Leugn, an MIT student, teamed up with a Chinese company to create a 3D sugar sculpture. Drawing inspiration from glass production, Victor discovered that the properties of sugar and glass are very similar.
TOP6- Recycle car tires
The United States scraps more than 259 million tires a year, making it a major global polluter. To solve this problem, a California-based company decided to reuse them by turning them into raw materials for 3D printing. Using selective laser sintering(SLS) and the powder from recycled tyres, they have made an object called Rubber Pouff, which they believe could be replicated in other companies.
TOP7- Dough progress
Italian manufacturer B(initials) has presented their first 3D pasta printer. This printer can print pasta in 2 minutes. The machine is aimed at restaurants, and the manufacturer says it's perfect for restaurants and pasta lovers. The printing materials are water and flour. The 3D printes is based on FDM technology, and the batter is stacked layer by layer on the print bed to form the desired shape. The machine is still in the prototype stage, and is expected to be ready later this year,according to the manufacturer.
TOP8- Glass crystals
An Israeli company (in collaboration with MIT)demonstrated 3D glass printing a few months ago and the technology is ready for commercialization. Glass has excellent biological compatibility, and is easy to sterilize for medicine and aviation applications. To meet transparency requirements, the printer needs to be heated to 1640°C (2984°F). The process is based on FDM technology and the high temperature will have certain limitation to the whole production.
TOP9- Chewing gum
Chia-ling Lin and Maria Nelson set up the first UK company to 3D print chewing gum.The machine is called GumJet, a typical 3-axis FDM printer, but with different materials. So what are the ingredients? As you probably already know from the title, gum balls. During the printing process, various flavorings are added to the gumball to achieve different flavors. According to the designers, the 3D printed gum tastes the same as traditional gum, with a special texture that you will know in your first try.
TOP10-Who says corks can only be used to fill wine bottles?
Corks are usually used as stoppers for wine bottles (about 80% of corks are used as stoppers). A Dutch firm has found another use for it: cork fibre for 3D printing. The material, called CorkFill, can be used in any FDM 3D printer without special technical requirements such as temperature. This fibre is normally printed at 210°-230° C (410° -446° F).
TOP11- Re-creation of bamboo
After fibrils, a Netherland based company is targeting bamboo, a plant normally associated with pandas that flourish in China's mountain forests. Bamboo is hollow and grows fast. The material, called BabooFill, is a blend of PLA/PHA and bamboo fibers, 100% organic, cohesive and isotropic, and has a nice smell, and the taste is similar to that of popcorn.
TOP12- Flax and fiber
A French design company, is innovating around flax. They designed flax based 3D-printed fibers that can be used in a variety of contexts, such as architecture, recreation and 3D printing. The fiber, which is based on PLA, is biodegradable and compatible with most FDM 3D printers. It is more durable and flexible than plastic, and each printed layer is thinner than that of plastic, reducing the overall weight of the print.
Disclaimer: this article is based on a Chinese post on xincailiao. The views expressed herein are those of the author alone.Geeetech makes no representations or warranties of any kind, expressed or implied, as to the accuracy, reliability or completeness of the content. The content of this article is for reference only and does not constitute any investment and application suggestions.Geeetech shall not be liable for any loss , damage,claim, injury of any kind resulting from any error(s),omission(s) in this artical post.