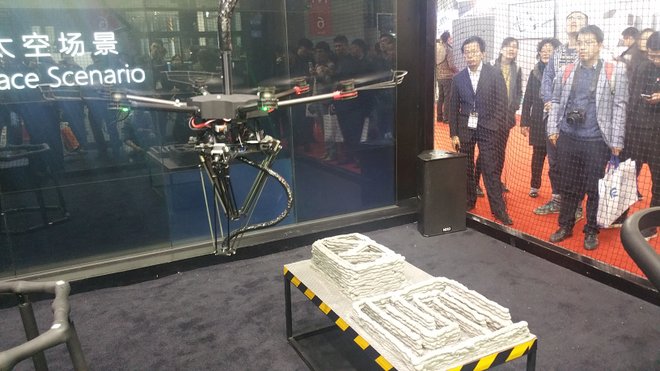 In the past few years, we have seen a lot of crazy concepts at trade shows, but today at TCT Asia 2018 were something happened that actually did blow your socks off. The Hangzhou based DediBot stole the spotlight at TCT Asia 2018 with its flying 3D printer. The concept called the Fly Elephant, a flying 3D printer, yes that's right a FLYING 3D printer.
This sounds like clickbait but it really isn't: A FLYING 3D PRINTER at #TCTAsia. Read more > https://t.co/8tR0JYhATQ pic.twitter.com/GyavNEr6sP

— TCT Magazine (@TheTCTMagazine) March 1, 2018
The Fly Elephant is currently only a concept but here at TCT Asia showing exactly how that concept could work. The Fly Elephant is a powerful drone with a Delta-like printer on the bottom, the software for it will be able to precisely plot where the drone lays down the material.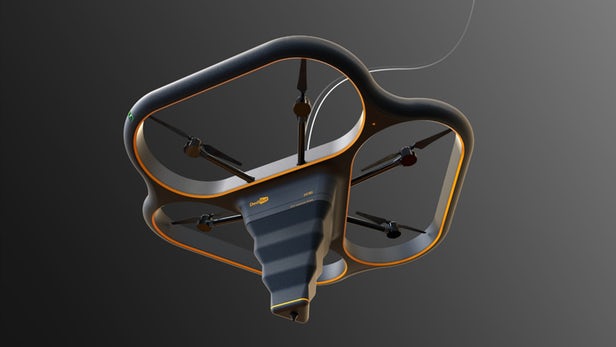 Open-ended Additive Manufacturing
A Fly Elephant system is basically a delta 3D printer mounted to a UAV (unmanned aerial vehicle). It operates, either as a single unit or a swarm, using a technology termed Open-ended Additive Manufacturing (OAM).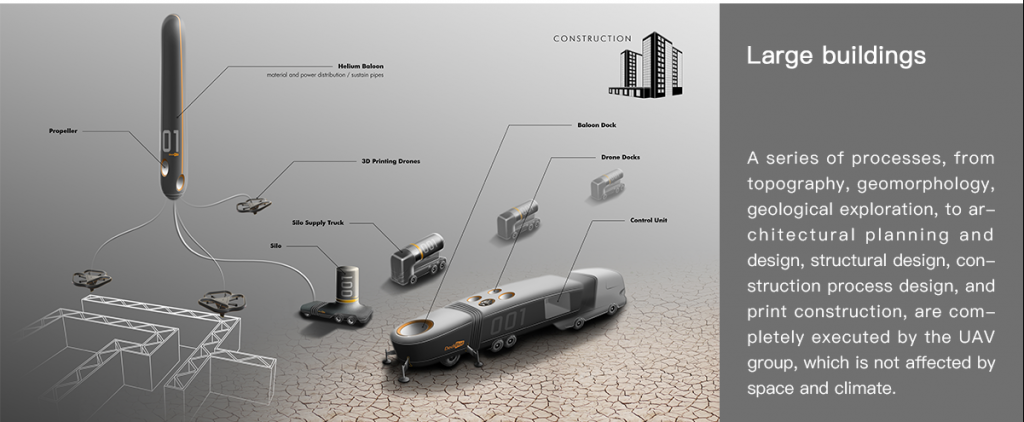 Under the six rotors, a cage of the Open-ended Additive Manufacturing (OAM) drone hangs a 3D printing nozzle that's fed plastic, concrete mix or other material from a tube connected to the top of the OAM Fly Elephant. The drone's printing path will be precisely plotted by software, for a promised printing accuracy of 0.1 mm. The company has been showcasing concrete prints made with the Fly Elephant at their TCT Asia 2018 booth.
How does it feed?
At TCT Asia, a demo Fly Elephant model has been shown depositing layers of cement to make a low, free-standing foundation for a building.
The only constraints to the system are the material feed. In concept drawings, a helium balloon serves as a feedstock store which is tethered to the UAV by a pipe.
The floating feed would still enable free-roaming drones, however, there may yet some challenges to the loading of the balloon and the flying power of the drone. Interestingly, the balloon may also act as a stabilizer for Fly Elephants.
  Drones and construction
In a technology-driven shipbuilding project launched by Sembcorp Marine, UAVs are used as roving inspectors and assistance in health and safety.
The Institute for Advanced Architecture of Catalonia (IAAC) is also using drones to monitor the construction of building blocks.
While this innovative concept is certainly drawing attention at the Shanghai-based trade show. The Chinese manufacturer is currently looking for collaborators to help take the Fly Elephant from an idea to a groundbreaking tool for construction and more.
For updates on the latest 3D printing technologies and events, follow us on Twitter, and like us on Facebook.
Credits: Twitter, DediBot.