3D Printer Pens-Awaken Sleeping Artists Inside You
Have you ever simply needed that you may elevate your pen off the paper? And see your drawing become a true three-dimensional object? Well, currently you can! 3D "printing" pens are one of the most fun and accessible aspects of the 3D printing revolution. It's an imaginative tool with creativity. 3D printer pens are amazing!
3D pen vs 3D printers
But if you are thinking that there is some connection between 3D printers and 3D pens. Because both are used for printing then my friend you are wrong. There's no relation or connection between 3D printers and 3D pens. They both are designed for different functions. The 3D pen uses plastic to draw an object or a structure; solely you hold the extruder in your hand instead of let motors, and a laptop does the work.
To draw the 3D object using your pen. All you need to do is fill your pen with the plastic filament that comes with the kit. The heating technology utilized in the pen can mechanically heat the plastic. Eventually, the plastic turns from solid to the liquified state and at this stage you'll just about draw something. That you just need to together with your 3D pen. And you'll draw on surfaces like walls, furniture, and plastic.
Note: To help you narrow down your options, we've listed out the most popular 3D pens that people are using this year.
Scribbler 3D Printing Pen V3 – A Teenager's Best (Pen) Friend
As we know technology is beyond our imagination and the Scribbler 3D Pen is the perfect example of it. Basically, it is a handy tool that is created especially for teenagers. The 3D drawing pen comes in beautiful colors which include yellow, blue, green, white, red, and purple. This pen is extremely lightweight and easy to use.

As a parent, you would surely want a bright future for your child. For young teenagers, this is an engaging and exciting experience, one that they will cherish and appreciate. You can expose your child to 3D printing from an early age, opening the window to their curiosity for new tools and technologies. So, which will come in a helpful way when they move towards higher education.
Glyby Intelligent 3D Printing Pen – Best Seller Pen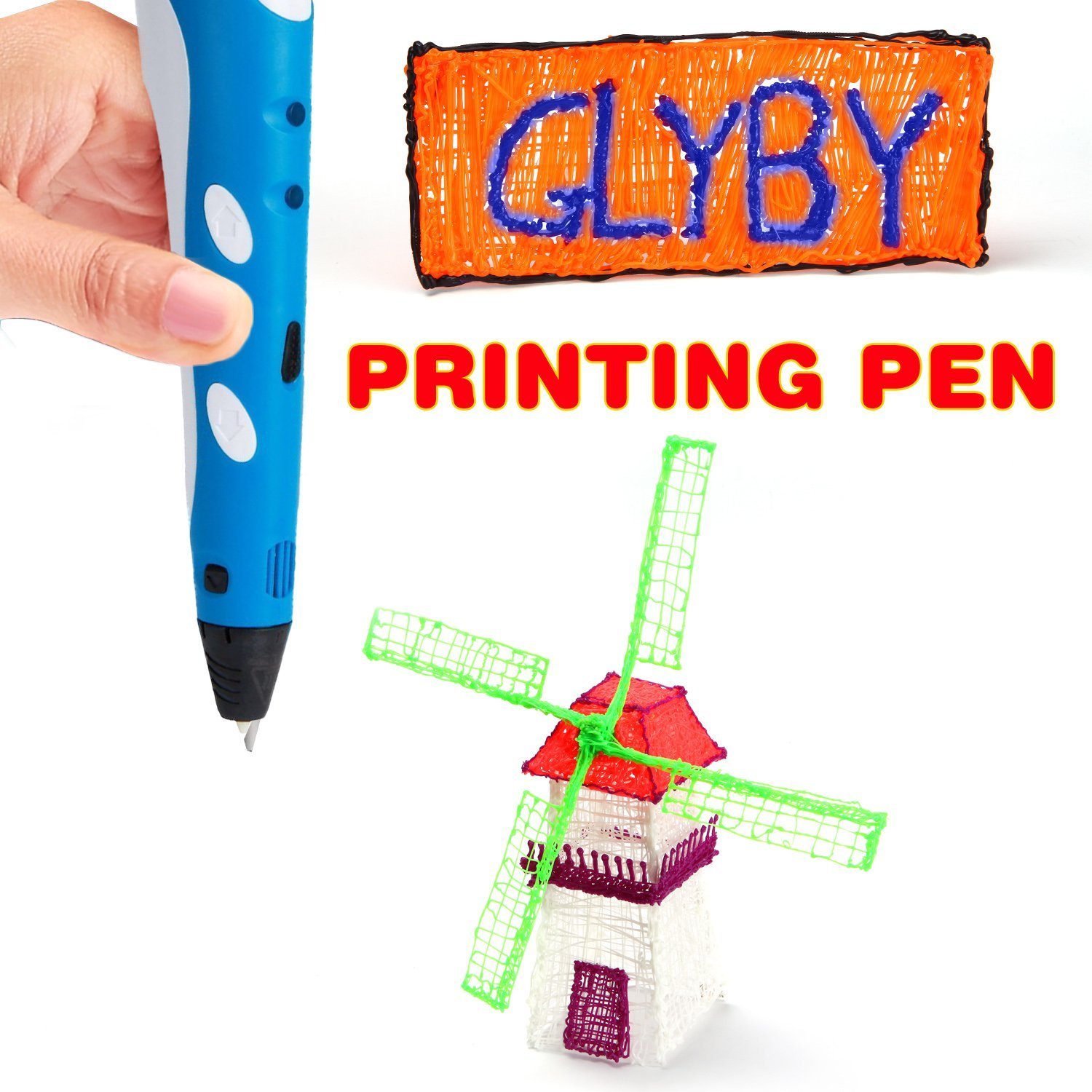 For those who are new to the art of 3D printing, getting a good start is challenging. So you have to start with a good 3D printing pen. You need to work with the best 3D pen that flows without a single hitch. So you can concentrate on the craft. The Glyby Intelligent 3D Printing Pen is the #1 bestseller 3D printing pen. It comes with a feature that automatically switches the device to standby mode after five minutes of inactivity. Every button on the pen functions as it is supposed to do and it is very easy to manage.
3 Doodler 2.0 – A Version that Gives You a New Vision
Launched in 2013, 3Doodler 2.0 has been a favorite choice among many 3D pen lovers. It's the newest and improved version of 3Doodler, which is the world's first 3D printing pen.
In terms of looks, the pen looks more stylish than its parent version. It's sophisticated and more futuristic. The 3Doodler 2.0 is 75% smaller than the original, making it similar in size to a marker pen. It is also lighter at just 50 grams or half the weight of the original and should come with a stronger and better looking anodized aluminum case instead of the plastic one used by the original. These things should make the 3Doodler 2.0 3D printing pen easier and more convenient to use as well as more attractive looking. Talking about extras, this one comes with 50 plastic filaments out of which 25 are PLA plastic filaments and remaining are ABS filaments. But it is not just the look and feels that have been improved; the functionality also promises nice improvements such as lower power usage, optimized and quieter cooling, better speed and performance and more. Above all, if you are someone that is more conscious about the looks, then you'll love this version.
Investing in the 3D printer may be a very pricey deal and a lot of therefore if you're obtaining it for brief-term use. Apart from the investment to induce one, alternative expenses like renewal, replacement, and maintenance are reaching to add up to lots of cash going out of your pocket. This is where 3D printer pens can come as a good alternative and help you enjoy the advantages of a really affordable valuation.
Draw Your Future Bright with 3D Printing Pens!!!
If you want it simply confined to one thing like your kids' college projects, presentation, or an exhibition, the 3D printer pens would be a sensible choice than 3D printers.