See what happens when 3D Printing meets the world of fashion!
We've seen 3D Printing do a lot of amazing things! From printing houses to printing implants for a surgery, 3D Printing continues to amaze us till date. So why should it come as a surprise that 3D Printing is creating big waves in the fashion industry?
By merging fashion with the latest 3D printing technology, these designers have created some of the most spectacular fashion pieces that may soon make its way into your wardrobe!
Don't believe us? Take a look!
Futuristic Dresses  by Anouk Wipprecht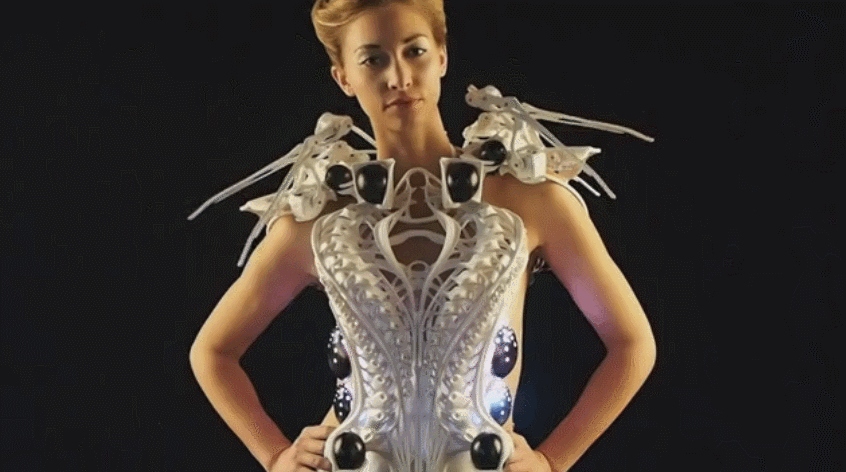 What do you get when 3D Printing fashion meets robotic technology? The incredible creations of Anouk Wipprecht! Check out this 3D printed dress designed by her which uses robotic spider arms to defend the wearer! Powered by Intel, the dress has multiple sensors that monitor the wearers breathing and stress levels. If the wearer is approached aggressively, the sensors read that she feels threatened so, in response, the robotic arms of the dress will extend to defend her.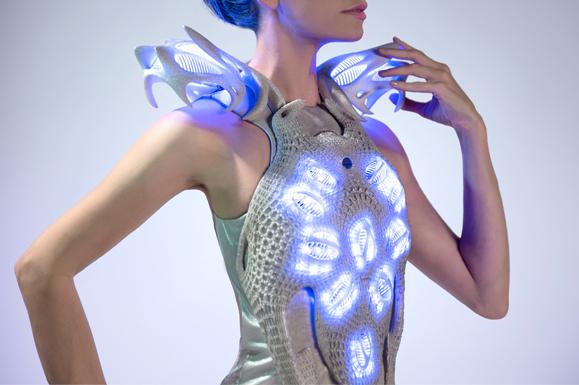 Another one of her innovative designs is the "Synapse Dress"  which reads the wearers emotions and even lights up. The interactive dress itself is printed using a flexible material named Thermoplastic Polyurethane (TPU)and can pick up signals from all over the wearer's body. It is equipped with an EKG, as well as a proximity sensor, a camera, and a series of LED lights capable of 120 watts of brightness.
Similar to the spider dress, the proximity sensors tell if the wearer feels uncomfortable or threatened, making the dress light up.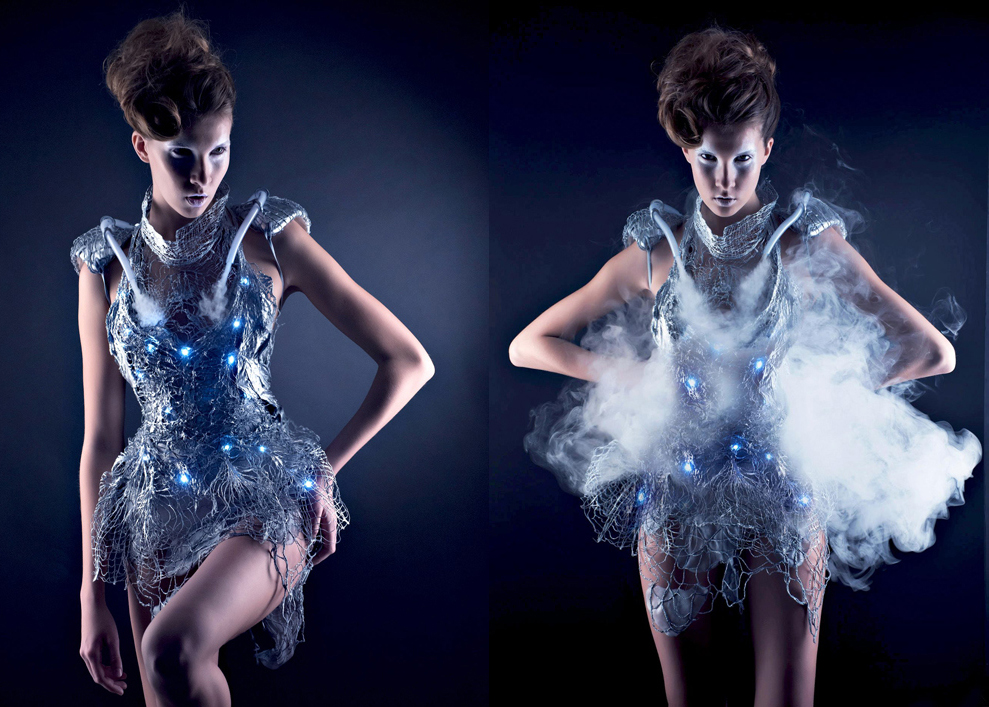 It doesn't stop there! Anouk even designed an interactive Smoke Dress that lets out a stream of smoke when someone gets too close!
Crystallization Collection by Iris van Herp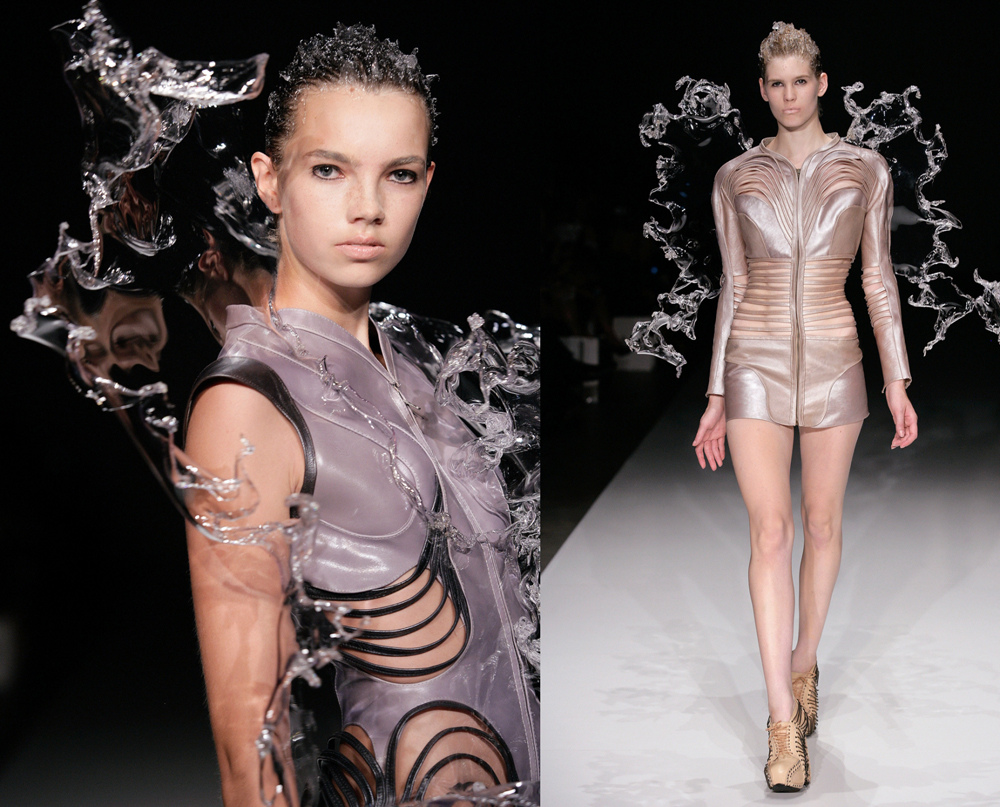 Designed by Iris van Herpen in collaboration with Daniel Widrig the "Crystallization" collection will always be remembered as the first collection during which a 3D printed piece appeared on a fashion runway. Inspired by the transformation of water turning into crystal, Iris named her collection just that.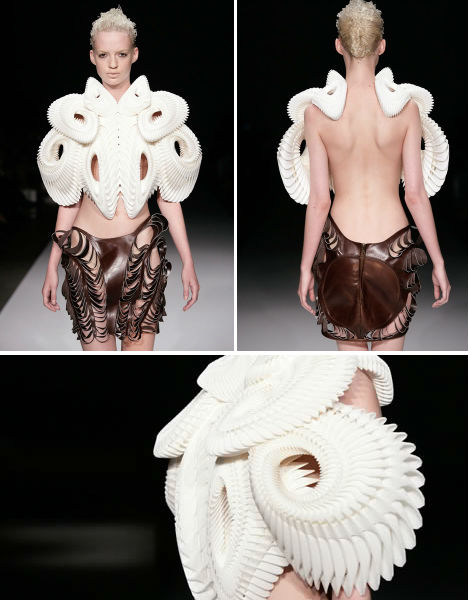 Many of her eye-catching pieces were made with the help of 3D printed pieces carefully designed and sculpted to showcase her ideas. The designs are innovative and extremely intricate, yet at the same time stiff.
To many, Iris van Herpen is one of the most mind-blowing Dutch designers out there that really creates 'wearable' art and she even creates dresses for Lady Gaga.
FilaFlex Material Collection by Danit Peleg
Looking for something more casual? What if you could print yourself a dress at home without having to run around to find the perfect piece? That's exactly what Danit Peleg was thinking when she created these dresses! But it took her a long time to find the perfect filament that would be flexible and comfortable.
Luckily she discovered FilaFlex which was much more pliable than the normal plastic and joined all the pieces together to create her signature collection.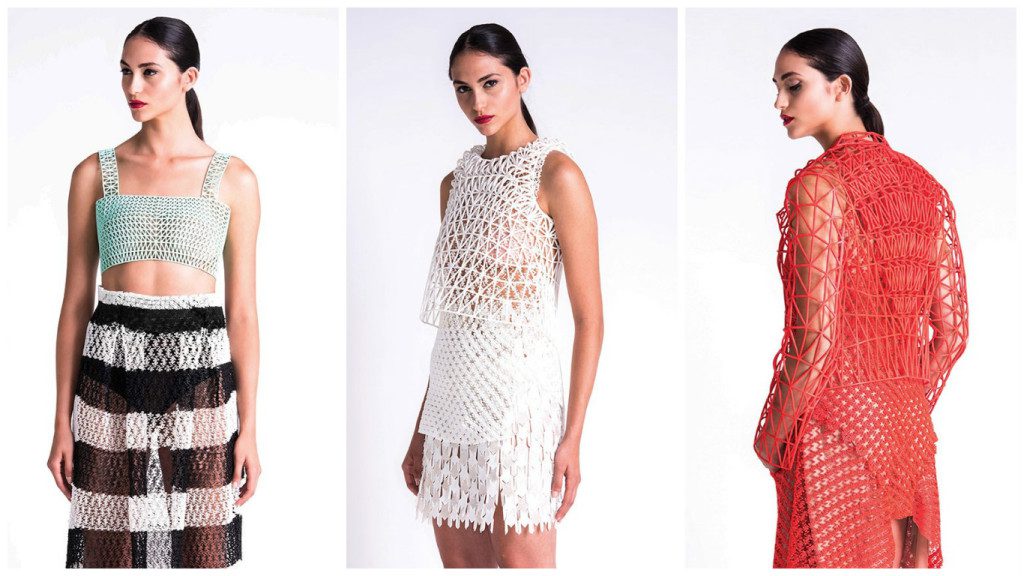 With the help of FilaFlex, Danit has experimented with many pieces to create lace-like textures that she could work with similar to how other designers work with cloth fabric. Her dresses take around 400 hours to print depending on the intricacy but she loves the challenge!
Dita von Teese Dress  by Francis Bitonti & Michael Schmidt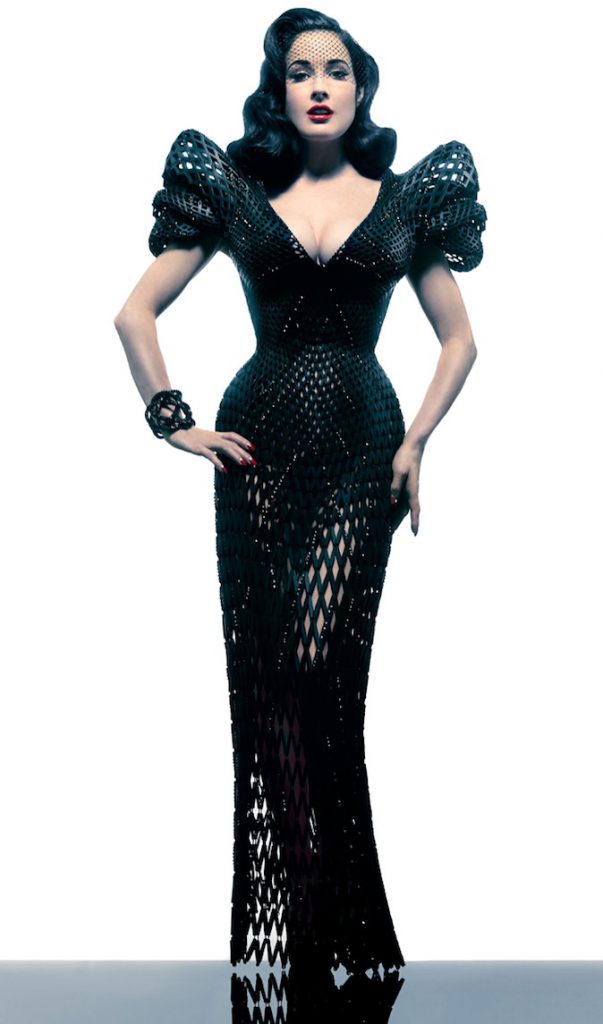 This stunning body-hugging dress was 3D printed for burlesque dancer Dita Von Teese using her exact dimensions. Designed by Francis Bitonti and Michael Schmidt using the Fibonacci sequence, the dress was 3D printed in Nylon by Shapeways.
Printed straight from a computer, the flexible "fabric" is made with layer upon layer of fine powdered nylon within the preheated chamber, with input from the CAD file. The end result is a fabric that is flexible enough to move and expand with every movement, giving a feminine and sensual touch to the wearer.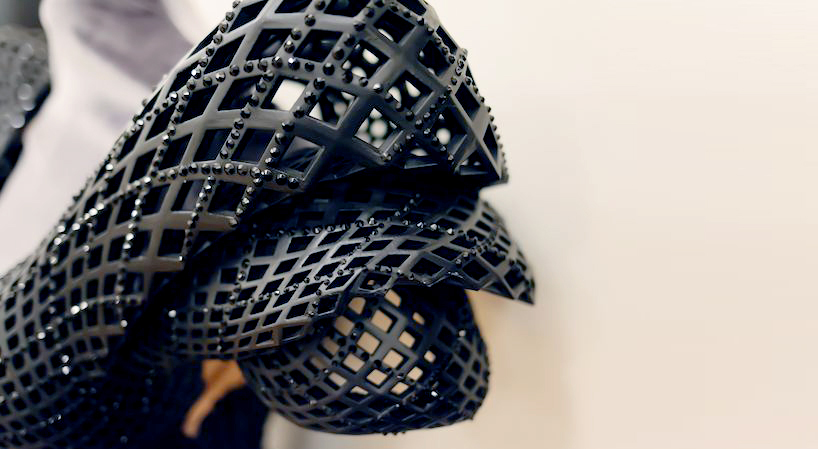 Furthermore, the gown was assembled from 17 printed pieces that were hand-linked into the dress and then dyed black and polished. The dress is even adorned with over 13,000 Swarovski crystals which make all the more glamorous.
Hard Copy Collection by Noa Raviv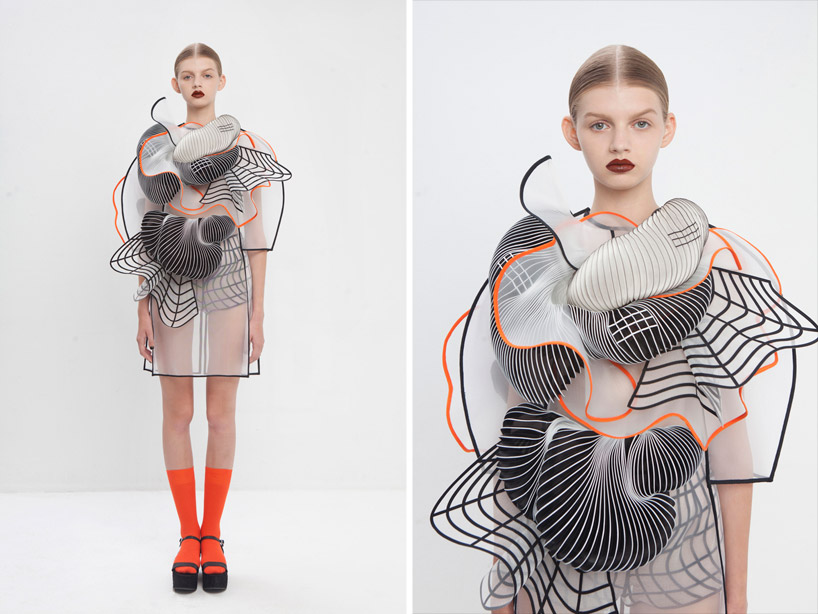 Meet Noa Raviv, an Israeli designer who uses 3D printed embellishments to create breathtaking fashion statements. She was even awarded Fashion Designer of the Year at the 3D Printshow in 2014 and it is clear to see why.
The asymmetrical silhouettes seen in her work are inspired by Greek architecture and created from multiple ribbed layers of polymer. These polymers are carefully distorted using various CAD tools and the results are mind-blowing.
With the help of 3D printing, she creates grid-like patterns that are warped and stretched over the garments to create optical illusions across the body. These embellishments snake over the shoulders and cover the chests of the dresses.
Biomimicry collection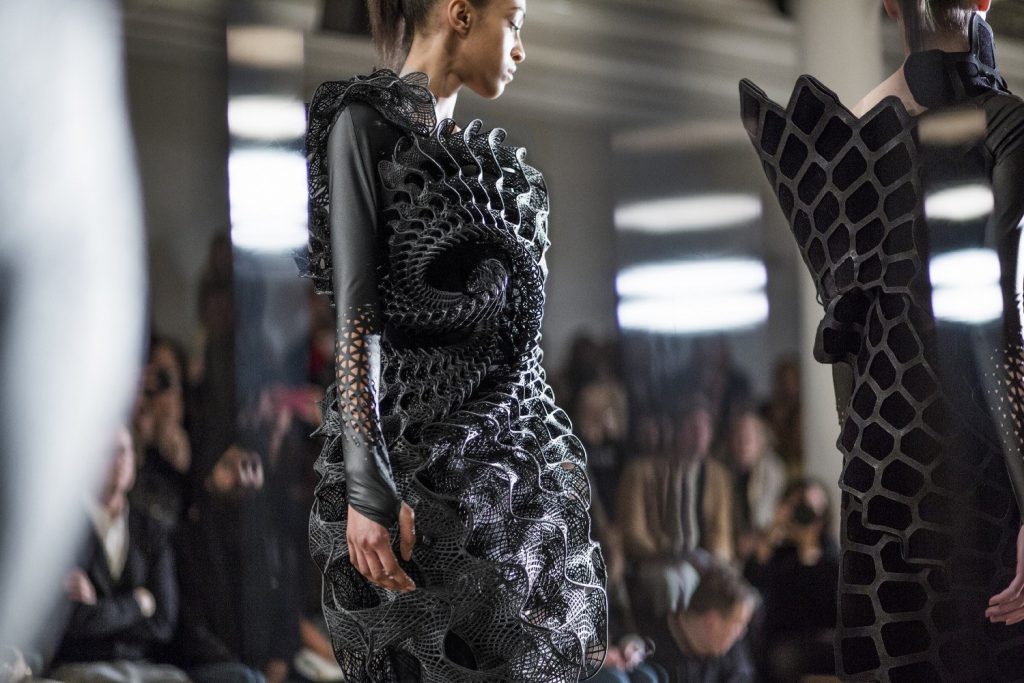 Fashion designers threeASFOUR and Travis Fitch together with Stratasys created 2 revolutionary dresses named 'Pangolin' and 'Harmonograph' which were 3D Printed using a new textile. The dresses are much more flexible than conventional 3D printing plastics and allow the wearer to move about freely.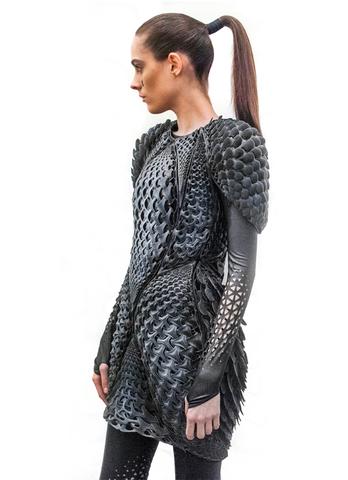 The collection named 'Biomimicry' gets its inspiration from nature, plant geometry and animal anatomy which is evident in the dress 'Pangolin' named after the animal itself. The designers used a special nano-enhanced elastomeric 3D printing material which gives the material its fluidity and makes it flexible.
Credits: pinterest.com, designbloom.com, weburbanist.com, wired.com, shapeways.com, iq.intel.com