Here's a Look Back at the best 3D Printers Offered to us by Geeetech in 2017!
We are going to enter the new year 2018 and are still not over the best things that happened in 2017. The 3D Printing industry has innovated a lot in 2017 and we are glad to inform you that it had been the best year with all the amazing things going on in the 3D Printing industry. The 3D Printer itself has undergone a revolution this year trying to make 3D Printing more and more easy for the passionate 3D Printing lovers.
Now a days 3D Printing is becoming more and more affordable also while developing it a specific use and the user is kept in mind. Even if you are a basic consumer with just the idea of 3D printing as a hobby in mind you are able to buy a 3D Printer today, that's a biggest change 2017 has bought. If you feel like 3D printing would be a tempting endeavour for you then you can easily find yourself in a tight spot because of the different options and prices. You have to do some serious research because although it's true that 3D printers are now cheaper than ever, that doesn't mean you don't have to treat it like a big investment. Before you go hunting for great deals, the first step is deciding what exactly do you need it for, what kind of printing do you intend to make. 3D printers are designed with a certain user in mind and can sometimes address some very specific needs so you've got to sit back and think a bit about this aspect carefully before making a decision.
Let's take a look at how the 3D  printers have evolved in 2017 by Geeetech and are the best printers that are available in the market.
Geeetech E180 Mini 3D printer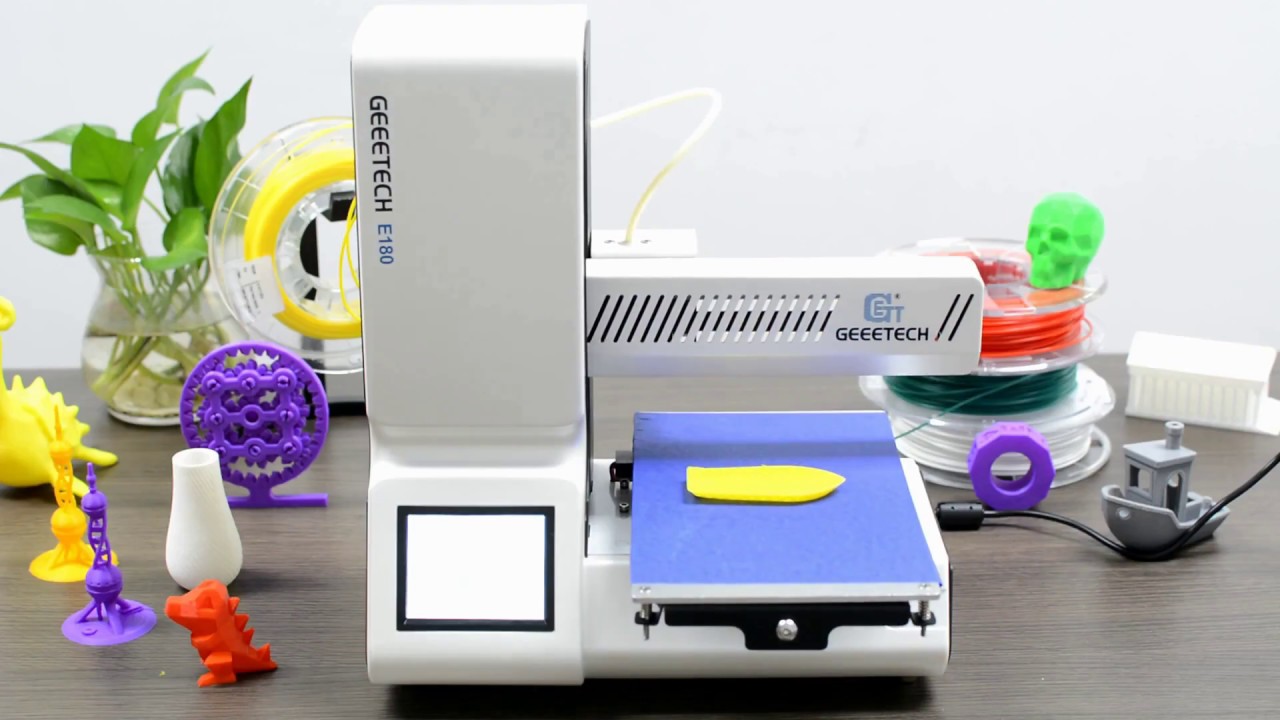 A cost-effective 3D Printer designed to be reliable, compact and multifunctional with the aim to make 3D Printing accessible to every age group both beginners and pros. The black colour gives the printer an elegant and classy look. It gives an extraordinary printing experience and has high travelling speed. 3D printing solution is available due to Wi-Fi connectivity via which they could make full use of free 3D models, direct real-time control over your printer and share fantastic designs and prints on EasyPrint 3D App. This App is responsive and user-friendly. Besides, E180 comes with a simple and intuitive full-colour touchscreen which greatly streamlines the whole workflow. Even children can print easily using the Geeetech E180 Mini 3D printer, it allows the children to parts separately and then join them together. You can upgrade the firmware of your printer by the use of the 3D print app. As it is compact and lightweight with strong packaging which ensures the product to be delivered to your place safe and sound and in its best condition.
You can get this printer  @ amazon at a convenient price of $298.00.
 Geeetech wood Duplicator 5 DIY dual extruder 3D Printer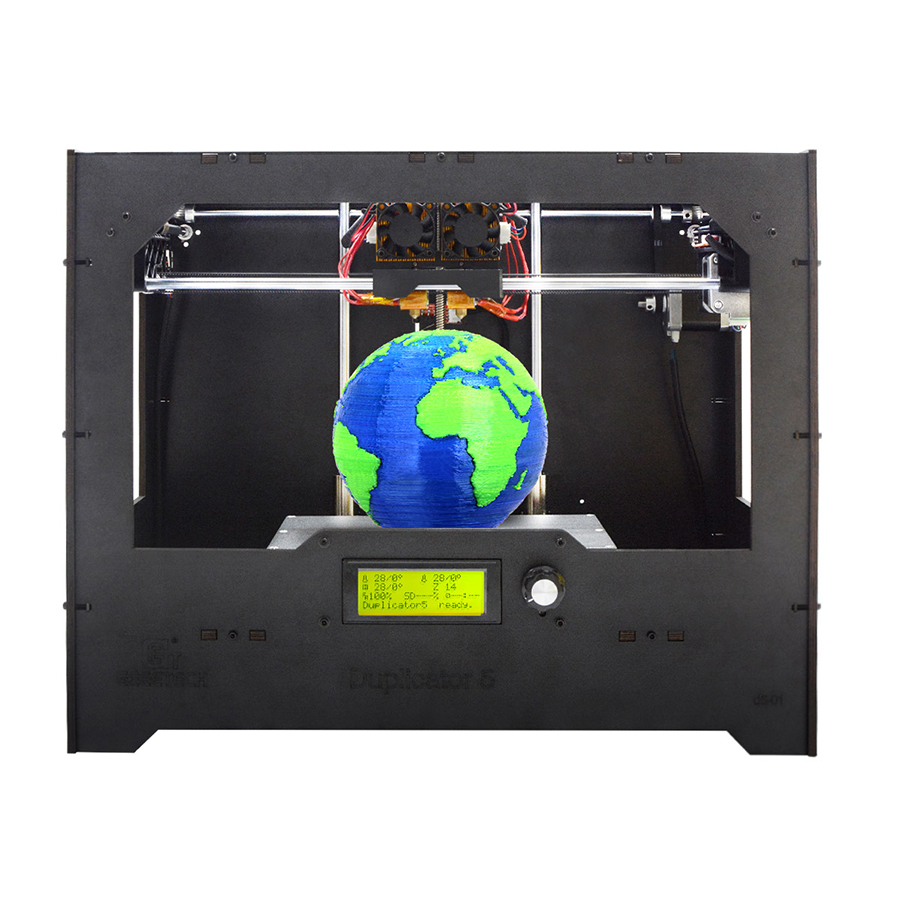 A DIY dual extruder 3D printer by Geeetech is made to be the best companion for you to embark on the fascinating 3D printing journey. The DIY designs that you make on your computer and then print them out give you the ultimate joy when you see the whole print coming out. Even if it looks gentle its excellent features make it outstanding among the competitor products. The dual extruder allows you to print a single object in two different colours.Further simplified and stiffened parts make it a reality to assembly and adjust the whole frame fast and easily. Building the printer step by step will give you an in-depth knowledge of 3D printers. Time-saving and full of the sense of accomplishment. It has a LCD 2004 controller, with which detailed printing status could be clearly presented on the screen. Besides, it is convenient to select 3D models and adjust printing speed, temperature and other parameters via the simple operation flow.
Get this amazing printer at only $289.00 on amazon.com.
Geeetech A30 3D Printer – Bigger is Better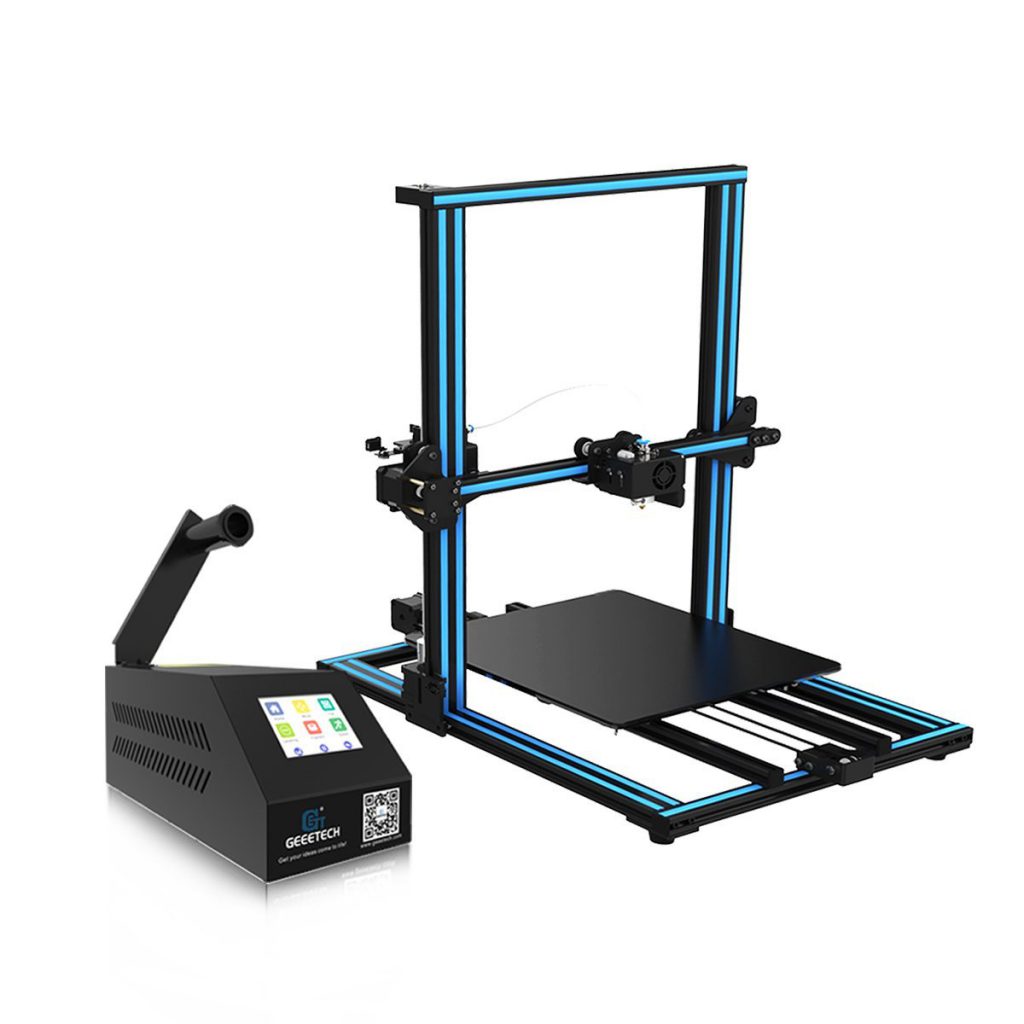 Get introduced to the biggest printer ever which can print life-sized models at the best speed.Apart from its praiseworthy specifications, The Geeetech A30 is equipped with a sturdy frame, strong and wear-resistant which greatly improves the stability of the machine during printing. Besides this, the new printer comes almost fully assembled and all you need do is fix a few screws.
Coming to its appearance, the A30 is embellished with blue strips, making it look solemn and vigorous, an ideal representation of its quality printing performance and good craftsmanship. You can self-assemble the kit and it's pretty easy and convenient.
The best features include not caring about restarting the whole printing process if the electricity goes you can resume the printing where you had left. It is convenient to use EasyPrint 3D App to control A30. It is a cloud-based social App packed with remote control over your 3D printer, a cloud gallery of free 3D models and a 3D printing community
Get this 3D Printer as a new year's gift for your loved ones @ $486.00  only here.
Geeetech GiantArm D200 Large volume Cloud-based FDM 3D printer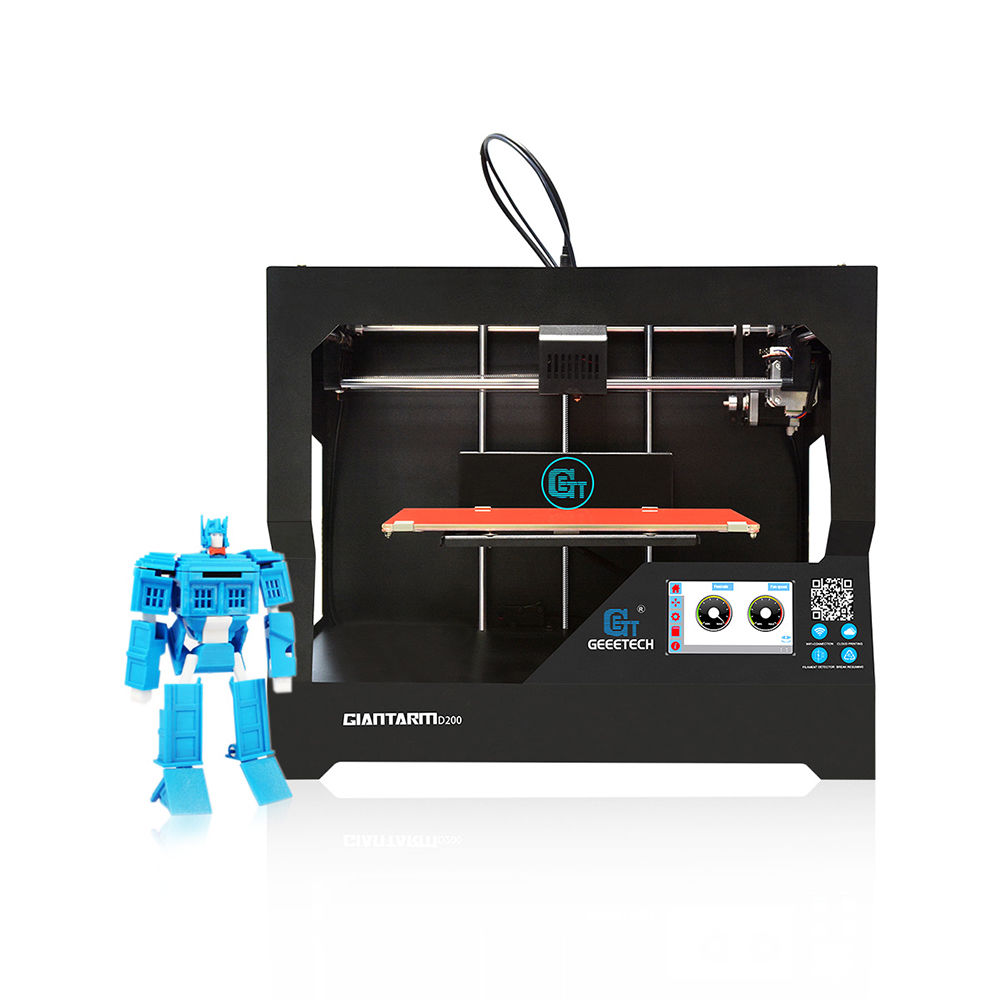 Enjoy the freedom of printing via your smartphone using the EasyPrint 3D app where you can control all the necessary functionalities required for printing. Thus whenever you are out for a short meeting or party yet you know what your 3D printer is about to do at home. The laser-cut steel frame gives GiantArm D200 a  subtle and attractive look.It is simple to use because of the touchscreen present on the printer itself. the new interface is quite interactive and you can understand it easily. Resuming the printing from where it had stopped is the next better feature of GiantArm D200. The EasyPrint 3D App gives a notification whenever the filament is about to get over, this feature helps you to control the filament usage from your cell phone, ain't this cool!!
The GiantArm D200 supports various filaments including PLA, flexible PLA, HIPS, ABS etc. thus giving you a wide range of choices for your varied printing needs.
Buy this amazing printer @ amazon at a convenient price of $899.00.
2017 had been great for GEEETECH and 2018 will be the best. Next year we promise to deliver more astounding printers with better quality and more unbelievable features.