Take a look at the most amazing 3D Printed Cars in the World!
In the movie Back to the Future there were flying cars and other amazing stuff, today our cars still do stick to the ground, however, when the movie was made, in 1985, most of the materials in modern vehicles didn't exist.Thus it was a future prediction. No one might have thought that a simple machine like Printer would 3D Print a big object like a car, this too was just an idea then which has come into reality. Thus the saying anything is possible if you are willing to make it possible is 100% true its just that it might take time.3D printing is advancing the automotive industry and making vehicles stronger and lighter.
Below are the most fascinating 3D Printed cars existing in the world:
3D PRINTED BUS: OLLI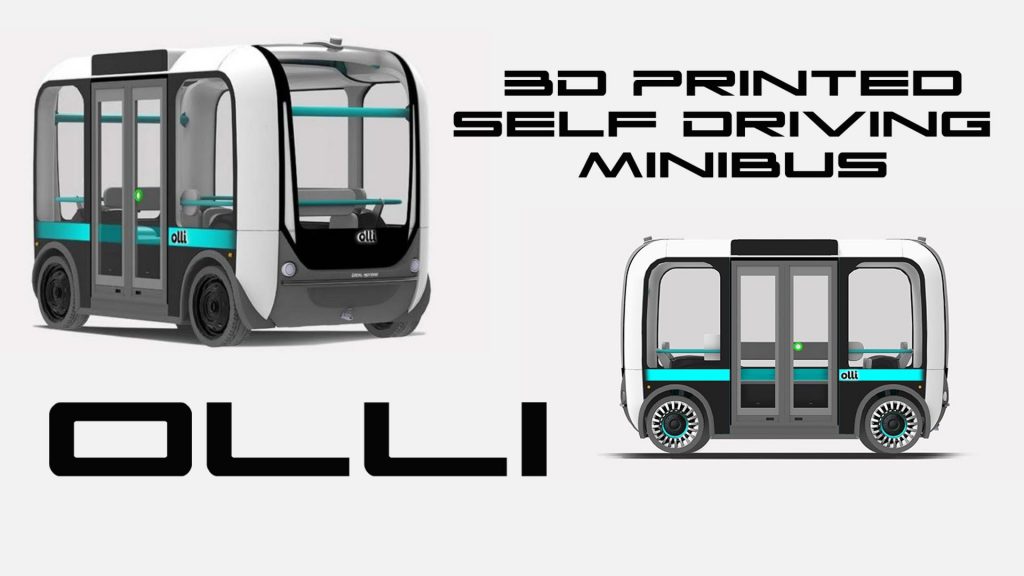 Starting with a surprise, this is no 3D printed car but a BUS. Manufactured by Local Motors, it is named as "Olli" and is the most intelligent Bus which uses  IBM Watson's "Watson Internet of Things for Automotive". Olli is a driverless electric and a smart Bus.The brain of the 3D printed bus, IBM Watson is a cognitive learning platform that analyzes all sorts of data for Olli. Using natural language recognition, the 3D printed bus will understand and answer passengers' questions about the bus, technology, or the area.The bus can carry almost 12 people.
Olli is successfully running on the road and is also being purchased.Miami-Dade County in the US is looking into a pilot program in a similar vein and Las Vegas has two  Olli's already.The 3D Printed Car Manufacturer of Olli is  Local Motors, the 3D Printing Technology is Polyjet.
Strati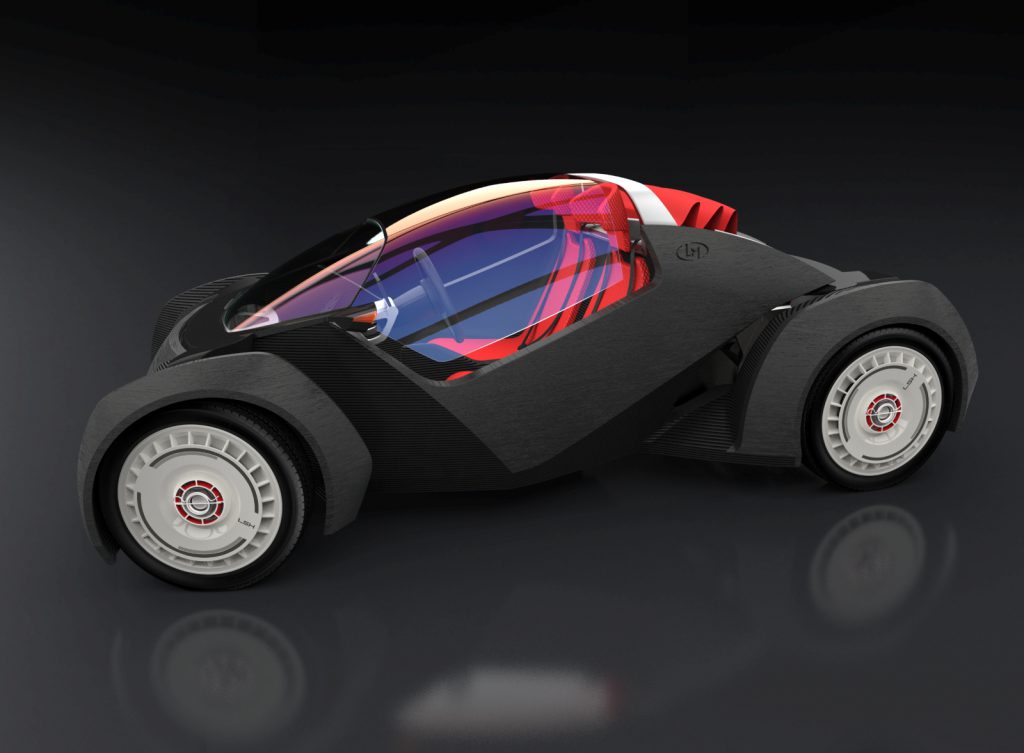 Strati was basically created by Local Motors, an open source think tank for mobility, design and engineering. The main reasons behind developing Strati was reducing the number of parts used and investment cost for production.The car was manufactured in just 44 hours, A number of non-3D printed parts feature, such as wheels, battery and the like, but — looking at the picture above — the Strati's bodywork is obviously 3D printed. It was just a functional concept.
Soulmate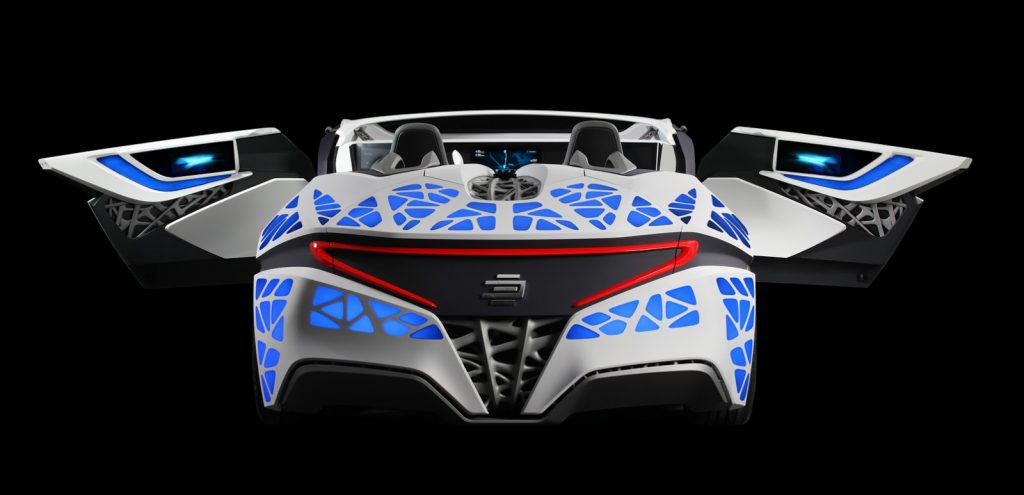 At the 2016 Geneva Motor Show, EDAG exhibited the successor to its Light Cocoon 3D printed car idea. EDAG's development authorities worked with Bosch architects to make a vehicle that touts progressed systems administration and lightweight outline.Unlike its predecessor, the Soulmate places a strong emphasis on the "internet of things", glimpsing an interconnection of apps and services accessible from your car that, to be honest, we're already beginning to see in the likes of BMW's companion app for its i cars. It looks cool, is lightweight and the structure is 3D printed.
The manufacturer of Soulmate is EDAG, the 3D printing technology being used is SLM (Selective laser melting) , SLS (Selective laser sintering).
Light Cocoon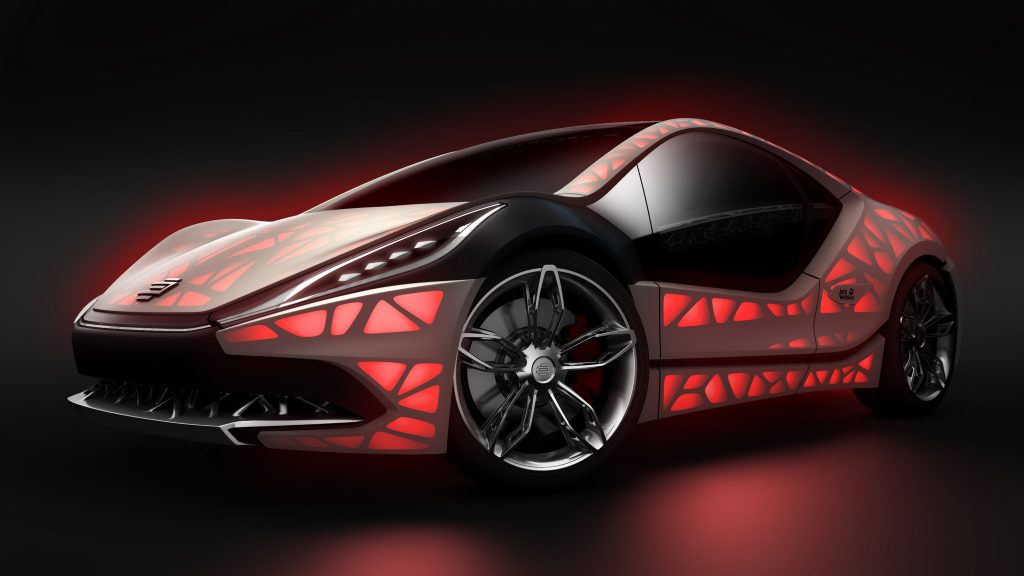 A German manufacturing company has been experimenting a lot with generative designs and 3D Printing. EDAG in 2015 Light Cocoon in the Geneva Motor Show, it uses lessons learned from nature to inform its design.
Its leaf-like outer skin uses Jack Wolfskin stretchy fabric to cover a topologically optimized 3D printed structure beneath. Lightweight beyond belief, this bodywork measures out at a silly 19 grams per square meter.
GENESIS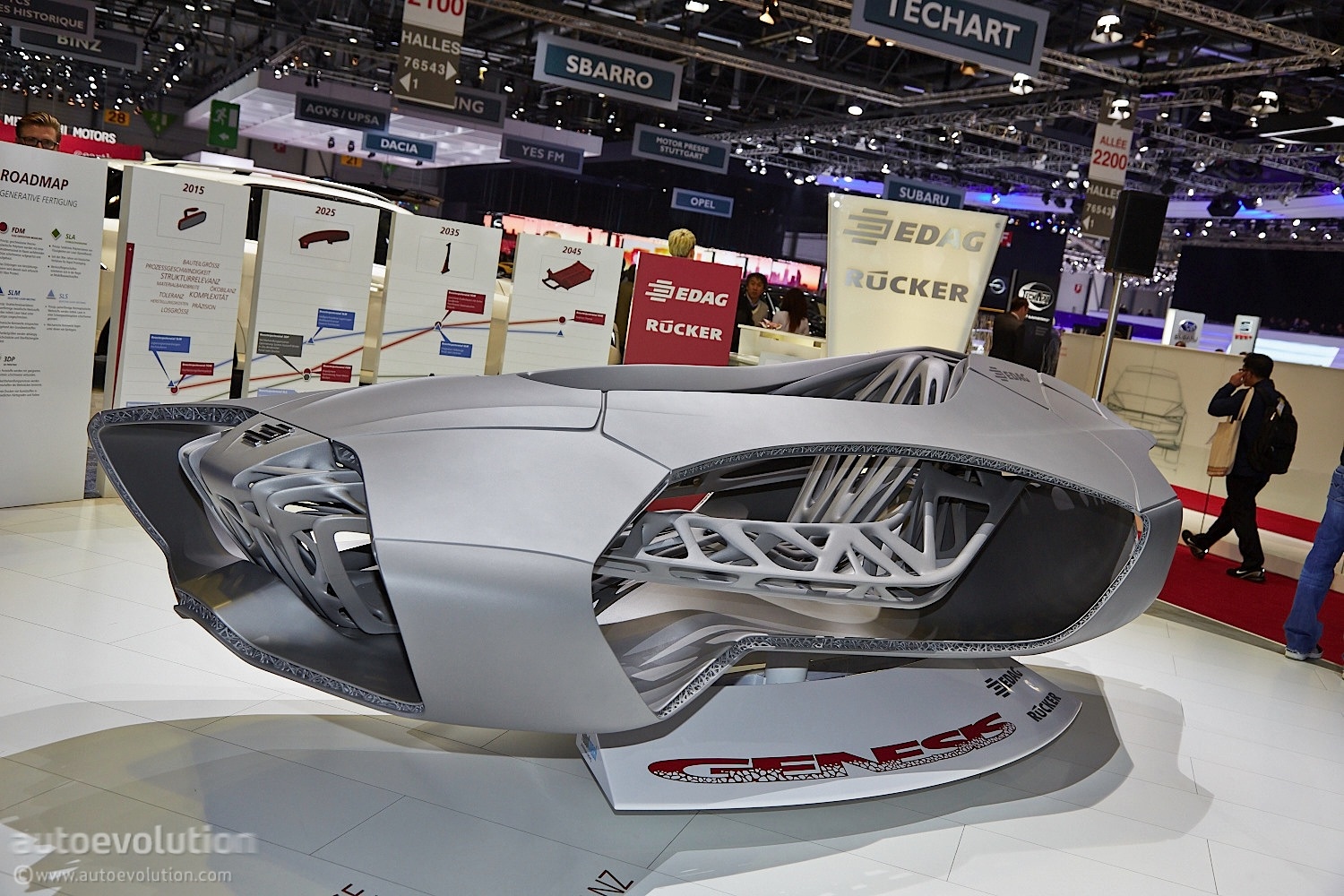 The idea behind this 3D printed car is the turtle's protective shell. Similar to it EDAG introduced the GENESIS  which can grow naturally to a limited size and also can be reduced, this was not possible using man-made tools.Not strictly a car, as much as a conceptual direction. Using the bionic signature of a turtle's shell for its design, German automotive engineering company EDAG's GENESIS introduces the notion of musculoskeletal systems to passenger safety in a car.In steps added substance fabricating, taking into consideration complex geometries and a car application for turtle shell-like outlines for traveller cells and so forth. The advantage of such a procedure implies improved structures that perform honourably in crash situations.
LM3D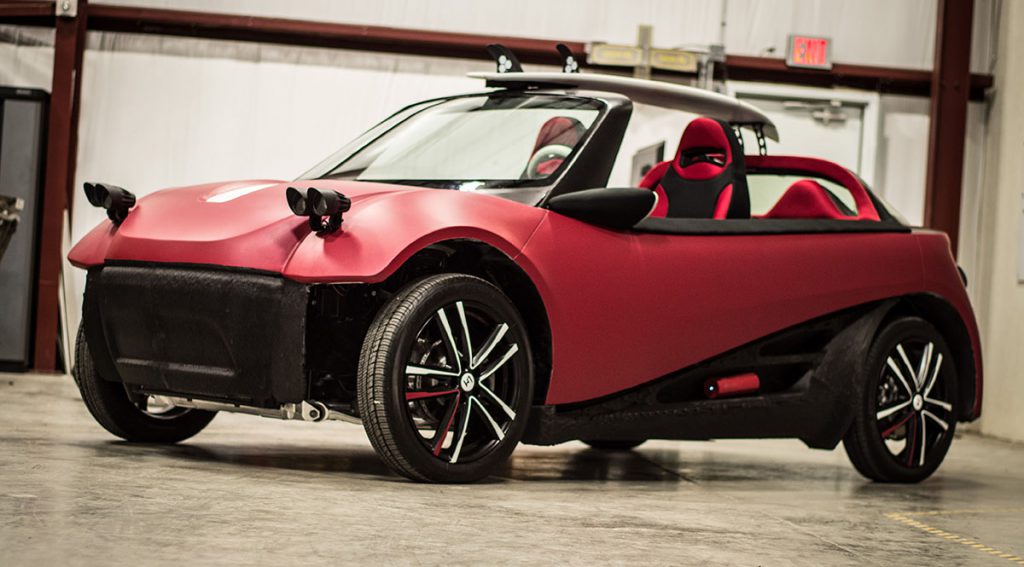 Local Motors had made a headline in 2014 with the mostly 3D printed Strati, many people called it as a publicity stunt.In any case, after a year the organization lifted the top on the second troublesome collection: the LM3D.
LM's goal is to consolidate as much of the traditional bill of materials into a single, 3D printed piece. Eventually, 90% of the car could be 3D printed. The collaborative design company is continually testing new types of materials and different blends for additive manufacturing.
Shelby Cobra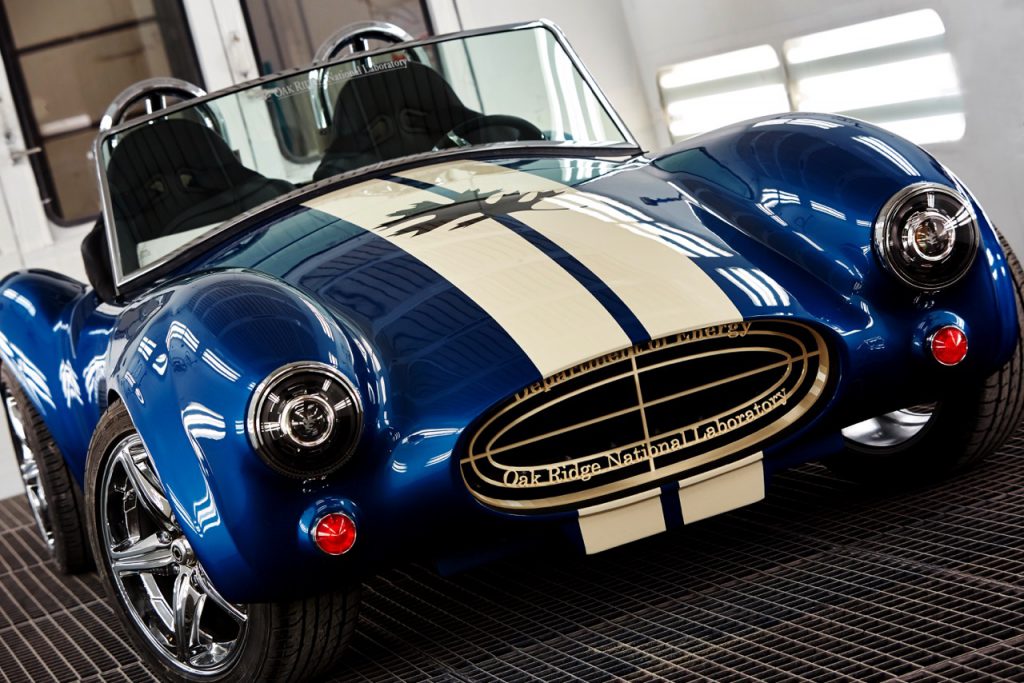 Developed by a Ridge National Laboratory , this 3D printed car was printed using  Big Area Additive Manufacturing (BAAM) machine from Cincinnati Incorporated — a 3D printer capable of huge, strong and lightweight composite parts without the need for tooling.Additive manufacturing did allow the researchers while equipping the Shelby Cobra with new tech. The car is loaded with experimental technologies and is a laboratory on its own. The technology used for Shelby Cobra is FDM  and is a functional concept.
Blade
The Blade sure is a looker. Creator Divergent 3D provides a disruptive new approach to car manufacturing, incorporating 3D printed nodes connected by carbon fibre tubing into the chassis.This system results in industrial strength frame that can be assembled in a matter of minutes. Its super-strong, lightweight innards, the Blade boasts better power-to-weight ratio than current Formula 1 racing cars.Their goal is to make any 3D printed car up to 90% lighter in an industry transition they refer to as "car dematerialization".