Best Geeetech 3D Printers and 3D Printer Accessories to Gift This Christmas 2017
Are you considering buying a 3D printer as a gift this Christmas? Well, it's a good idea of a present for you to give this Christmas. It will open up a radical new universe of innovativeness for your adored one.
In fact, slowly but surely, 3D printers are getting cheaper, better, and drastically more accessible. In the early days, there were only a few models on the market, and most of them were clunky, tricky to use, and prohibitively expensive — but that's no longer the case. Today, there are 3D printers available in every size, shape, and printing style you could ever want — and they're getting more affordable all the time. 3D printers are set to be a standout amongst the most popular gifts in 2017.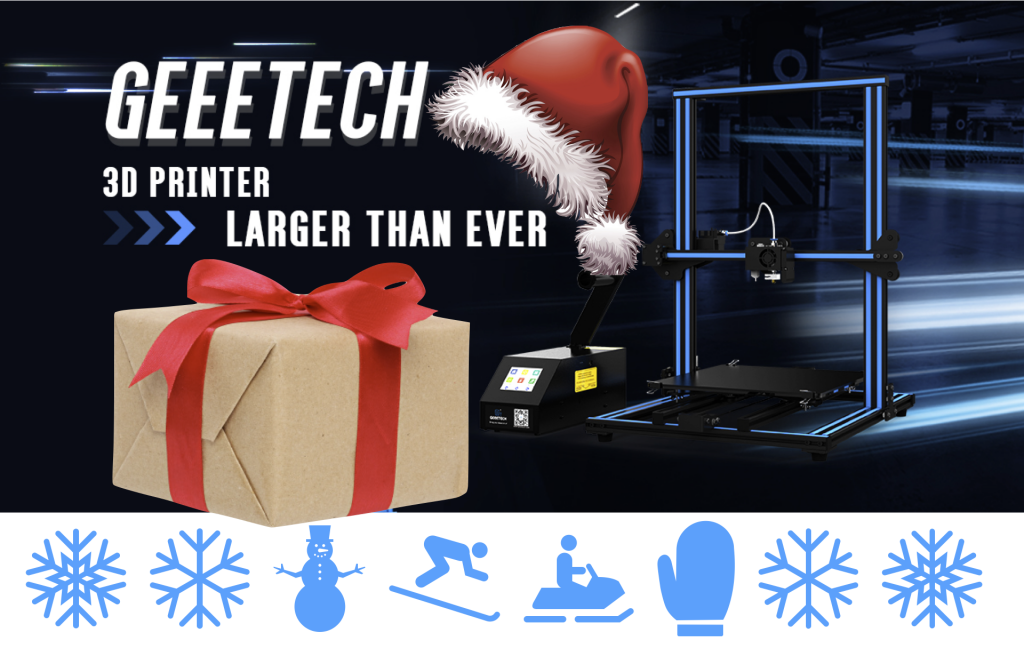 3D Printing is a side interest that gives the endowment of innovativeness, building inventiveness and critical thinking. Thus a long way from being a toy or a contrivance, when you present 3D printing this Christmas you will give somebody a present that continues giving forever.
Youngsters and adolescents will be particularly satisfied on the off chance that you give them a 3D printer this Christmas. Youngsters are very much aware of the energizing open doors 3D Printing can offer them. Schools are showing them about it, and they will have seen fascinating items and toys made by 3D Printers shared on their online networking.
On the other hand, if you have someone older as a primary concern, at that point 3D Printing is a similarly decent option. Simply avoid these 3D Printers that are designed for younger users.
Regardless of whether the individual you're purchasing for is a newcomer to 3D Printing or they're a prepared expert. They will dependably be appreciative to get adornments, for example, filament, WiFi module, and other useful tools.
Check more The Most Important Things To Consider If You're Buying A 3D Printer
Buying a 3D Printer as a Christmas Gift for a Child
Almost all kids will get lots of enjoyment from using a 3D Printer. But those who get the most from it will be the ones that already have hobbies that revolve around something creative or practical.
3D Printing is all about turning your ideas into real-life objects. These can be objects designed for their aesthetic appeals like art or crafts. Or they can be functional objects like cell phone cases or a stand to hold your headphones.
3D Printing is also great when it compliments your existing hobby. For example, a lot of people who like gaming also like to make miniature models of their favorite gaming characters on a 3D Printer. They can then paint them and put them on display.
  Important things to consider:
Quick and easy to setup, 'plug and play';
User-friendly for kids;
Safety assurance to kids;
Control over Mobile Apps, this helps a lot when it comes to kids, probably they don't have any knowledge about desktop applications;
Wide compatibility of any brand of PLA filament.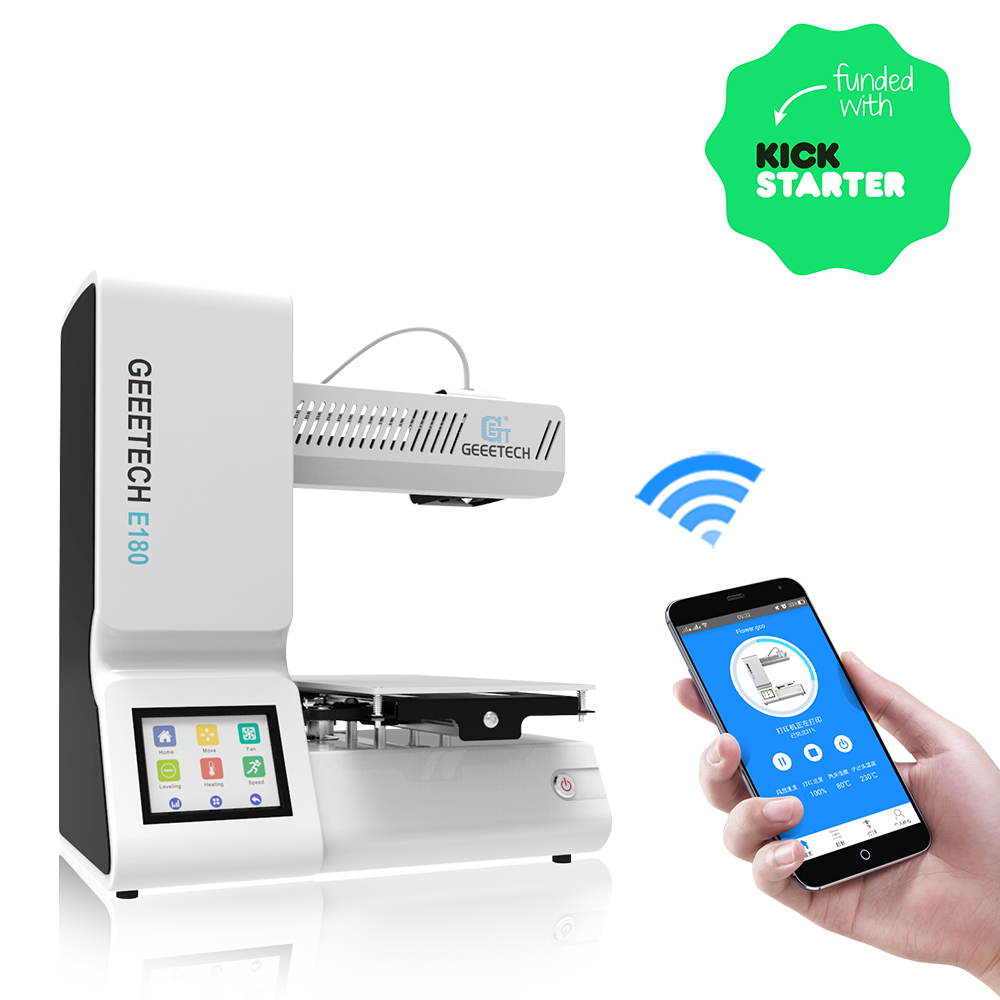 Geeetech E180 Mini 3D printer
 Elegant & Exquisite
Built Small, Think Big
Printing at High Precision
High speed & smooth extrusion
Points Leveling — Accurate and Effective
3.2″full color touchscreen
Cloud-based EasyPrint 3D App
Break-resuming capability
Safe and Durable Nozzle Design
Stand-alone printing with a TF card
EasyPrint 3D
On-line Upgradable Firmware
PLA Filament  Environment-friendly
E180 is compact, lightweight and with strong packing.
Easy-to-use, E180 not only applies to education, but also to other institutes and organizations that need to combine 3D printing technology with their own development. Therefore, it's the ideal Gift for a 3D printer for kids.
Buying a 3D Printer as a Christmas Gift for Adult
3D Printers make a great present for your loved one or a friend. If the person you're buying for already has a practical hobby like DIY or woodwork, or they have a flair for creating arts or crafts, a 3D printer would be an ideal gift for them. Lots of people are starting their own business with a 3D Printer. If you know someone who has always wanted to design their own jewelry and sell it or a budding inventor, then get them a 3D Printer this Christmas.
To help you buy a 3D Printer as a gift, we have chosen models that are quick and easy to setup. There's nothing worse than not being able to play with your presents on Christmas Day!
We have also chosen printers that have enough capability and functionality to keep their new owner interested well into the New Year and beyond.
  Important things to consider:
Quick and easy to setup;
Reliability and ease of use;
Enough capability and functionality;
Print large objects with a variety of materials;
Capability to reliably print both PLA and ABS filament as well as exotic blends.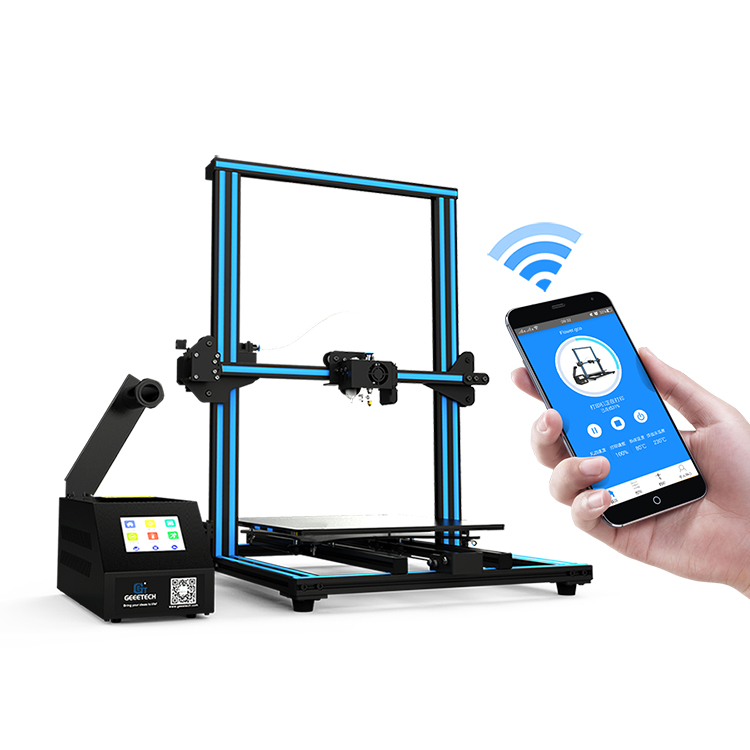 Geeetech A30 Large volume wifi 3D printer
Large building volume 320*320*420mm
Easy to assemble within minutes
3.2″ full-color touch screen, intuitive and simplifying the overall workflow
Wi-Fi enabled EasyPrint 3D App: remote control, 50,000 free 3D models, cloud slicing, controlling multiple 3D printers, social sharing and newsfeed, active community, etc.
3D touch auto-leveling sensor for easy calibration and better printing quality (optional add-on)
Silicon carbide glass with special coating, as the building platform, guaranteeing better first-layer adhesion and easy to remove the printout
Seamless adhesion between the silicon carbide glass and the aluminum heatbed: Uniform heating, easy to level and calibrate the building platform and enhancing the overall printing accuracy
Filament detector, alerting you to change filament in case the printer would run in air or the spool is empty
Break-resuming capability, capable of saving real-time printing status and resuming the printing job exactly at the same place where it has been stopped
Printing accuracy at 0.05mm
Printing speed at 80-110mm/s
Dual rods for Y & Z axis, enhancing the stability and overall printing quality
Bowden extruder (remote design) ensuring that the printing head could move quickly, accurately and stably
TF card stand-alone printing
Host software EasyPrint 3D & on-line firmware upgrade
Open filament system & fascinating printing experience
Buying 3D printing Accessories as a Christmas Gift
The best accessory to give any 3D Printer owner is filament! You can give them a standard PLA filament that anyone would be grateful to receive, in a color of your choice. Or you can be more adventurous and gift them an 'exotic' filament. These are a plastic filament that is mixed with another material.
New 3D Printer owners will also need a full kit of tools. When objects have finished 3D Printing, they will need some cleaning to make them look their best. Tools like small files, snips, and a craft knife are ideal for this. To get the best from their 3D printer, they will also need items that are often used to help the 3D printed objects stay attached to the print bed like glue sticks and Kapton tape.
  Accessories: Filament, WiFi Module and many more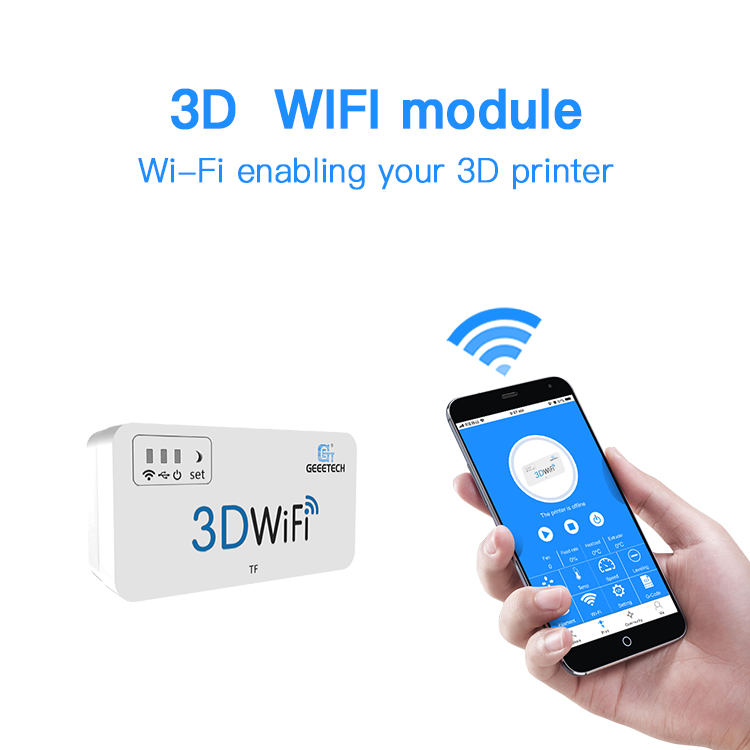 Geeetech 3D WiFi Module for 3D Printer
3D WiFi module is ready to use right out of box
3D WiFi module is cloud-based
3D WiFi module is of high compatibility
EasyPrint 3D Ap
Remote control – set the relevant printing parameters on your phone
Record and Share – share your artworks with other 3D printing hobbyists
Conclusive Recommendation
Whether you're introducing someone to the exciting world of 3D Printing for the first time or buying an upgrade or accessory for an existing enthusiast, these products are guaranteed to be well received.
3D Printing has no limits other than your creativity, and so when you give a 3D printing related gift this Christmas, you will be giving a gift that lasts a lifetime.
Vist Geeetech Office Sore to explore more exciting products that can be gift anytime to anyone. https://www.geeetech.com/