Introducing the Geeetech A30 3D Printer – Bigger is Better
"If a picture is worth a thousand words, a prototype is worth a thousand pictures". The wait is over, you are being introduced to the new Geeetech A30 where bigger things make a difference.
Meet Geeetech A30, a new addition to Geeetech's extensive range of desktop 3D printers, here to make all your 3D printing dreams come true. Packed with an impressive build volume of 320*320*420 mm, A30 enables you to print large-size 3D models.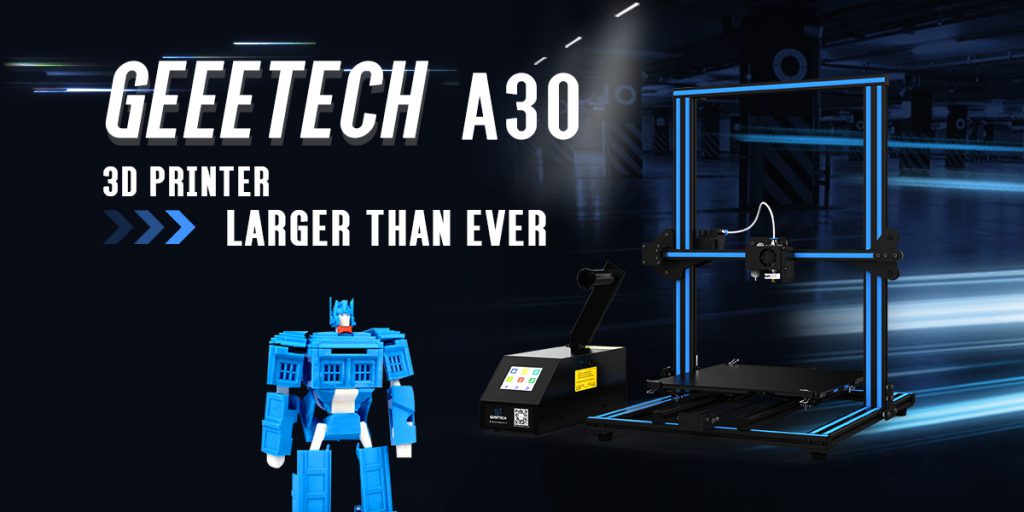 Apart from its praiseworthy specifications, The Geeetech A30 is equipped with a sturdy frame, strong and wear-resistant which greatly improves the stability of the machine during printing. Besides this, the new printer comes almost fully assembled and all you need do is fix a few screws.
Coming to its appearance, the A30 is embellished with blue strips, making it look solemn and vigorous, an ideal representation of its quality printing performance and good craftsmanship.
Know some Amazing Things about the new Geeetech A30 Printer
1. Biggest Printer Ever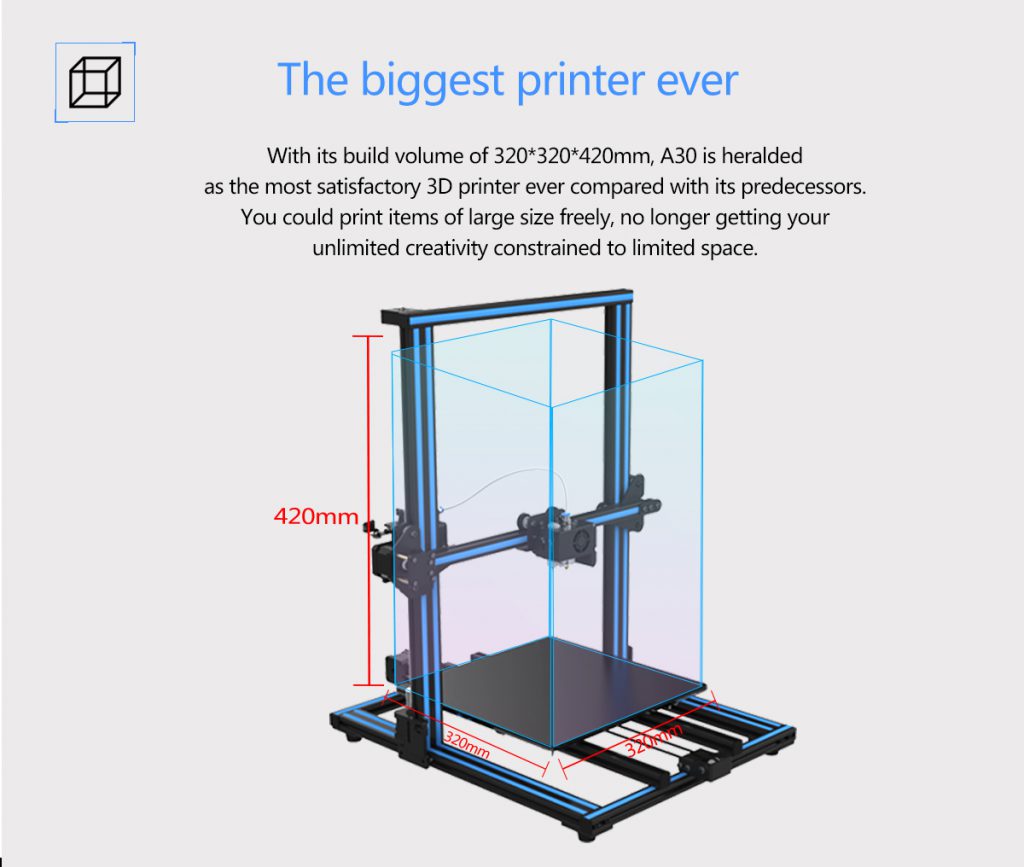 Life-sized 3D models are no longer a distant dream thanks to the Geeetech A30's impressive build volume of 320*320*420 mm.
2. Wi-Fi  enabled EasyPrint 3D App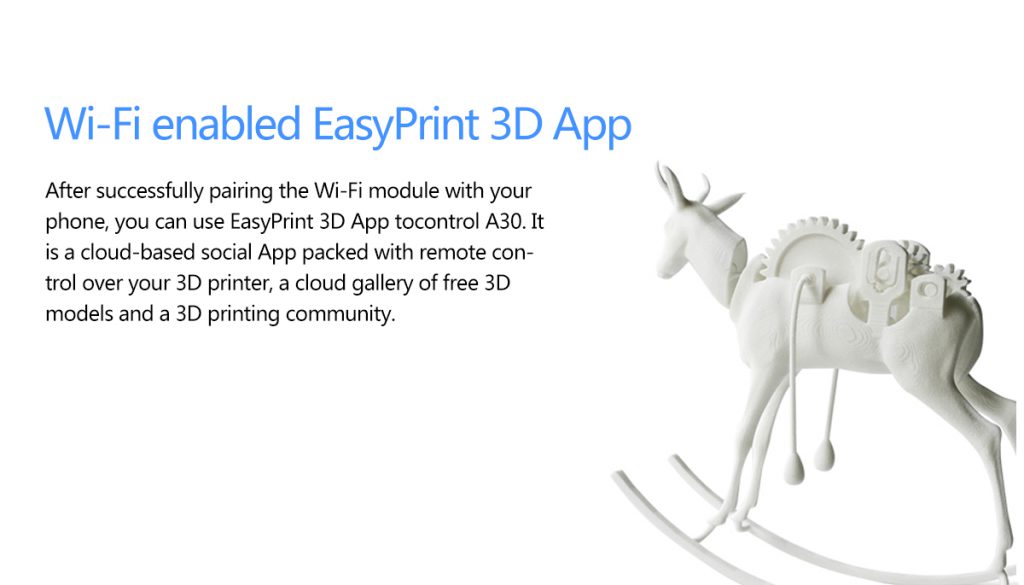 It is convenient to use EasyPrint 3D App to control A30. It is a cloud-based social App packed with remote control over your 3D printer, a cloud gallery of free 3D models and a 3D printing community.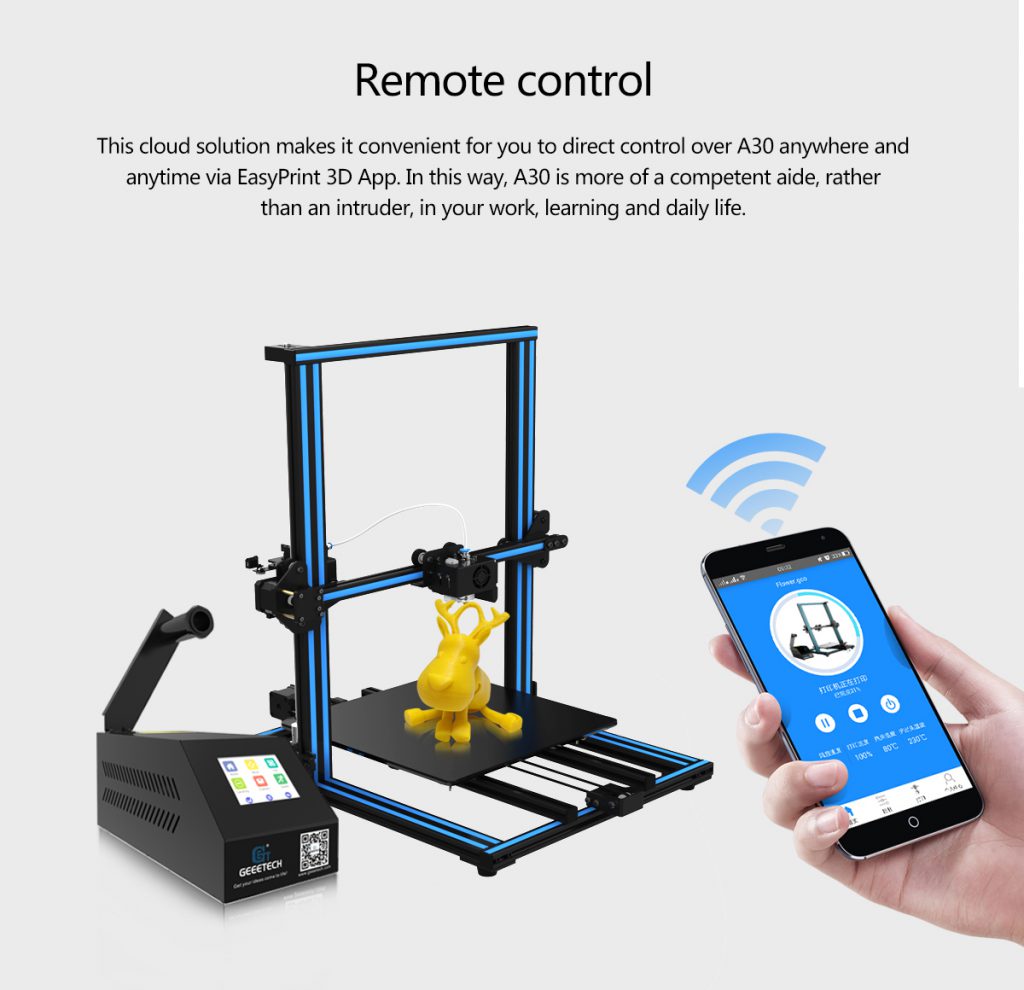 This cloud solution makes it convenient for you to direct control over A30 anywhere and anytime via EasyPrint 3D App. In this way, A30 is more of a competent aide, rather than an intruder, in your work, learning and daily life.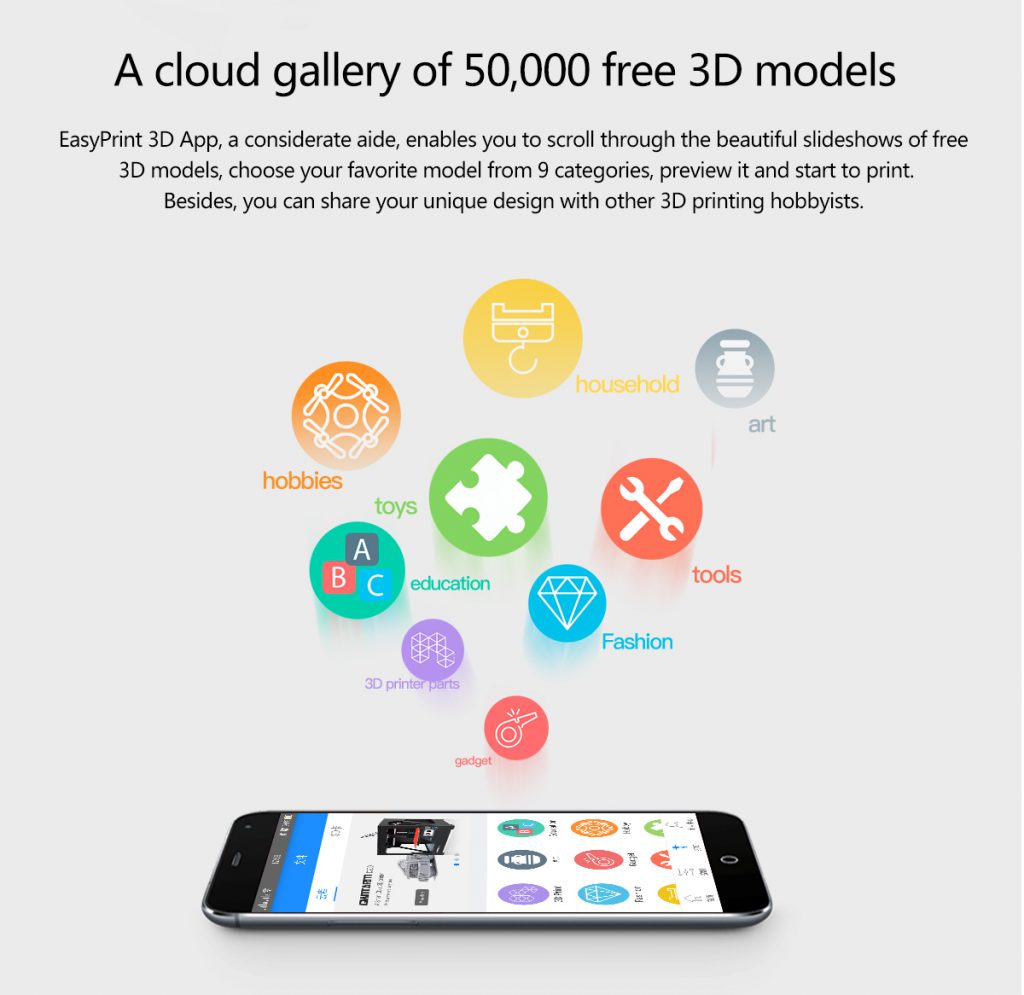 EasyPrint 3D App, a considerate aide, enables you to scroll through the beautiful slideshows of free 3D models, choose your favourite model from 9 categories, preview it and start to print.
Besides, you can share your unique design with other 3D printing hobbyists.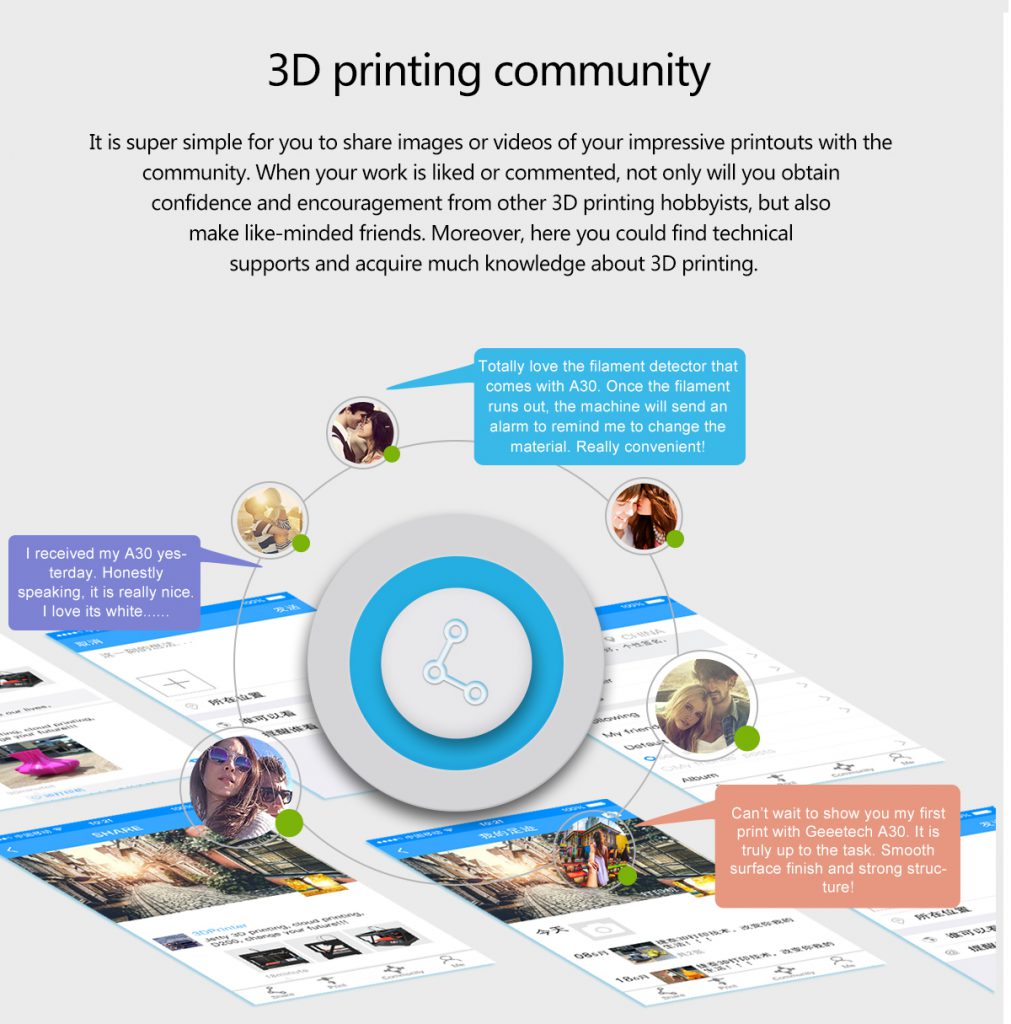 It is super simple for you to share images or videos of your impressive printouts with the community. When your work is liked or commented, not only will you obtain confidence and encouragement from other 3D printing hobbyists, but also make like-minded friends. Moreover, here you could find technical supports and acquire much knowledge about 3D printing.
3. Easy to assemble
The printer even if it's big it is really easy to assemble, you just need to add some screws before printing your 3D items. Thus it is really user-friendly and easy to understand.
4. Break- resuming capability to save time and all your hard work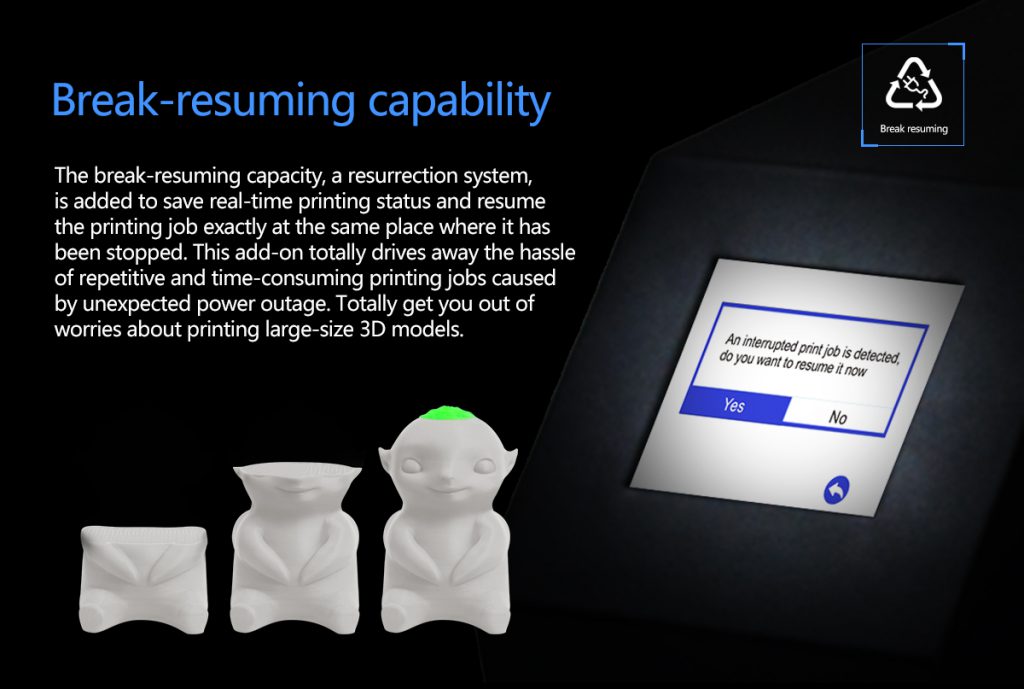 Don't let power outage get you down! The A30 has you covered with its break-resuming technology and you can now continue your work exactly where you left off. This doesn't let your valuable time go to waste and also the material for making the 3D object is saved if the work is resumed, rather starting a new project altogether.
5. Filament Detector
You'll never have to wonder when you're running out of filament thanks to the A30's remarkable feature of detecting and alerting you to change your filament. It sure does make your job easy!
Hurry up and grab this amazing printer only @  Geeetech Official Store