5 Best Geeetech 3D Printers you can get right now!!!
"The idea is speed. We build a concept, test it, try it out, make mistakes, do corrections and are always pushing to go even faster.We try to go to 3D printers as soon as we can." – Rick DeVos
Is 3D printing your passion? Are you looking for the best and quality 3D printers? Guess what, you just landed in the right place. When 3D printers were first introduced, it was a marvel everyone wanted a piece of. The problem was, not everyone could afford the hefty price tag it came with but now it is becoming a necessity to explore your ideas and dreams that's where 3D printing comes into life. 3D printing is new and still pretty expensive, but when you leave it to great minds to pull together the power of crowdsourcing and passionate people, there are always alternative solutions.
We have bought to you the best of Geeetech's 3D Printers. Read below…
1. Geeetech A30 3D Printer
The Geeetech A30 is the biggest printer ever which helps you to make large 3D models.Newly launched, it is easy to assemble and use.Thus even though it is a bigger printer it is really user-friendly. A30 supports auto-leveling function with 3D touch (optional add-on), ensuring that the printout has a flat first layer and strong structure. Geeetech A30's printing performance and quality are beyond comparison and the best. A30 prints at the accuracy of 0.05 mm and at the speed of 80-110 mm/s, able to deliver items with nice surface and strong structure. Reliable quality is inseparable from good printing settings.
A30 could be controlled via the touchscreen, EasyPrint 3D App, or the host software on a computer.  It prints the best 3D products with the help of Easy Print 3D app which is WiFi enabled. You get a lot much in one printer, thus it is the best and amazing printer ever and you can make large 3D objects as in a robot from the Transformer movies and of the exact height as it is with the Geeetech 3D A30 Printer.
Hurry up and grab this deal and the best printer of 2017 only at $449.10 on the Geetech Official website.
2. Geeetech E180 Mini 3D printer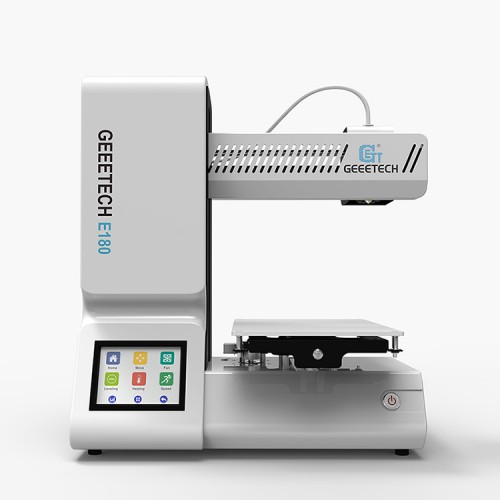 E 180 is designed in a manner that every age group can access the 3D Printing technology and feel free to know the new trends in this highly innovative industry, thus it is cost-efficient and easy to use. Thus a beginner or a master in 3D Printing can also use E180  without any prior practice. Just get the printer home and start using it, it's that simple. The design is classy and elegant, it has less adhesion and the output that you get exactly resembles your design. E180 is WiFi enabled thus you can connect your phone to print any model designed in your phone.
Wi-Fi connectivity allows users to enjoy the convenience of cloud 3D printing solution, via which they could make full use of free 3D models, direct real-time control over your printer and share fantastic designs and prints on EasyPrint 3D App. This App is responsive and user-friendly. Besides, E180 comes with a simple and intuitive full-color touchscreen which greatly streamlines the whole workflow.
Hurry up and get the best printer only @ $268.20 at Geeetech Official site
 3. GiantArm D200 Large volume Cloud-based FDM 3D printer
GiantArm D200 is a cloud-based printer with which you can print anywhere at any time. Its design is half open so that you can check the total interior process printing also the sleek design makes the printer look attractive and gives enough protection.The best thing about GiantArm  D200 is Wi-Fi connectivity, mobile EasyPrint 3D APP, cloud 3D printing solution, the break-resuming capability and filament detector, all these make it possible for you to direct control to your printer via your Smartphone to enjoy pure freedom of printing, either on a journey or out for a short-time reunion with friends. Simple, practical and thoughtful. Thus you don't have to keep a check on the printer the whole time.
It is designed user-friendly and is easy to assemble and manage. What else do we need in a printer? Right!!!
So just visit  Geeetech Official site to get the best deal of GiantArm D200 only @ $809.10
4. Geeetech Rostock 301 mix color 3D printer DIY kit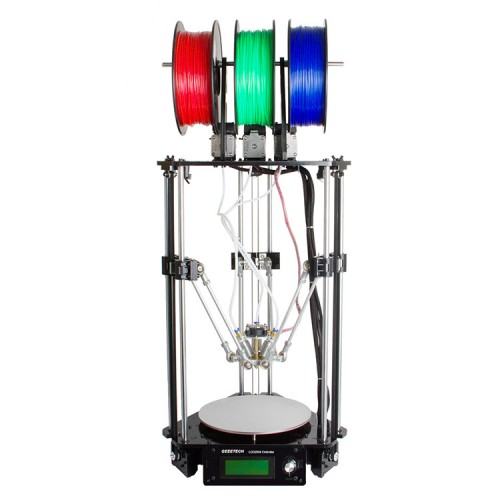 The DIY concept is the most amazing where you can use your creativity and ideas. The Rostock 301 mix color 3D printer DIY kit is a delta type construction which gives you higher printing speed and much precision compared to other 3D printers.The 3-in-1-out mix color 3D printing hotend gives a rich mixture of a color combination of the printing object. You can make the product with a combination of three different colors and make it look appealing and beautiful. You can arrange the printer and use your imagination to get faster results with greater precision only with Geeetech Rostock 301 mix color 3D printer DIY kit.
So what are you waiting for, give your dreams a direction with Geeetech Rostock 301 mix color 3D printer DIY kit only @ Geeetech Official Site and only at $375.00
5. Wood Duplicator 5 DIY dual extruder 3D Printer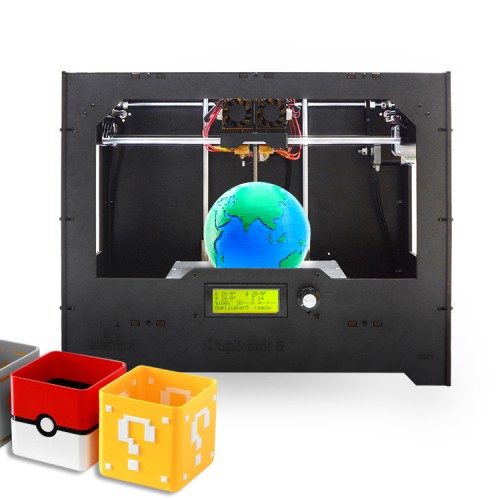 Make your virtual thinking into reality with the help of  Wood Duplicator 5 DIY dual extruder 3D Printer from Geeetech . Behind its gentle appearance, it has a list of awesome features making it outstanding among its competing products.With an extra Wi-Fi module, you can upgrade Duplicator 5 to enjoy the convenience brought by our cloud 3D printing solution. After you configure your Duplicator 5 with Wi-Fi hotspot, the cloud 3D printing solution enables you to enjoy a plenty of free 3D models, direct control over the whole printing process and share your printing experience via App anywhere and anytime. You can assemble the whole frame by yourself it hardly takes any time as it is just a 5 Step process.
Unleash the creativity within you and make the most of this printer only @ Geeetech Official Site at $275.00