Introducing GiantArm D200 cloud 3D printer-part 6 Cloud 3D Print
GiantArm D200  3D printer, recently launched by Geeetech, has been held up as the pacemaker of 3D cloud printing field. This game-changing 3D printing device is found complete with several mainly attractive features like smart cloud printing, break-resuming capability, filament detector and etc. Among these prominent functions smart cloud printing stands out attracting the attention of both 3D printing fanciers and manufacturers.

The smart 3D cloud printing advocated by Geeetech empowers users to enjoy free and enormous cloud space and agile control and cluster management of multiple 3D printers via PC and mobile devices interactively and simultaneously. Besides, it is convenient for users to make use of smart standby function at any time, which would eliminate their worries about running their printers around the clock. In the cloud space, a vast number of users' profiles are securely stored and a gallery of printing data and 3D models is available, greatly decreasing the complicated jobs of downloading, uploading and slicing 3D models.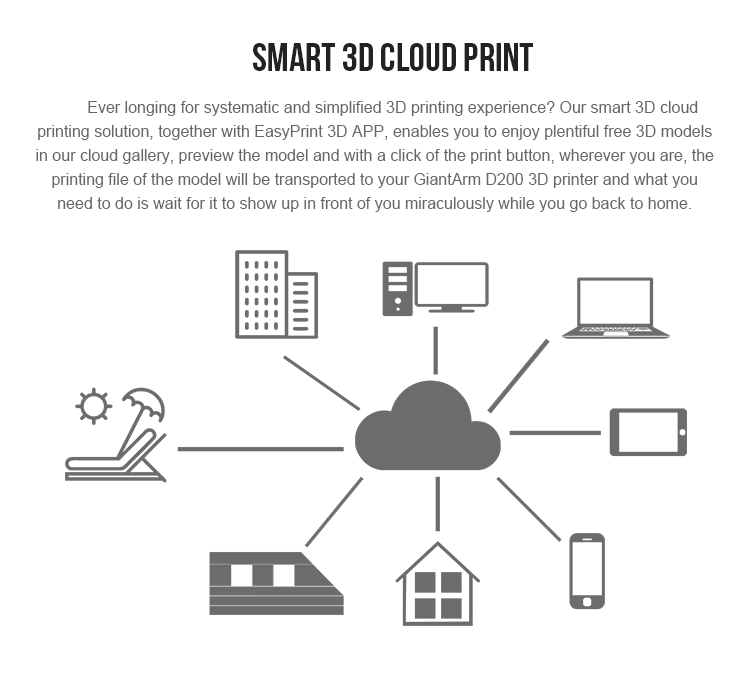 The combination of cloud and the specially devised APP makes GiantArm D200  3D printer a professional, reliable and convenient machine for 3D printing hobbyists from diverse fields. The intuitive and fully-featured interface of APP allows users to agilely select beloved models from cloud or SD card, and observe and control the printing state via Wi-Fi anytime and anywhere. In addition, users can exert real-time control over the extruder temperature, feed rate, fan, X/Y/Z axis position, printing speed and other detailed settings via APP. Therefore, this integration of the two software innovations helps users to accomplish palm 3D printing untethered.
The implementation of smart cloud 3D printing constructs a sustainable 3D printing ecosystem, greatly improving the level of resource utilization. With this service, GiantArm D200  3D printer has become the beloved smart device for 3D printing hobbyists across different fields, such as architecture design, education, maker space, and talent classes. With the supports of users throughout the world, GiantArm D200  3D printer is bound to make a difference in the 3D printing space.
The EasyPrint 3D APP is available on google play now, you can download and install it.

Start enjoy the easy of cloud printing today!