Introducing GiantArm D200 cloud 3D printer-part 5–Filament detector
Believe that many 3D printer users, either beginners or professionals, are not alien to this frustrating scene: when you are excited about almost finishing your complicated or large model, the filament unexpectedly runs out, forcing you to restart the long-long print journey. At this moment, the only words escaping from your lips should and could be "Dame it!!" How we wish there would be a defect detector to save your beloved prints and our fragile and strong hearts tortured by constant printing failures!
Estimating whether you have enough filament left on the spool to finish the print has always be a difficult task. More often than not, we find ourselves with an uncompleted print and the printer is always left printing in the air caused by filament outage or fracture.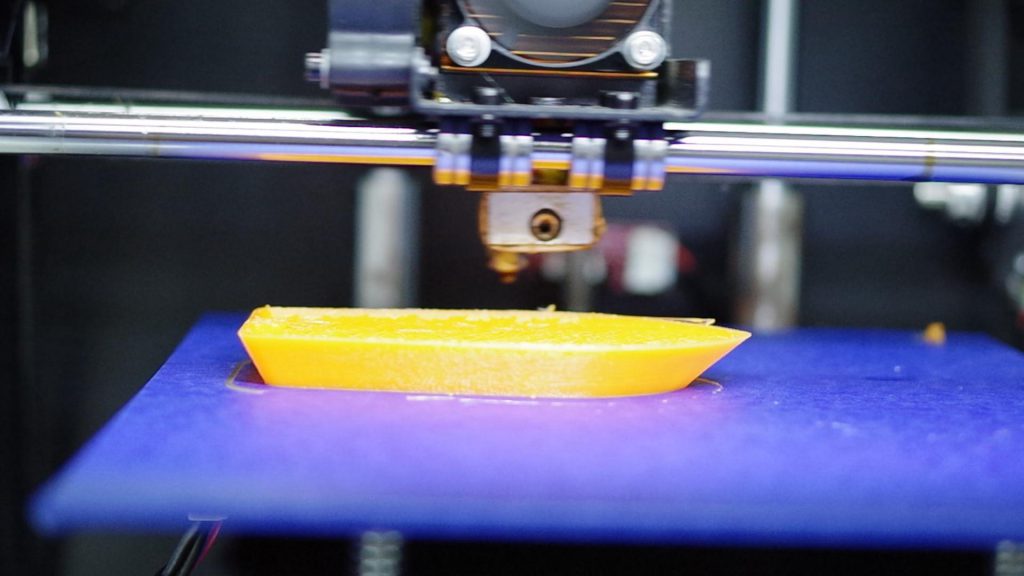 To get you out of the dilemma, a simple practical filament detector is added to GiantArm D200 3D Printer.It is designed to enable your printer temporally pause when it tests the un-present of the filament and saves the uncompleted printing file. The extruder will move away after paused to avoid destroying the printed model under high temperature, combined with our resurrection system, you can then change the spool and resume the printing job.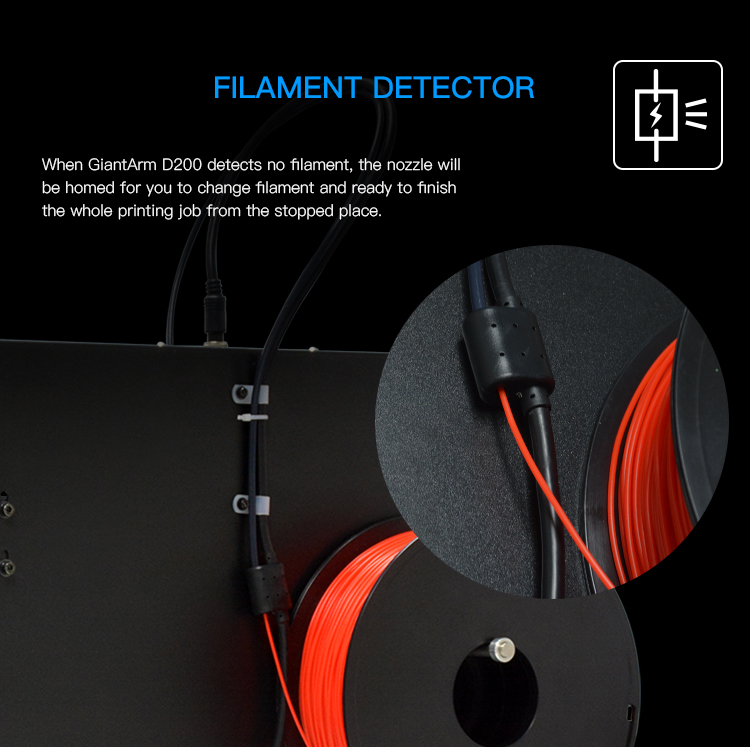 The implementation of this new filament detector involves some simple technical elements. Its core component is a detection module. The following makes a brief introduction of this additional function. When the filament goes through the detection module smoothly, the mechanical endstop is triggered, sending a [1] signal to the control board. Under this circumstance, the filament icon will be shown on the LCD screen. In contrast, when the filament runs out or is broken, the mechanical endstop in the detection module is not triggered, giving the signal [0] of filament outage to the control board, and the LCD screen will display filament outage to users and the buzzer will go off. In this case, the print will automatically enter pause mode and wait for reinsertion of filament.
The employment of filament detector would, in a large measure, decrease the time spent on repetitive printing and the cost of filament. Most importantly, with this auxiliary function, 3D printing fanciers would really get themselves out of those annoying situations and enjoy smooth and quality printing.
JUST CAN'T WAIT TO HAVE IT A TRY WITH THIS PRACTICAL DEVICE! HERE WE GO WITH GiantArm D200 3D Printer~