Introducing GiantArm D200 cloud 3D printer-part 4 Break-resuming capability
Unexpected power failure?
Need to stop and change filament?
Filament fracture or outage?
Printing in your fragmentation time?
Want your printer to take a nap?
Looking after your printer as a printer-sitter?
You may have suffered all of the above troubles during printing.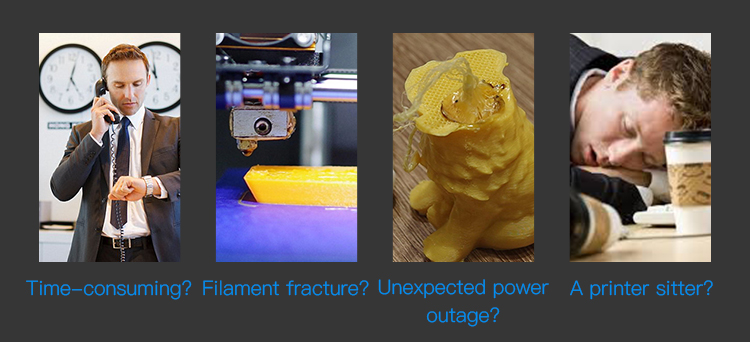 To solve the above issues, a resurrection system, that is, the break-resuming capability has been added to GiantArm D200 3D printer.
Active or passive interrupt, the break-resuming capability enables you to restart the printer and resume the interrupted printing job at the same place as if it never stopped.
When power failure takes place, electrical system will trigger the break-resuming loop. The energy storage unit will provide enough power for saving the current printing status.
Meanwhile, the printing will stop and the building platform will drop down to keep away from the object. In this way, the unfinished print will not be melted and destroyed by the nozzle.
Change filament easily: multiple-color printing and sectioned printing enabled; even single extruder can deliver multiple-color printout.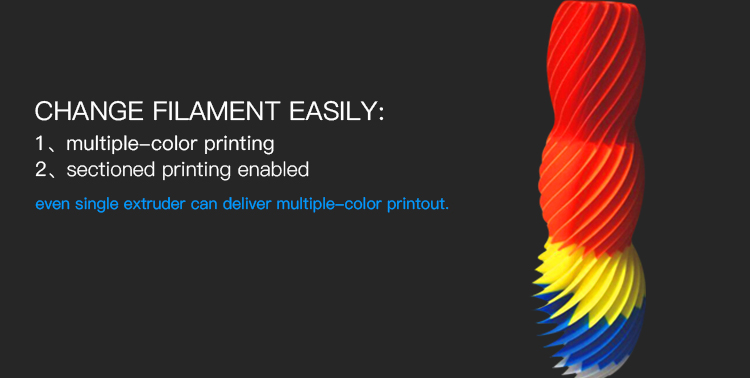 Large models=long printing time???
Rome is not built in a day! Prints do not have to be finished at one time.
Break-resuming capability helps to continue your printing in your spare time.
Now you can totally say good buy to a printer sitter and your prints will never be destroyed by power failure.
Enjoy 3D printing!
Buy GiantArm D200 3d printer at geeetech 3d printer online strore.
Stay tuned for more introduction of GiantArm D200 3d printer!