introducing Geeetech Duplicator 5 dual extruder DIY 3D printer
Duplicator 5 is a DIY dual extruder 3D printer by Geeetech. It is made to be the best companion for you to embark on the fascinating 3D printing journey. Its DIY design gives you unlimited joys when you are seeing a complete machine coming out of a pile of components.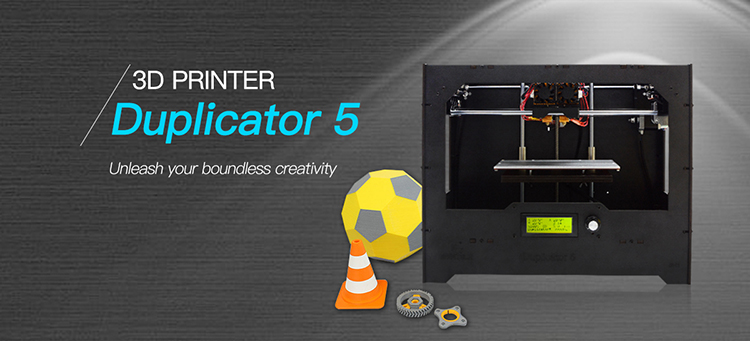 Hiding behind its gentility appearance is a slew of excellent features, making it outstanding among its competing products. High printing accuracy and speed, incredibly thin layer height, stable frame, customized 3D printing software— EasyPrint 3D, easy-to-manage LCD screen and open filament system. The most attractive one is its agile dual extruders, allowing you to print in multi-colors and unleashing your unique creativity.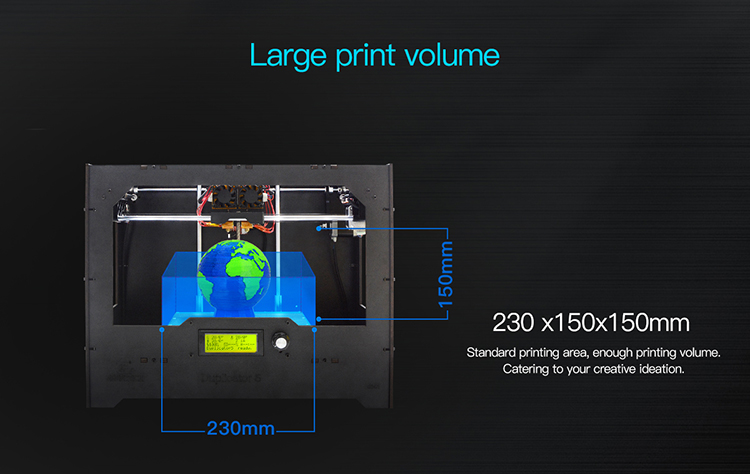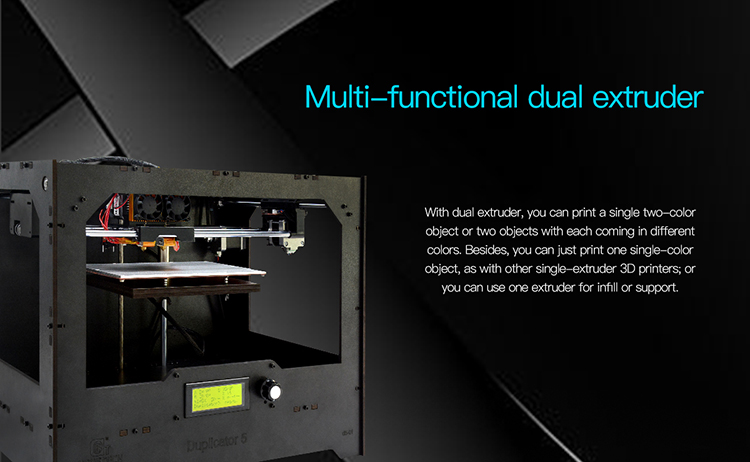 With an extra Wi-Fi module, you can upgrade Duplicator 5 to enjoy the convenience brought by our cloud 3D printing solution. After you configure your Duplicator 5 with Wi-Fi hotspot, the cloud 3D printing solution enables you to enjoy a plenty of free 3D models, direct control over the whole printing process and share your printing experience via App anywhere and anytime.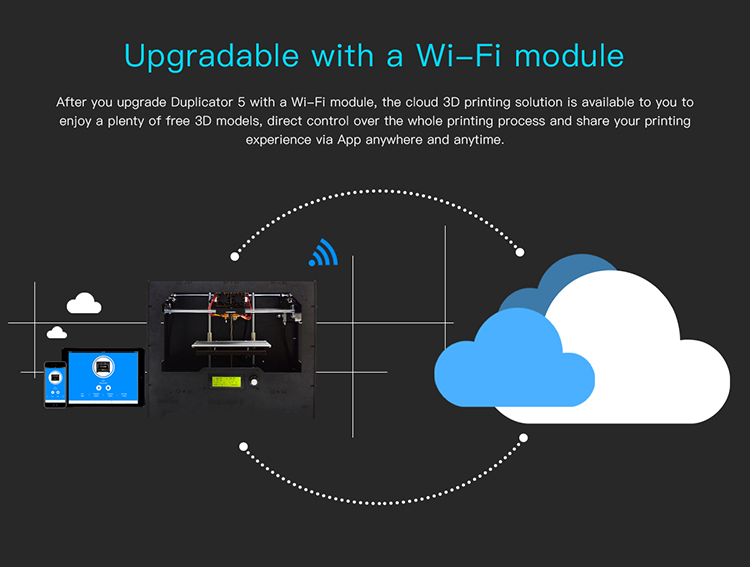 Features:
1.  Multi-functional dual extruder
With dual extruder, you can print a single two-color object or two objects with each coming in different colors. Besides, you can just print one single-color object, as with other single-extruder 3D printers; or you can use one extruder for infill or support.
2. Safe, stable and space-efficient
High-quality wooden plank renders Duplicator 5 firm and durable as well as attractive in appearance. The main board and power supply unit are installed at the bottom of the printer, safe and space efficient. This structure lowers the gravity center of the printer, providing stable support for printing. The half-opened design of the printer provides you with various perspectives to observe the whole printing process as well as enough protection.
3. Printing quality: High layer resolution and tolerance deliver smooth surface finish and durable object structure.
4.Large print volume: 230x150x150mm standard printing area, enough printing volume catering to your creative ideation.
5. Self-developed GT2560 control system.
The main board is our self-developed GT2560 3D printer control board which supports dual extruder and comes with more well-designed interfaces.
With its flash memory as 256KB and working frequency as 16MHZ, GT2560 control system empowers Duplicator 5 to run at peak performance.
6. User-friendly LCD 2004 control board & SD card, stand-alone printing enabled.
Duplicator 5 adopts LCD2004 controller, with which detailed printing status could be clearly presented on the screen. Besides, it is convenient to select 3D models and adjust printing speed, temperature and other parameters via the simple operation flow.
With a SD card and the straight-forward LCD screen, Duplicator 5 can easily run under the stand-alone printing condition. This allows Duplicator 5 to print untethered to your computer.
7. Open filament system: ABS/PLA/Flexible PLA/ Nylon/Wood-Polymer, providing extendable space for your creativity. Give you a wide range of printing choices.
8. Cloud 3D printing solution: use a Wi-Fi module to enjoy 3D printing untethered. (Note: Wi-Fi module is not included in this kit; you need to buy it separately.)
After you upgrade Duplicator 5 with a Wi-Fi module, the cloud 3D printing solution is available for you to enjoy a plenty of free 3D models, direct control over the whole printing process and share your printing experience via App anywhere and anytime.
9. The joys of DIY
Further simplified and stiffened parts make it a reality to assembly and adjust the whole frame fast and easily. Building Duplicator 5 step by step, you will have an in-depth knowledge of 3D printers. Time-saving and full of the sense of accomplishment.
10. Application
Duplicator 5 can be used to deliver practical printouts for different fields, such as art, fashion, household, learning, tools and toys. Meet your virtual needs.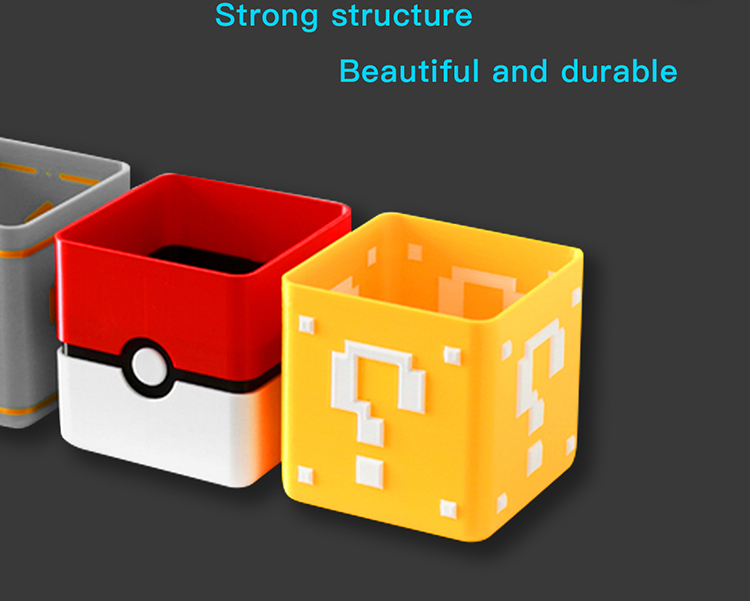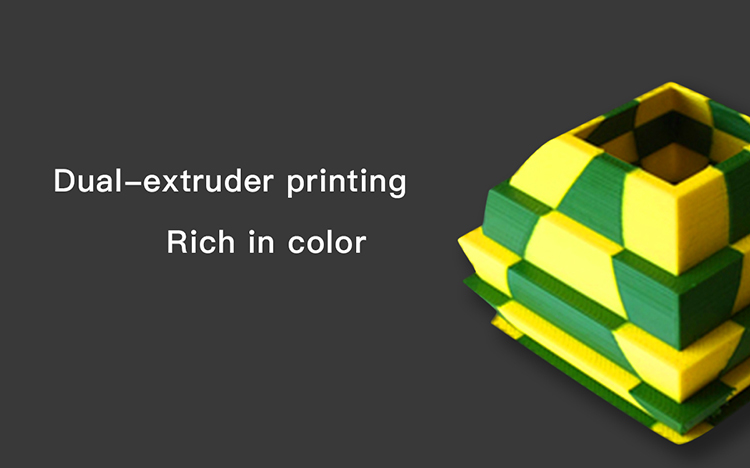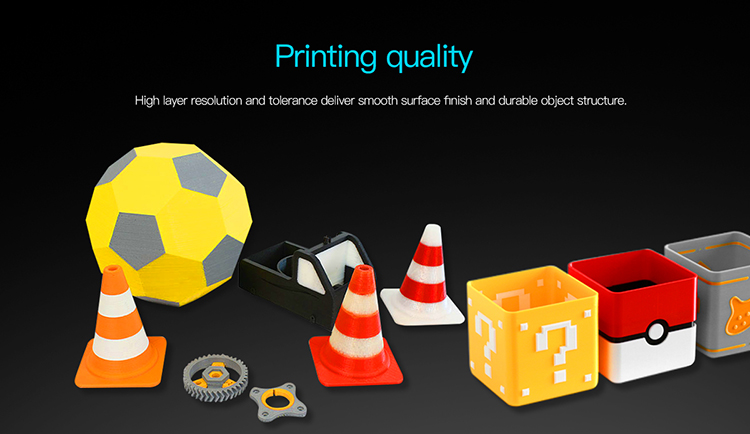 specifications:
Print technology: FFF/FDM
Build volume: 230 x150x150mm
Layer resolution: 0.1-0.3mm
Positioning Precision: 0.1-0.3mm
Filament diameter: 1.75mm
Nozzle diameter: 0.4 mm
Filament type: ABS/ PLA/Flexible PLA/ Wood /Nylon
Software:
Operating system: Windows/Mac/Linux
Control software:  EasyPrint 3D, Repetier-Host and other 3D printing software
EasyPrint 3D App
File format: .STL, .G-code
Temperature:
Max heated bed temperature:  about 110°C
Max extruder temperature:  about 240°C
Electrical:
Power supply:
Input: 110V/1.5A  220V/0.75A
Output:DC 24V/15A
Connectivity: USB, SD card (support stand-alone printing)
Mechanical:
Body: Quality wooden plank (black)
Build Platform: Aluminum plate + MK2A hotbed
XYZ Rods: Wear-resistant, stainless steel
Stepper Motors: 1.8° step angle with 1/16 micro-stepping
Physical dimensions:
Machine dimension: 467 x 313 x 375 mm
Shipping box: 520 x 440 x180 mm
Net weight: 8. 50 kg
Gross weight: 10.13 kg