Introducing GiantArm D200 cloud 3D printer-part 2 Smart 3D printing Solution
Smart 3D cloud print solution
Ever longing for systematic and simplified 3D printing experience? Our smart 3D cloud printing solution, together with EasyPrint 3D APP, enables you to enjoy plentiful free 3D models in our cloud gallery, preview the model and with a click of the print button, wherever you are, the printing file of the model will be transported to your GiantArm D200 3D printer and what you need to do is wait for it to show up in front of you miraculously while you go back to home.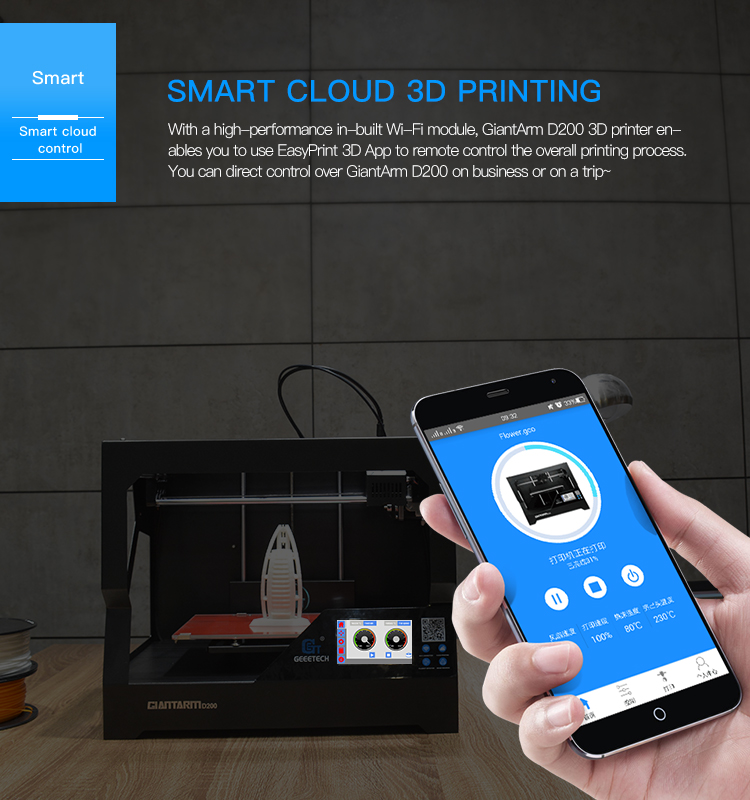 Responsive, elegant and easy-to-manage, the specially developed EasyPrint 3DApp provides you with the convenience to monitor and modify real-time printing status via Wi-Fi. No more convenience than this!
EasyPrint 3D APP features:
Intuitive ,Easy-to-use UI
Monitor the printing status
Control your printer from anywhere with Wi-Fi
Connect to cloud gallery and access to thousands of free 3D models
Alerts you when your printing job is finished
Alerts you when filament runs out or breaks
Alerts you when printing job breaks off
Activate the printer from power saving mode with just a click
EasyPrint 3D App is specially designed to connect 3D print fanciers from all over the world.
It is a social app which is multi-featured with 3D printer remote control, 3D models cloud gallery, 3D printing community.
Photos and videos are so easily uploaded to EasyPrint 3D app, its super simple to share images or videos of your impressive prints with the community worldwide.
See what's new and noteworthy, what the community has made, and what's popular. When looking at the things themselves, scroll through beautiful slideshows of photos.
Help you to record and witness your great prints in daily life, just like good friends.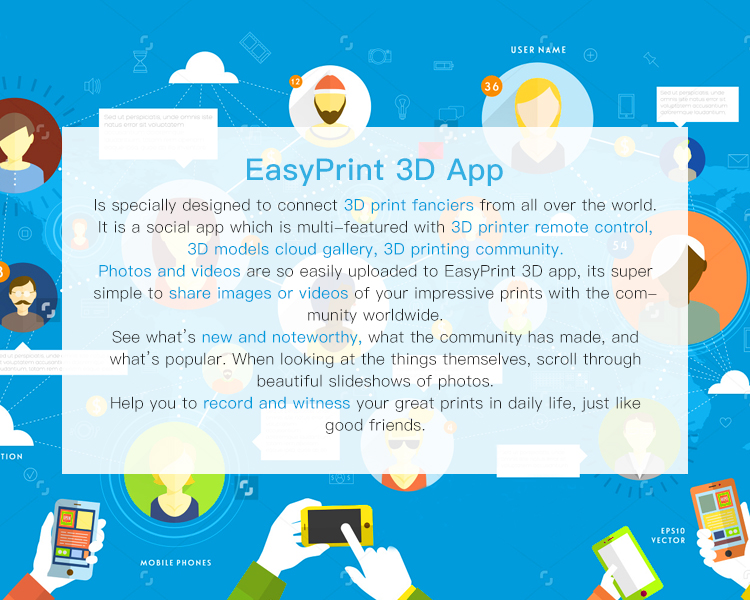 Plentiful FREE 3D models in cloud gallery
EasyPrint 3D App, a considerate aide, enables you to choose your favorite model from 9 categories and share your unique design with other 3D printing hobbyists. Preview 3D models and start to print at your finger tips.
Nine categories: 3D printer parts, 3D printing art, 3D printing fashion, 3D printing electronics, 3D printing household, 3D printing hobbies, 3D printing  tools, educational 3D printing, 3D printing toys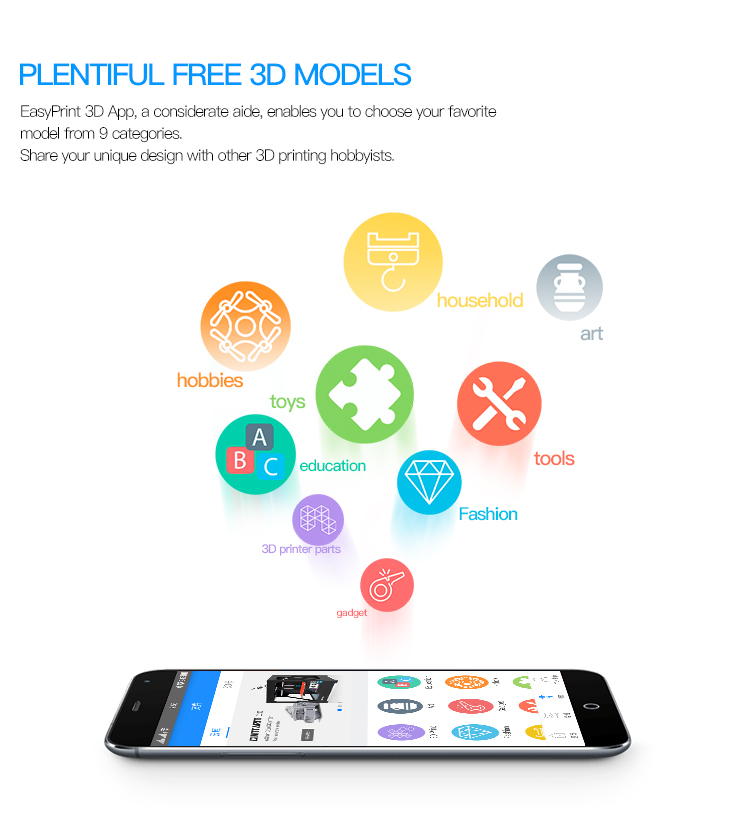 With these extremely useful features, GiantArm D200 3D printer offers you a pleasant experience with 3D printing. Wi-Fi connectivity, mobile EasyPrint 3D APP, cloud 3D printing solution, the break-resuming capability and filament detector, all these make it possible for you to direct control to your GiantArm D200 via your Smartphone to enjoy pure freedom of printing, either on a journey or out for a short-time reunion with friends. Simple, practical and thoughtful
Buy GiantArm D200 3d printer at geeetech 3d printer online strore.
Stay tuned for more introduction of GiantArm D200 3d printer!