Introducing Iduino Yun cloud
Iduino Yun cloud is an ideal IoT device for Internet of Things projects. It is a compatible / replacement product for Arduino Yun. It works with Arduino IDE with version higher than 1.5.4.
The Iduino Yun cloud is a microcontroller board based on the ATmega32u4 and the Atheros AR9331. The Atheros processor supports a Linux distribution based on OpenWrt named OpenWrt-Yun. The board has built-in Ethernet and WiFi support, a USB-A port, micro-SD card slot, 20 digital input/output pins (of which 7 can be used as PWM outputs and 12 as analog inputs), a 16 MHz crystal oscillator, a micro USB connection, an ICSP header, and a 3 reset buttons.
The Iduino Yun cloud is similar to the Arduino Leonardo in that the ATmega32u4 has built-in USB communication, eliminating the need for a secondary processor. This allows the Yun to appear to a connected computer as a mouse and keyboard, in addition to a virtual (CDC) serial / COM port.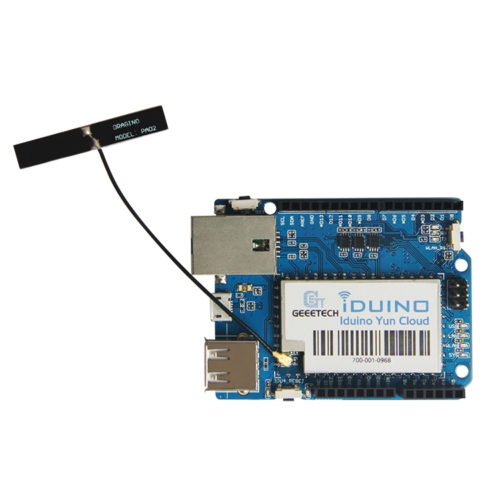 Features
Open source Linux (OpenWrt) onboard
Compatible with Arduino IDE 1.5.4 or later, user can program, debug or upload sketches to the Arduino board via the Arduino IDE.
Managed by Web GUI, SSH via LAN or WiFi
Software upgradable via network
Built-in web server
Supports internet connection via LAN port, WiFi or 3G dongle.
Supports USB flash to provide storage for Arduino projects.
Failsafe design provides robust system.
Specifications
AVR Arduino microcontroller
Microcontroller ATmega32U4
Operating Voltage 5V
Input Voltage 5
Digital I/O Pins 20
PWM Channels 7
Analog Input Pins 12
DC Current per I/O Pin 40 mA
DC Current for 3.3V Pin 50 mA
Flash Memory 32 KB (of which 4 KB used by bootloader)
SRAM 2.5 KB
EEPROM 1 KB
Clock Speed 16 MHz
Linux Microprocessor
Processor Atheros AR9331
Architecture MIPS @400MHz
Operating Voltage 3.3V
Ethernet IEEE 802.3 10/100Mbit/s
WiFi IEEE 802.11b/g/n
USB Type-A 2.0 Host
Card Reader Micro-SD only
RAM 64 MB DDR2
Flash Memory 16 MB
 WiFi Specification
WiFi: Support 150M 2.4Ghz WiFi, 802.11 b/g/n
Frequency range: 2.4~2.4835GHz
Modulation: BPSK, QPSK, CCK and OFDM (BPSK/QPSK/16-QAM/ 64-QAM)
Sensitivity @PER: 135M : -65dBm@10%PER; 65M : -65dBm@10%PER; 54M : -68dBm@10%PER;
11M: -84dBm@8% PER; 6M: -88dBm@10% PER; 1M: -90dBm@8% PER
Typical Distance: Indoor: 60m (max); Outdoor 150m (max) (with 2 dBi antenna)
RF Power: 11n: 13dBm; 11g: 13-15dBm, 11b: 16-18dBm,
Connector: I-PEX connector.
USB Ports
The Iduino Yun cloud has two USB connectors for different purpose:
USB Type A Female: Connect to the Linux part. it is a USB host port. User can use it to connect to USB flash, 3G dongle etc.
USB micro A Female: Connect to Atmega32u4, use can use it to upload sketch to Atmega32u4 or get debug info from 32u4.
Buttons:
For more information about Yun cloud, please visit our
WIKI : http://www.geeetech.com/wiki/index.php/Iduino_Yun_Cloud