Local Motors Demos Second Concept Car Available for Pre-Order Spring 2016 for $53K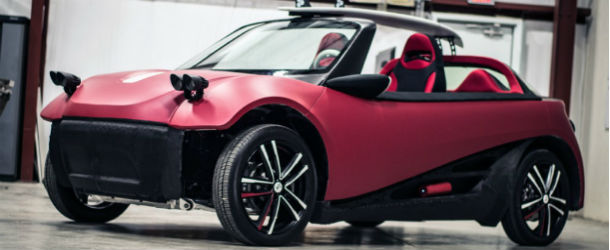 Local Motors is showing off its second concept car, which will be turned into a fully homologated 3D-printed vehicle. Designed by Local Motors community member Kevin Lo, who won the Project Redacted crowdsourcing challenge earlier this year, the LM3D Swim will be available for pre-order in spring of 2016. Moreover, the company will also be unveiling subsequent models in the LM3D line throughout next year, with plans to ship its first fleet of road-ready vehicles in 2017. (Note: homologation is the approval process through which a vehicle, a race track, or a standardized part is required to go for certification to race in a given league or series).
To bring Lo's designs into reality, the Local Motors product development team relied on software from Siemens, including its Solid Edge tool, ensuring that Lo's concept could be fabricated using the firm's direct digital manufacturing process. Then, using materials provided by SABIC, the LM3D Swim was 3D-printed on the Big Area Additive Manufacturing machine, developed by Oak Ridge National Laboratory and Cincinnati Incorporated. To achieve a more refined finish, the BAAM also implements a router, taking maximum advantage of additive and subtractive processes.