Play Tetris on your T-shirt
As 3 d printing has been more and more matured, 3D enthusiasts have rocked our word by creating endless novelties and gadgets, wearable smart T-shirt made by 3d printing has gradually emerged into our life.
A combination of wearable smart T-shirt with games could be a potential trend, although some video games have been gradually forgotten throughout history, there are some exceptions that still enjoy a great number of sought-after and have their own new fans. Tetris is one of them.
To celebrate the 30th anniversary of Tetris, in virtue of his outstanding ability of programming, Marc Kerger, a senior player and big fan of Tetris, developed a gadget to the game as salute, the wearable device: a T-shirt on which you can play Tetris.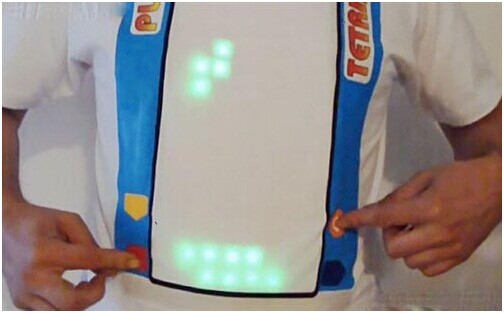 The player comes from Luxembourg; with 128 LED, an Arduino Uno control board, buttons of 3 d printing shell and soft materials, plus two Adafruit Matrix controllers, the device powered via 4 rechargeable AA batteries is made.
In addition to the hardware part, Kerger also designed a T-shirt to back up the whole system; the visual design and the hardware hidden in the back perfectly complement each other. T-shirt screen will display and score a rank, just the same as video games after you complete a level. Wearing a T-shirt to play Tetris, that is cool. Aha. But I was thinking, for how long he can hang on playing the game since he has to lower his head, stretching his neck. Come on, maybe he can stand in front of a mirror while playing.