MeCreator 2 Desktop 3D Printer
From Geeetech Wiki
Introduction
MeCreator 2 is our new desktop 3D printer with half-opened and box-type design and 160x160x160mm building volume. It is optimized and improved based on the previous MeCreator, bringing MeCreator 2 with more exciting features.
The control board and power supply unit are hidden in the bottom of the printer, compact and space efficient, providing stable support for printing as well as protection for you. The upgraded hardware and optimized firmware bring you excellent printing effect. The printing precision is up to 0.05mm, and the positioning precision is up to 0.05mm for X/Y axis and 0.02mm for Z axis. Regarding to the printing material, MeCreator 2 supports various filaments including ABS, PLA, flexible PLA and wood-polymer. In addition, MeCreator 2 is equipped with LCD2004 controller, which enables stand-alone printing with SD card.
Like MeCreator, MeCreator 2 will be delivered after assembly as well, which saves you from the trouble of assembling. Get a MeCreator 2 now, and welcome to the wonderful world of 3D printing!
Features
1. Safe, stable and space-efficient
High-quality steel chasis makes the printer firm and durable, as well as attractive in appearance. The main board and power supply unit are installed in the bottom of the printer, safe and space efficient. And this structure lowers the gravity center of the printer, providing stable support for printing. The half-opened design of the printer provides you with enough protection, as well as various perspectives to observe the printing process.
2. High-performance control board
The control board is our self-developed GT2560B 3D printer control board which is powered by ATmega2560. With its 256KB Flash Memory and 16MHz operating frequency, GT2560B provides endless power for MeCreator 2 to achieve high-performance printing effect.
3. Excellent MK8 extruder
MeCreator 2 comes with upgraded MK8 extruder whose feeding device uses double "V" design which can ensure stable and constant feeding. The heat-resisting PTFE tube inside the barrel ensures fluent feeding and helps avoid blocking problem thanks to its self-lubricity. The precise brass nozzle ensures accurate extrusion, realizing excellent printing effect.
4. Higher transmission accuracy of Z-axis
Z-axis adopts high-precision lead screw which is able to convert rotary motion to linear motion. The lead screw features high accuracy, reversibility and high efficiency. It can achieve accurate micro-feeding to ensure printing precision, and high-speed feeding to ensure fast printing speed.
5. Better adherence with heat bed
The printing platform is made up of high-quality aluminum alloy plate and superior heat bed, which can be heated up to 110℃, ensuring better adherence of filament, preventing the first layer from warping, providing better printing quality.
6. Various filaments supported
The upgraded hardware and optimized firmware allowzhex MeCreator 2 to support various filaments including ABS, PLA, flexible PLA and wood-polymer filament. Giving you a wide range of choices for your different printing needs.
7. Larger printing volume
Compared with the 150x150x125mm printing volume of Mecreator, the building area of Mecreator 2 is increased to 160x160x160mm. You can print more kinds of models of larger volume.
8. Supporting various 3D printer software
MeCreator 2 supports most kinds of popular 3D printer control software including Repetier Host, Printrun and 3D Simplify, and it supports slicing software like Cura and Slic3r, whose intuitive UI design and simple operation bring you good user experience. You can easily use the printer well even you are a starter.
9. Supporting stand-alone printing with SD card
MeCreator 2 adopts LCD2004 controller, on which the detailed printing status are clearly presented on the screen. In addition, there is an SD card slot for LCD, with an SD card, MeCreator 2 can easily realize stand-alone printing. This allows you to print without connecting your MeCreator 2 to computer and helps you avoid possible printing interruption problem caused by the breakdown of computer system.
10. Built-in LED light
Inside the printer there is a LED strip, which gives out blue light, bringing you a clear view of the model being printed even under insufficient lighting. What' more exciting, you can control the LED light intensity by sending different code commands to satisfy your different needs.
11. A wide range of application
3D printing technology can be applied to a wide range of fields including industrial manufacturing, designing, machine part manufacturing, modeling, building, arts and culture field, teaching, archaeology, toys producing and so on. Unleash your creativity and 3D printing will bring you endless surprises.
12. Save you from trouble of assembly
MeCreator 2 is assembled and tested by us before shipping. You can start printing right out of the box. Compared with DIY 3D printer, MeCreator 2 saves you from troubles of assembling. MeCreator 2 is highly recommended to both starters and experienced users.
Specifications
Printing specifications:
Print technology: FDM
Build volume: 160x160x160mm 
Printing precision:0.05mm
Positioning precision: X/Y:0.05mm. Z: 0.02mm
Print Speed: 60-80mm/s 
Filament diameter: 1.75mm
Nozzle diameter: 0.4mm
Filament type: ABS/PLA/flexible PLA/wood-polymer
Software:
Operating system: Windows/Mac/Linux
Control software: Repetier-Host, Printrun, Cura
File format: .STL, 3ds, obj, amf, dae, G-code   Temperature:
Max heated bed temperature:  About 110 °C 
Max extruder temperature: About 240°C 
Electrical:
Power supply: 
Input: 110V/220V 350W
Output:DC24V/15A
Connectivity: USB, SD card (support stand-alone printing)
 Mechanical:
Chasis: metal sheet
Build Platform: Aluminum alloy plate+ heatbed
XYZ Rods: Wear-resistant, stainless steel and lead screw(Z axis)
Stepper Motors: 1.8°step angle with 1/16 micro-stepping
Physical structure: Reprap
Physical Dimensions & Weight
Machine Dimension: 320x320x360 mm 
Shipping box Dimension: 460x460x410mm
Machine Net weight: 9.05kg
Machine Shipping weight: 17.5kg 
More detailes
Video
For Videos, please view at Youtube.
Document
Software
Find EasyPrint 3D APP on Google Play or on APP store
Third party Software recomend:
Firmware
FAQ
In order to obtain the best print results, we recommend you use the filament that our company supply. Different filament manufacturers produce filament with different auxiliary additives which may cause different melting point and different quality. The filament that our company provided is very appropriate for our printer after tested and compared.

1. Extruder can not work or extrusion is not fluent.
a.The Marlin firmware of MeCreator2 specifies that the extruder can be controlled when the extruder temperature is above 170℃. If you use PLA filament to test, it is recommended that you heat the temperature to 200 ℃.
b. The extruder of MeCreator2 is MK8 extruder. It is recommended that you confirm the filament has been inserted into the throat rod of hot end.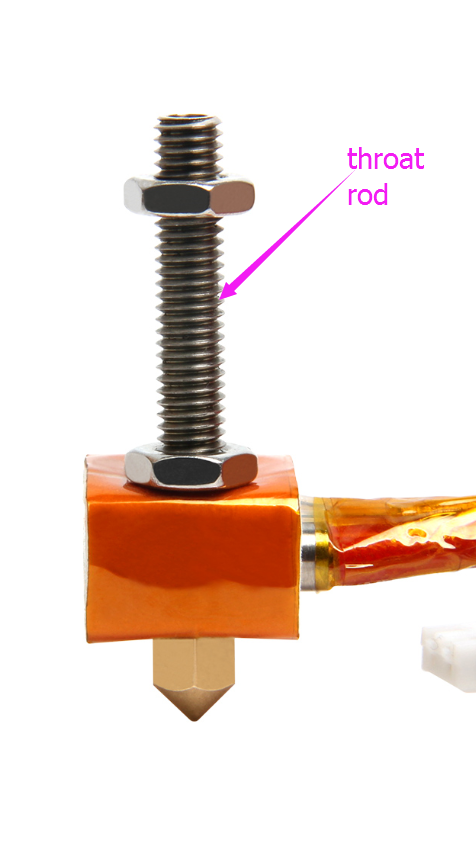 2. How to revert to the default "factory settings"?
Firstly, you have to enter the Main menu by pressing the knob on the LCD controller. Then select the Control. Inside the Control menu, you can see the Store Memory option and Restore failsafe option. And you should press the Restore failsafe option, then pressing the Store Memory. LCD-> Control->Restore failsafe LCD-> Control->Store memory

3. How to clean the nozzle?
If your nozzle is jammed with the filament, you can refer to this link to learn how to clean the nozzle.