Difference between revisions of "GiantArm D200 Cloud 3D printer"
From Geeetech Wiki
Line 215:
Line 215:
 
 
 

= FAQ=

 

= FAQ=

 
+
 
+
 
+
 

1 Printing quality issues.

 

1 Printing quality issues.

 
 
Line 220:
Line 223:
 
 
 

Please refer to this [https://www.geeetech.com/wiki/index.php/Print_Quality_Troubleshooting_Guide  Print Quality Troubleshooting Guide]

 

Please refer to this [https://www.geeetech.com/wiki/index.php/Print_Quality_Troubleshooting_Guide  Print Quality Troubleshooting Guide]

 
+
 
+
 
+
 
+
 
+
 
+
 
+
 
+
 
+
 
+
 
+
---
Revision as of 07:10, 31 October 2017
Overview
watch video:INTRODUCING the GIANTARM D200 3D PRINTER
A cloud 3D printer, GiantArm D200 is engineered to deliver reliable, convenient, professional printing experience for 3D printing fanciers. Print anywhere, anytime.
Highlight Features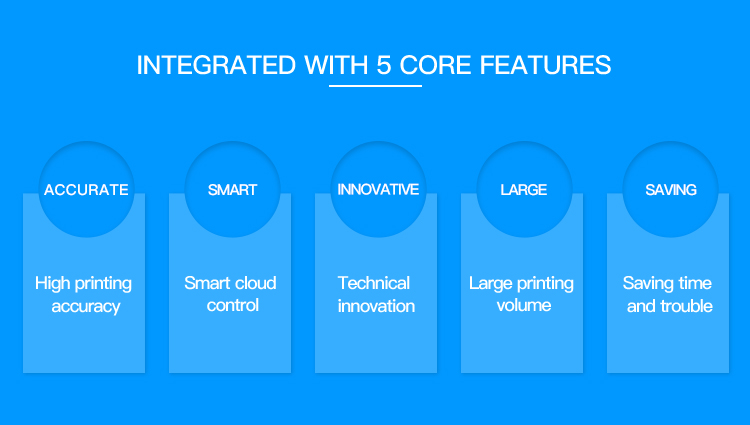 Simple and Powerful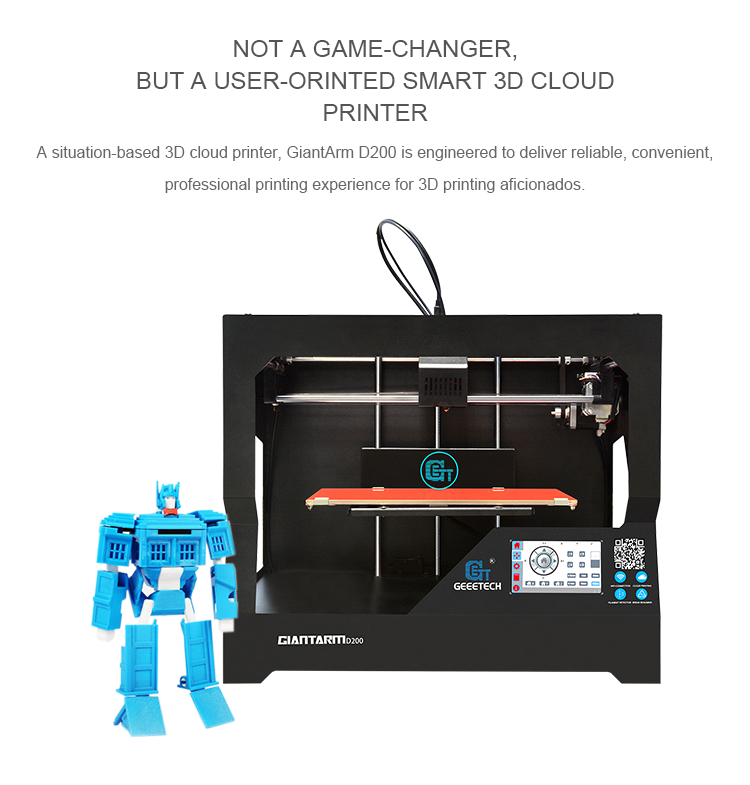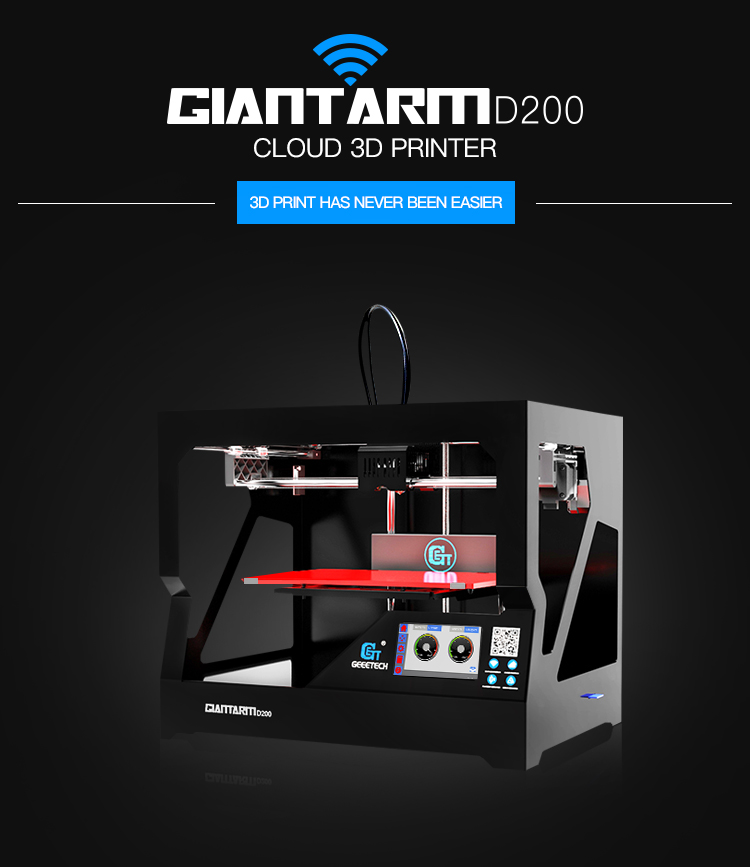 The uni-body sturdy laser-cut steel frame makes GiantArm D200 simple and stable, as well as attractive in appearance, embodying our consistent notion - reliable and professional. The half-opened design of the printer provides you with enough protection, as well as various perspectives to observe the printing process.
Reliable and Precise Printing performance
Featuring an extended build volume of 300x180x180mm, GiantArm D200 is capable of printing relatively large models or multiple parts simultaneously. The patent granted extruder enables GiantArm D200 to print at high precision, delivering strong and exquisite printouts.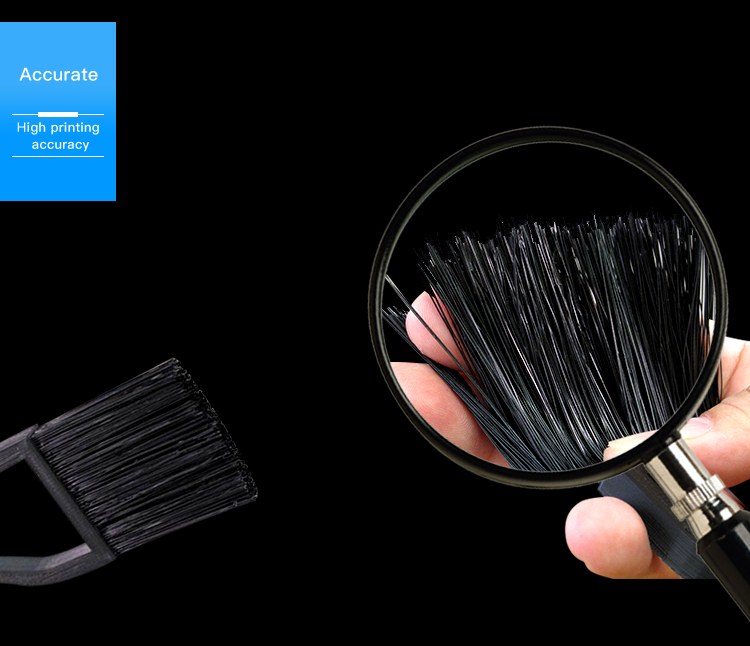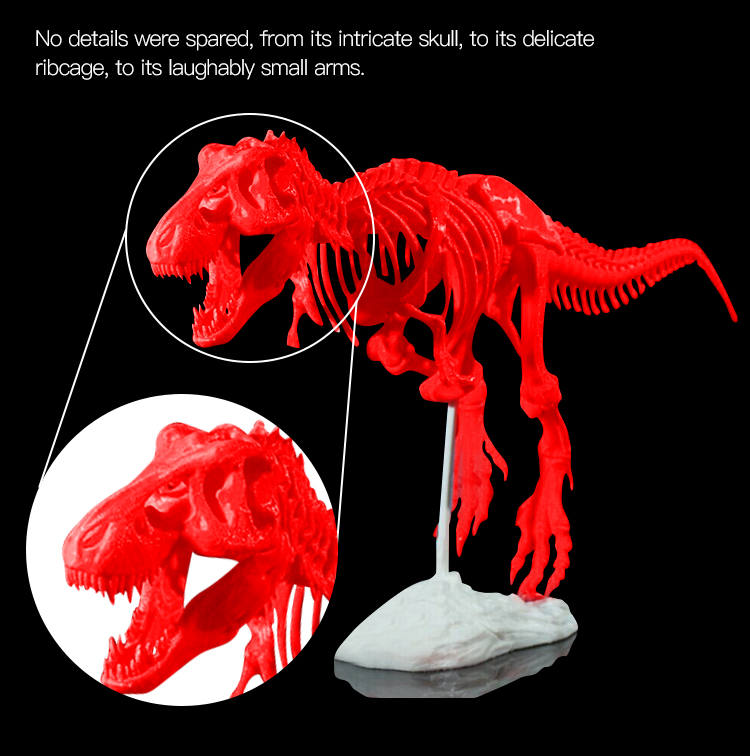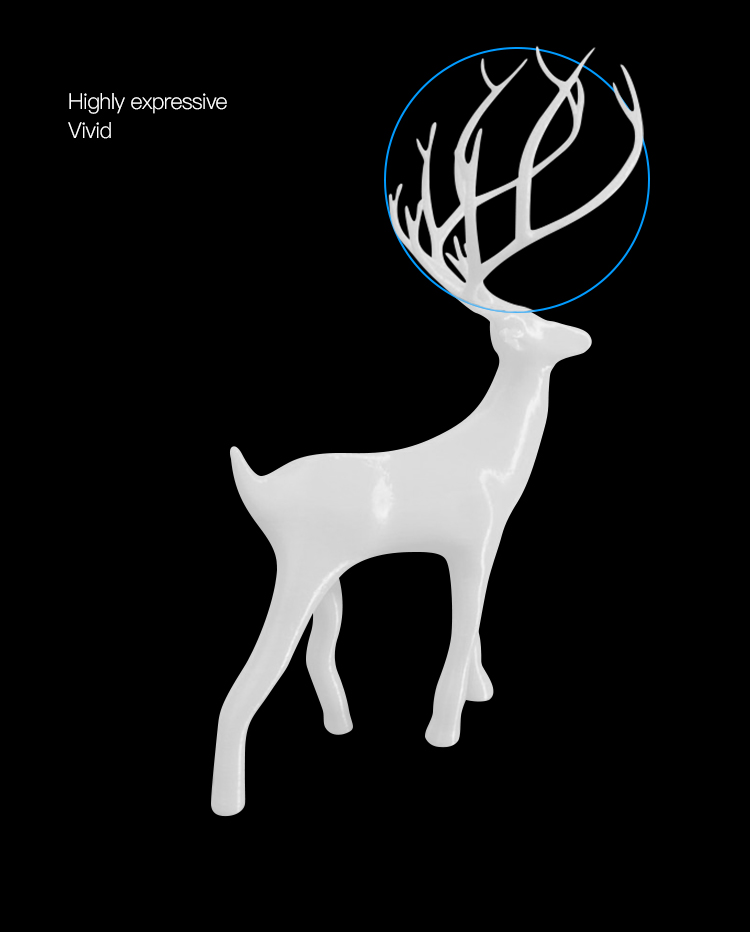 Streamlined the 3D printing flow
With these extremely useful features, GiantArm D200 3D printer offers you a pleasant experience with 3D printing. Wi-Fi connectivity, mobile EasyPrint 3D APP, cloud 3D printing solution, the break-resuming capability and filament detector, all these make it possible for you to direct control to your GiantArm D200 via your Smartphone to enjoy pure freedom of printing, either on a journey or out for a short-time reunion with friends. Simple, practical and thoughtful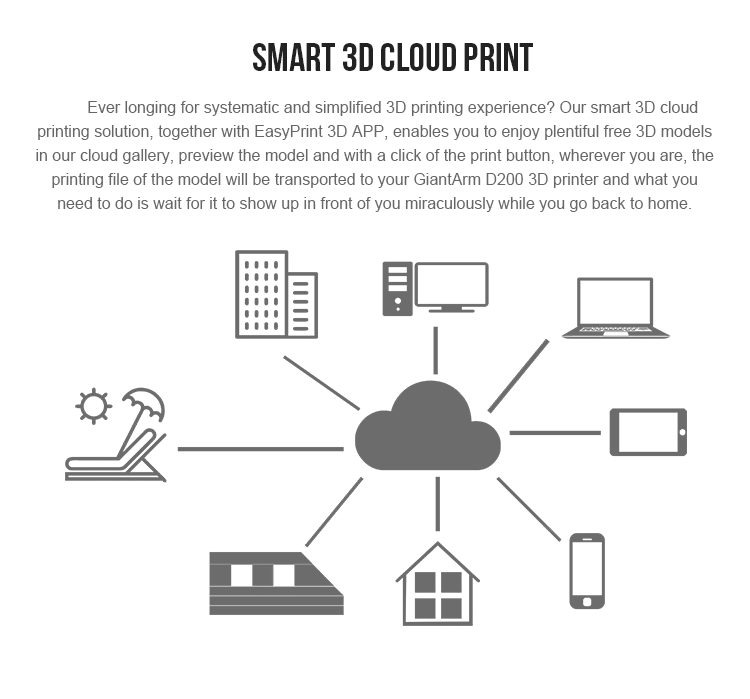 A mobile App for remote control
Responsive, elegant and easy-to-manage, the specially developed EasyPrint 3DApp provides you with the convenience to monitor and modify real-time printing status via Wi-Fi. No more convenience than this!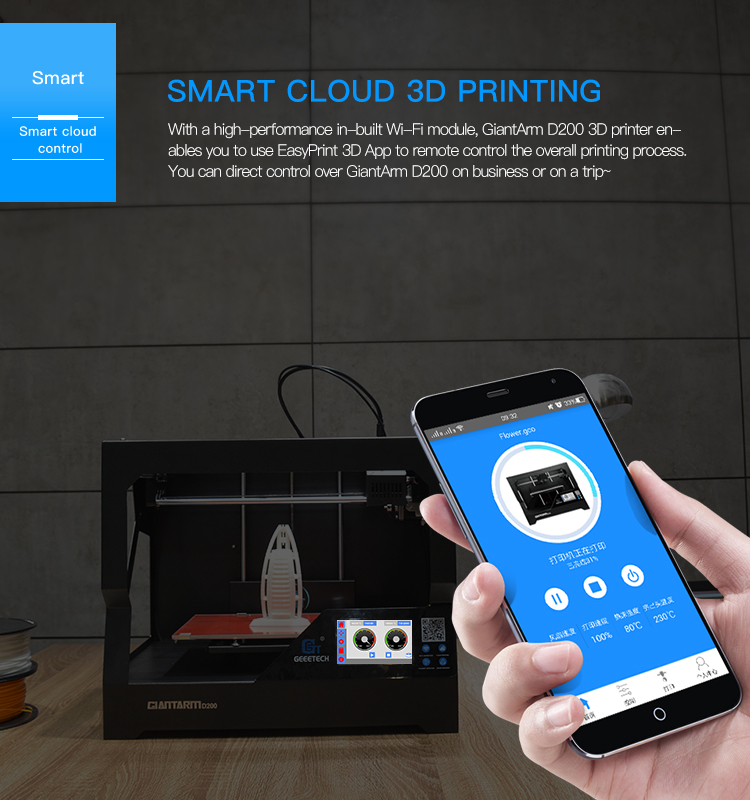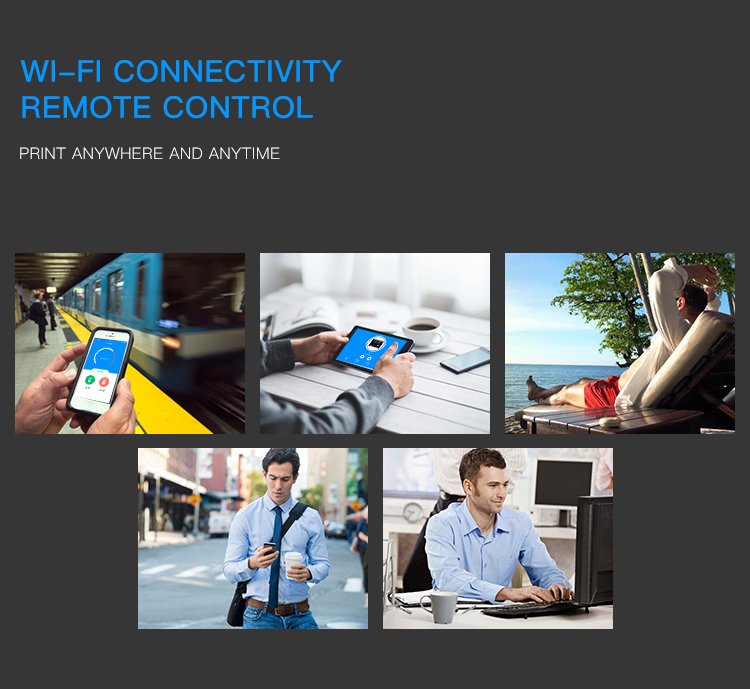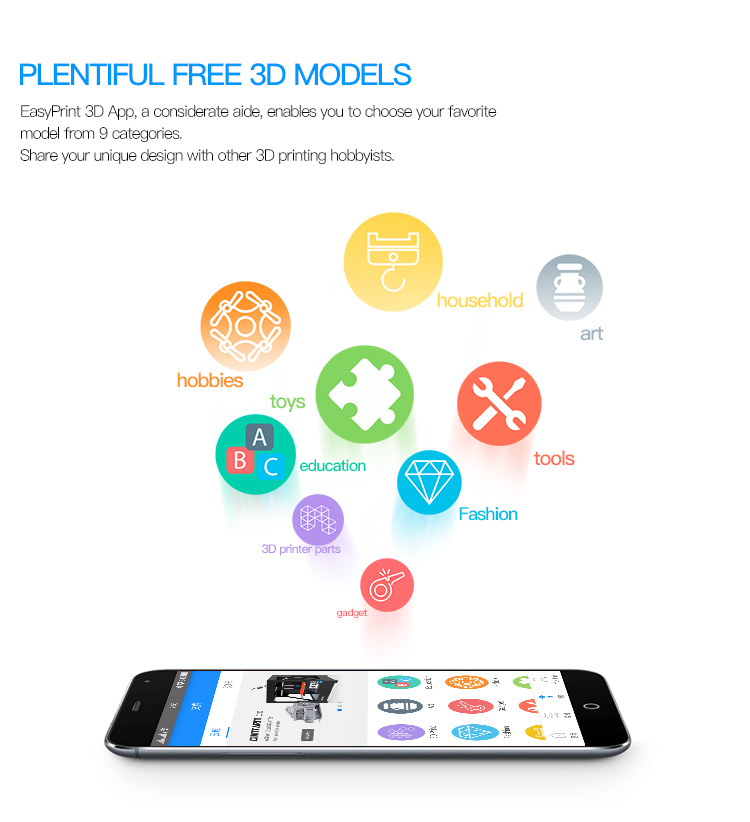 Smart 3D cloud print solution
Ever longing for systematic and simplified 3D printing experience? Our smart 3D cloud printing solution, together with EasyPrint 3D APP, enables you to enjoy plentiful free 3D models in our cloud gallery, preview the model and with a click of the print button, wherever you are, the printing file of the model will be transported to your GiantArm D200 3D printer and what you need to do is wait for it to show up in front of you miraculously while you go back to home.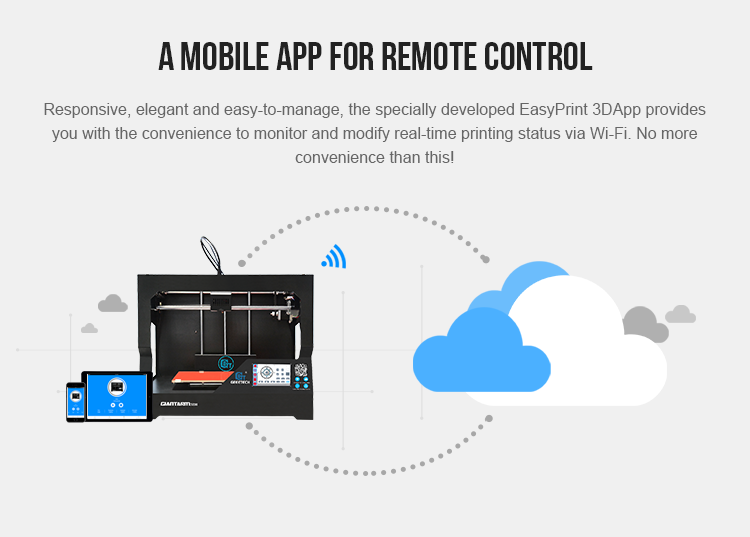 Break-resuming capability
The break-resuming capacity, a resurrection system, is added to save real-time printing status and resume the printing job exactly at the same place where it has been stopped in case of unexpected power failure.
When power failure takes place, electrical system will trigger the break-resuming loop. The energy storage unit will provide enough power for saving the current printing status. Meanwhile, the printing will stop and the building platform will drop down to keep away from the object. In this way, the unfinished print will not be melted and destroyed by the nozzle. Active or passive interrupt; this add-on feature can totally drive away the hassle of repetitive and time-consuming printing jobs caused by unexpected power outage or autonomous pause.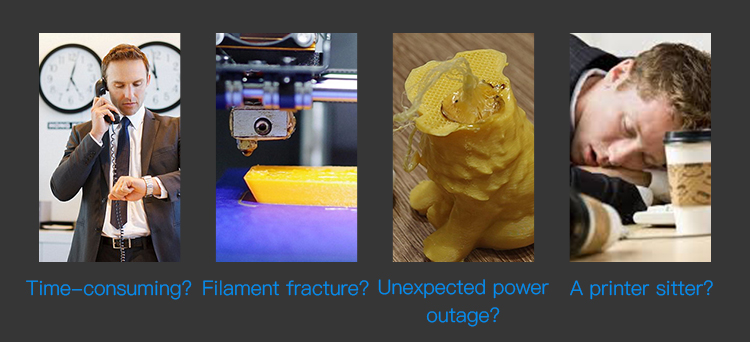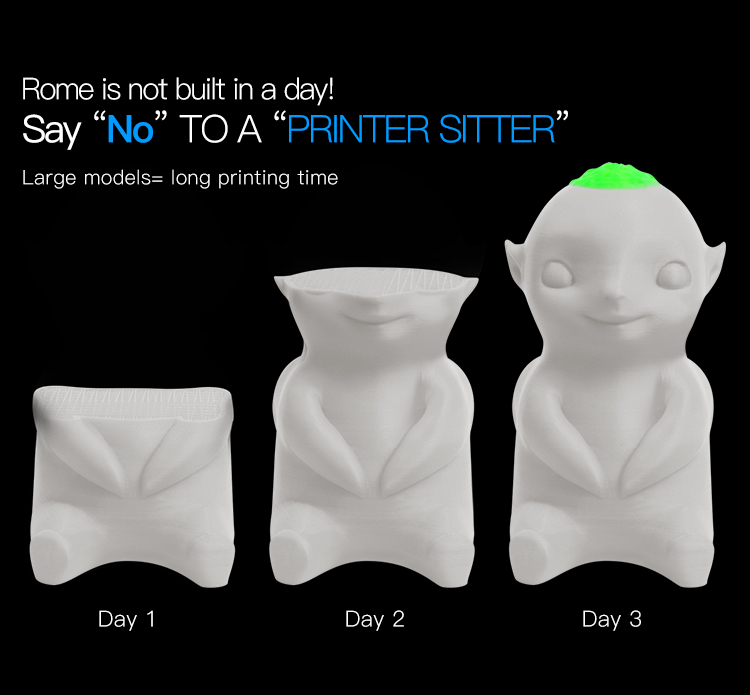 Practical Filament detector
Estimating whether you have enough filament left on the spool to finish the print has always be a difficult task. More often than not, we find ourselves with an uncompleted print and the printer is always left printing in the air caused by filament outage or fracture.
To get you out of the dilemma, a simple practical sensor is added to GiantArm D200.
It is designed to enable your printer temporally pause when it tests the un-present of the filament and saves the uncompleted printing file. Meanwhile, the extruder will move away after paused to avoid destroying the printed model under high temperature, combined with our resurrection system, you can then change the spool and resume the printing job. Connected with the EasyPrint 3D APP, you will get message when the filament detector detects filament outage or fracture. Everything is under your control.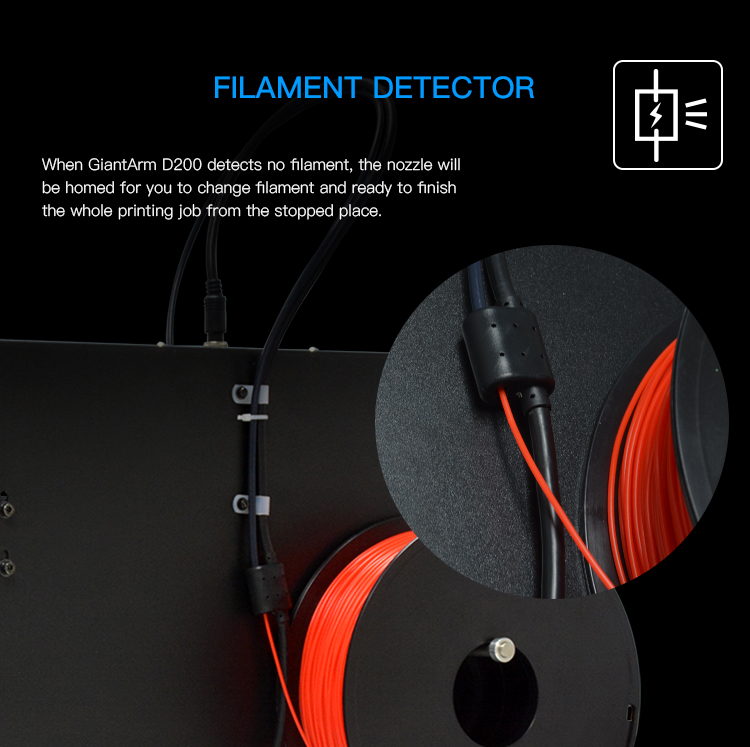 Convenient 4.3" color touch screen
With intuitive user interface and convenient operation flow, the color touch screen makes the otherwise complex printing settings as easy as touching at your fingertips. 4.3" color touch screen makes stand-alone control and printing a reality.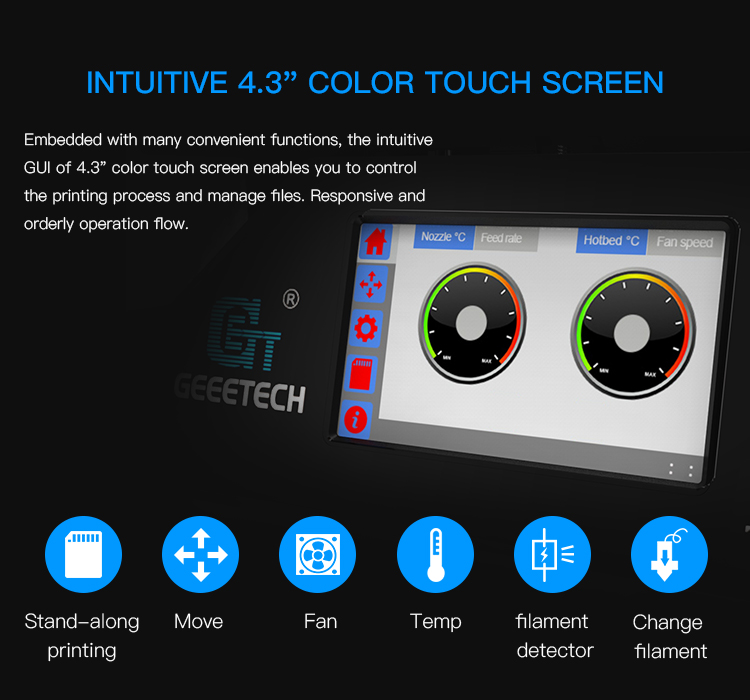 Modularized Extruder
Another exciting feature on this GiantArm D200 3D printer is the 1:3 reduction extruder. With first grade reduction gear wheel, the torque of the newly designed extruder is 2 times higher than conventional extruders, guarantees stable and smooth extruding, delivering high printing quality.
The modularized design also brings you unbeatable ease to change the hotend which is in slide connection with the coldend. Now with a little slide, you can assemble /disassemble the hotend like a breeze.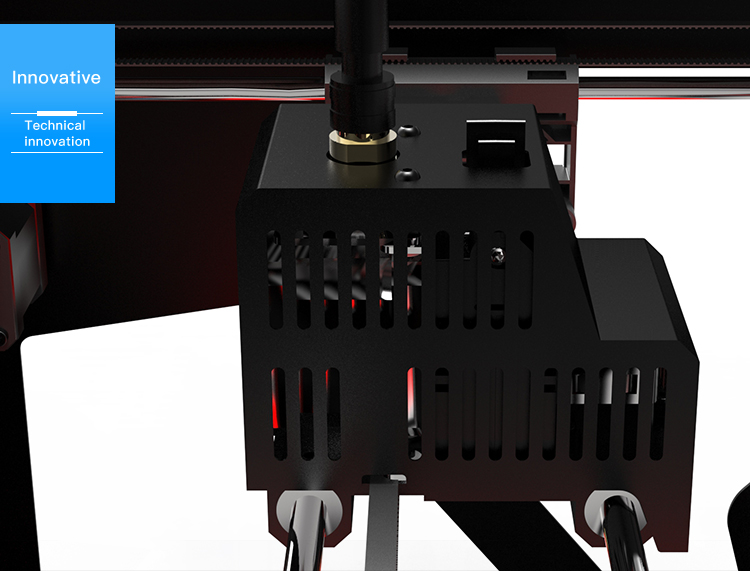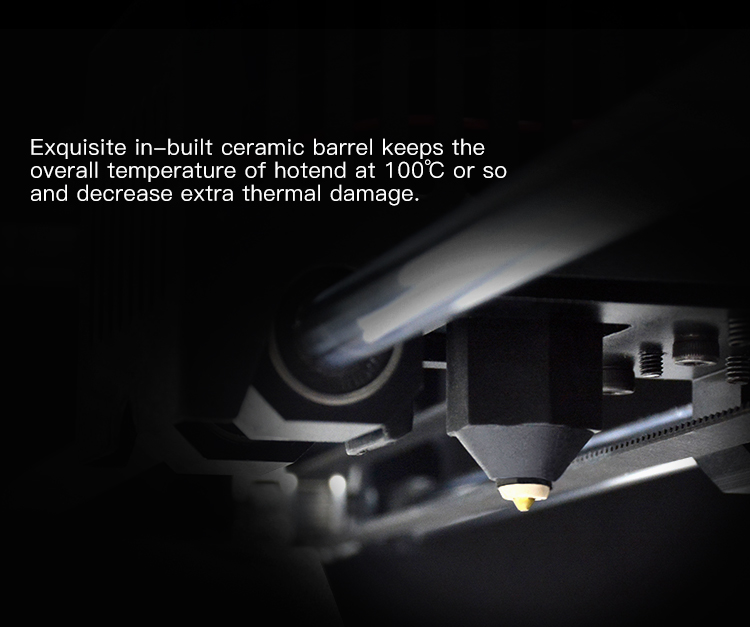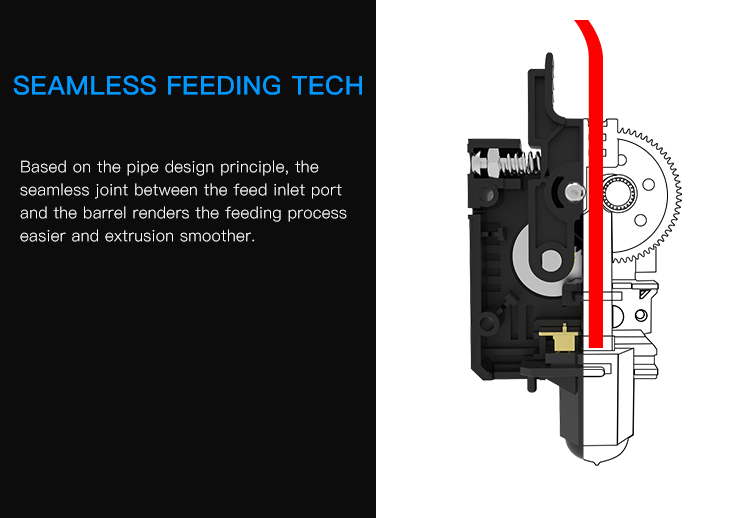 Simple and intuitive 3D printing software
A piece of 3D printing software customized for our Geeetech printers, EasyPrint 3D is suitable for both novices and experts. Just four steps will help you start the printing journey. User-friendly and easy-to-manage
An updating system is built in to update the firmware of the GiantArm D200 3D printer, making sure that your printer runs at peak performance. Updating the firmware is just a click of mouse. Learn more about the EasyPrint 3D software here.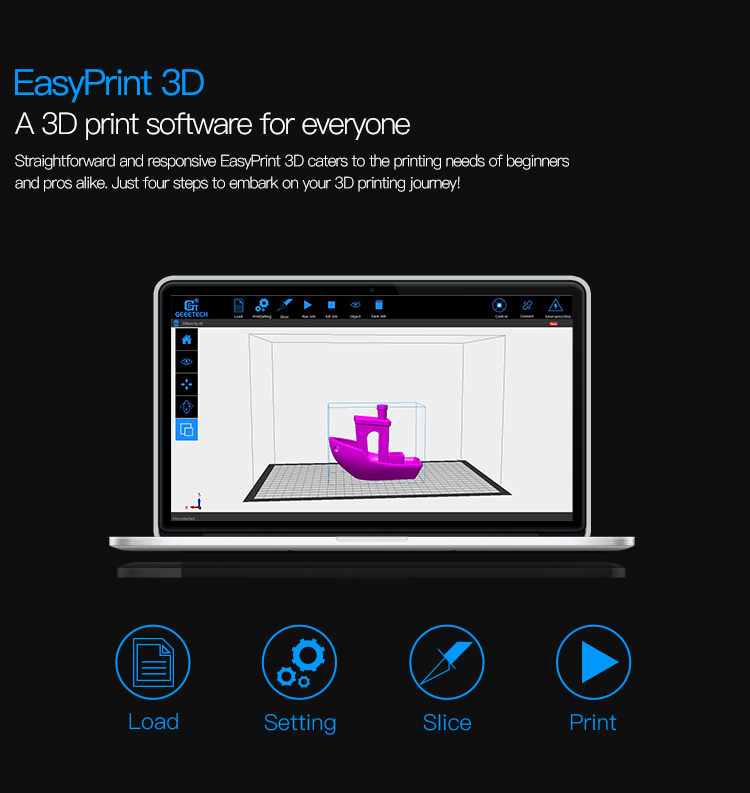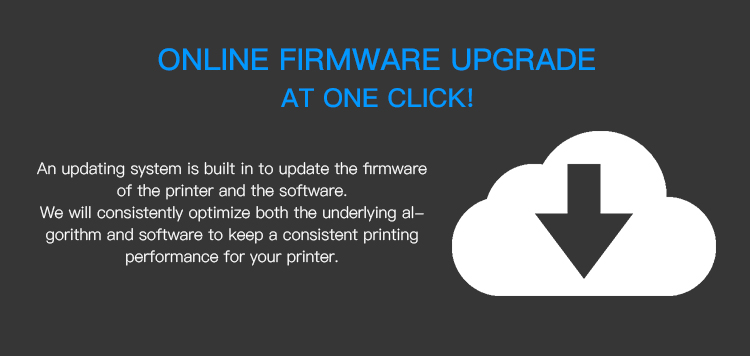 Open filament system, Multiple options
The upgraded hardware and optimized firmware allows GiantArm D200 to support various filaments including ABS, PLA, flexible PLA, wood-polymer filament, HIPS etc, giving you a wide range of choices for your different printing needs.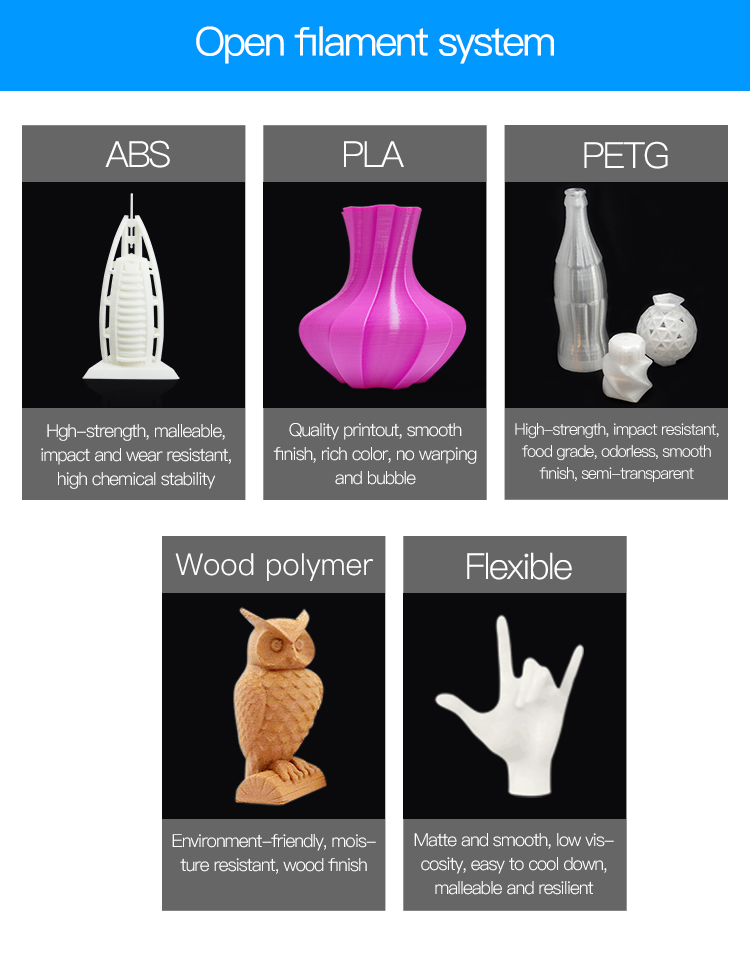 Multiple Applications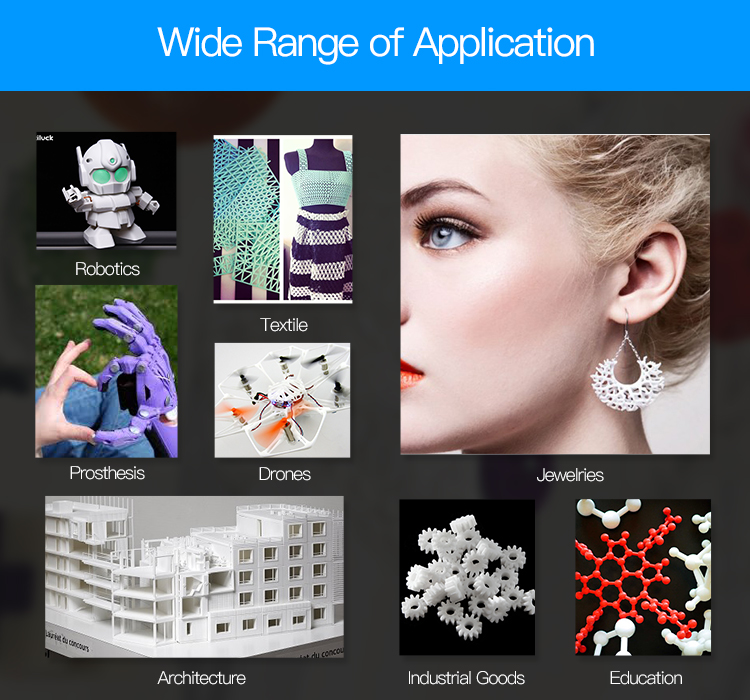 More detailes
Specification
Printing specifications:
Print technology: FDM
Build volume: 300 x180x180mm
Printing precision:0.05mm
Positioning precision: X/Y:0. 011mm Z:0.0025mm
Print Speed: 80-110mm/s
Filament diameter: 1.75mm
Nozzle diameter: 0.4mm
Filament type: ABS/PLA/flexible PLA/wood-polymer/ PVA, HIPS, PETG etc,
Software:
Operating system: Windows/Mac/Linux
Control software: EasyPrint 3D
File format: .STL, G-code
Temperature:
Max heated bed temperature: About 110 °C
Max extruder temperature: About 230°C
Electrical:
Power supply:
Input: 110V-240V
Output:DC24V/360W
Connectivity: USB, SD card, Wi-Fi
LCD: 4.3" color touch screen
Mechanical:
Chasis: Metal sheet
Build Platform: heat-resistant glass+ heatbed
XYZ Rods: Wear-resistant, stainless steel and lead screw (Z axis)
Stepper Motors: 1.8°step angle with 1/16 micro-stepping
Physical Dimensions & Weight
Machine Dimension: 470x350x395 mm
Packing Dimension: 582x470x500 mm
Net weight: 18kg
Shipping weight: 21kg
Videos
For more videos about GiantAarm D200, please watch on YouTube.
GIANTARM D200 3D PRINTER play list
Document
Giantarm D200 3D Printer User Manual
Software
Find EasyPrint 3D APP on Google Play or on APP store
Third party Software recomend:
FAQ
In order to obtain the best print results, we recommend you use the filament that our company supply. Different filament manufacturers produce filament with different auxiliary additives which may cause different melting point and different quality. The filament that our company provided is very appropriate for our printer after tested and compared.

1 Printing quality issues.
This guide is a great place to start if you are trying to improve the quality of your 3D printed parts. We have compiled an extensive list of the most common 3D printing issues along with the software settings that you can use to solve them. Best of all, the guide uses a large collection of real-world images to make each issue easy to identify when examining your own 3D printed parts.
Please refer to this Print Quality Troubleshooting Guide

2 How to change the extruder
The extruder of GiantArm D200 is characterized by its modular design. Specifically speaking, the coldend and hotend are combined together by a sliding joint, making it easy to change the extruder.
Find the switch on the left of the nozzle and slide it to the left slowly to take out the nozzle;
Here is the picture after you move the nozzle.