Geeetech B30 3D Printer
From Geeetech Wiki
Introduction
Geeetech B30, a fully-featured new 3D printer, is worthy of the name "The beast behind the beauty". Pursuing simplicity and gentility, B30 prints 2-3 times faster than the average printers, without sacrificing the printing quality and mechanical performance.
The whole frame is built in black and white, imparting its unique noble temperament. The touch screen and Geeetech logo at the racetrack-shaped area is in harmony with the design of the extruder and the whole frame. The backlight Notification, a considerable add-on, could show the printing status of B30 in time. Its overall appearance renders this new device appealing at the first sight.
B30 is highly modularized and the main components could be put together within minutes. Made from sheet metal, B30 runs stably, totally getting rid of failed printing caused by vibration. The power supply unit, control board and wires are enclosed at the bottom of the machine, which helps to reduce unnecessary dangers, lower the gravity center and further stabilize the whole machine.
This new machine, with its build volume of 320*320*350mm, provides enough room for you to unleash your creativity and turn abstract models into palpable items. The layer resolution is up to 0.05mm, which could ensure that the printer delivers items with nice layer adhesion, smooth surface finish and solid structure. Besides, the extruder is of remote style, ensuring that the printing head could move quickly, accurately and stably.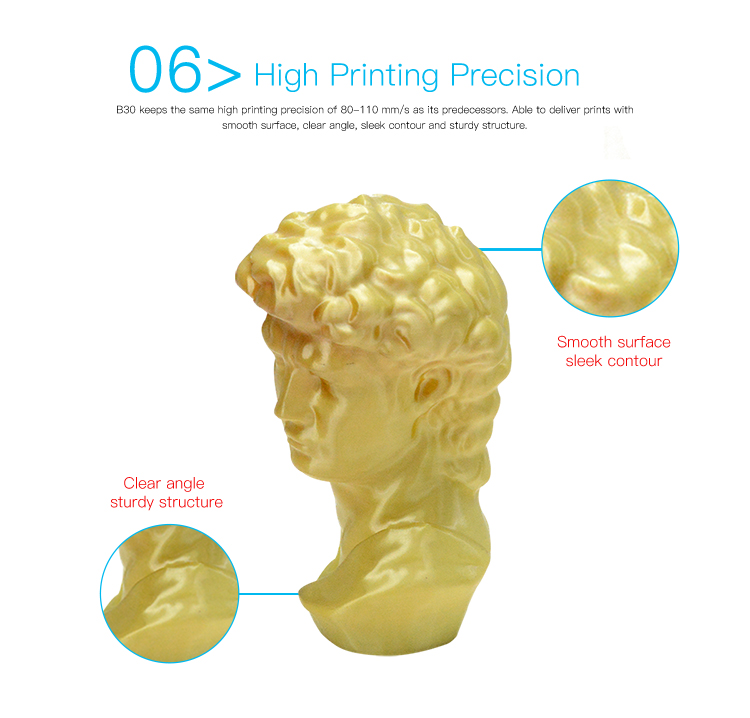 B30 adopts a 3D touch to auto level and calibrate the hotbed. This kind of leveling method seems easier and more effective than the auxiliary one. The 3.2″ full-color touch screen, intuitive and easy-to-manage, empowers you to take control of the printer at your fingertips. With a few clicks, it is straightforward to modify the relevant parameters, select a model from TF card and start to print.
Its break-resuming capability and filament detector make B30 more considerate enough to enhancing your printing experience. The former helps you to stop the machine and save the real-time printing status when the power fails, and allows you to assume the unfinished print next time. The latter would notify you of changing filament in time in case the printing material runs out.
In addition, B30 could be controlled by TF card, Wi-Fi enabled EasyPrint 3D App and our self-developed printing and control software EasyPrint 3D.
B20 could print with an assortment of filaments, including ABS, PLA, Nylon, wood polymers, etc. Hence add much more joys to your printing.
Feature
Specifications
Gallery
Video
Document
Software
FAQ