Looking for awesome 3D printing designs? Then check out these Top 10 Websites for the best STL files!
3D printing isn't as complicated as it sounds. In fact, its a lot of fun! And if you're still wondering how to go about it, don't worry, the internet is filled with sites that offer users, free 3D models, to print on their printers.
Here are 10 websites you can use to download free and paid STL models to 3D print!
1. Thingiverse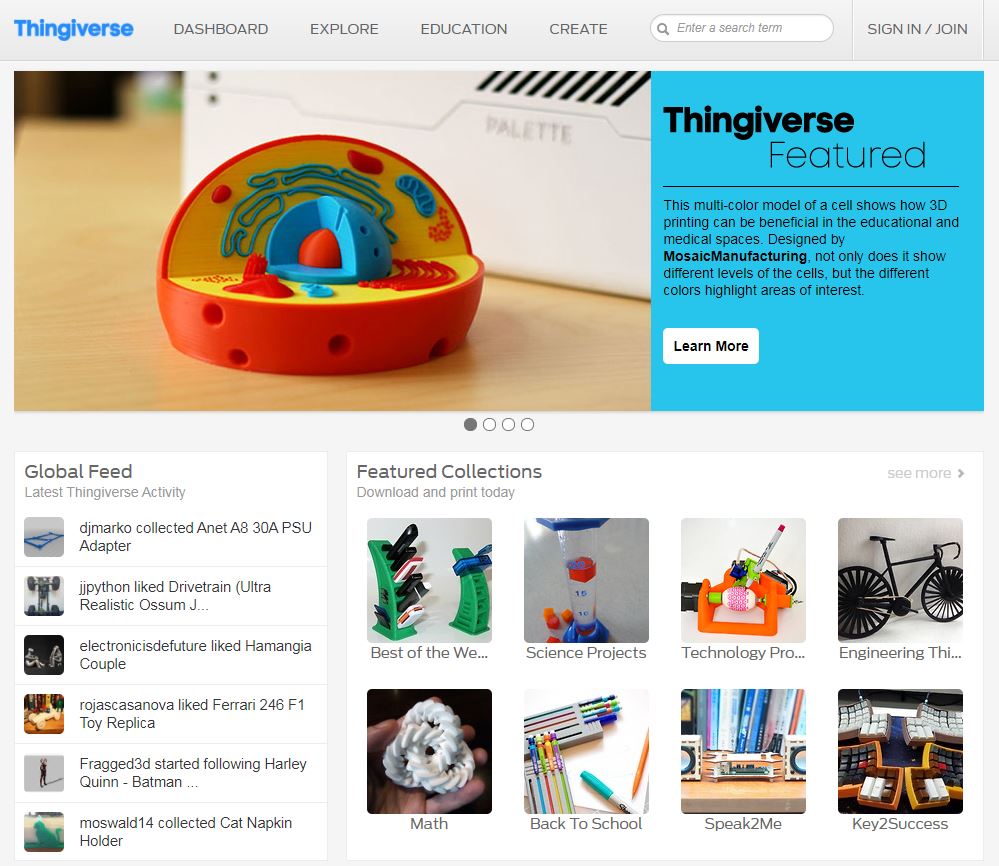 Hands down, Thingiverse is one of the best and biggest content repositories for 3D printer files on the internet. Operated by MakerBot Industries, this is the best place to start if you're looking for cool things to print. The site is well established and mature, with a huge community of dedicated makers offering free STL files to download in varying categories and complexity.
Find the best and most popular models of Thingiverse here
2. GrabCAD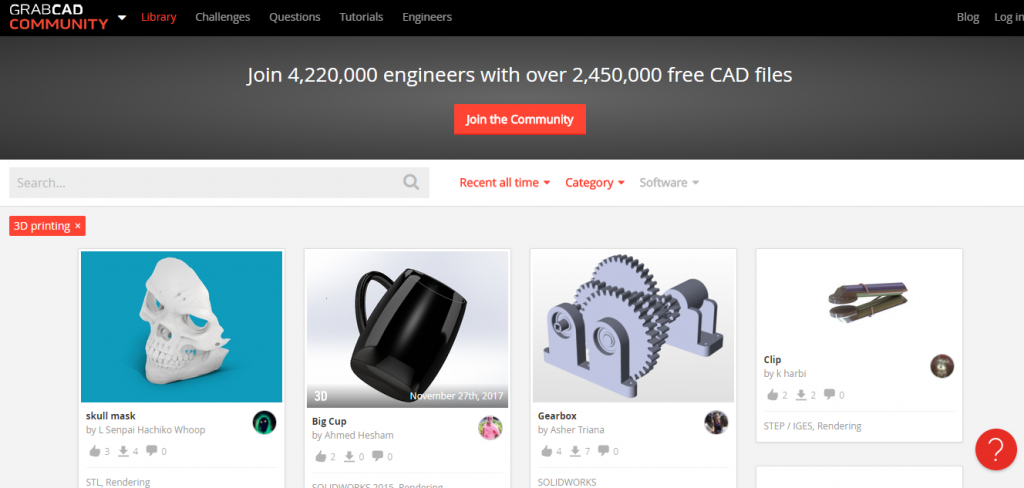 The mission statement of GrabCAD is to "help mechanical engineers build great products faster". The site offers tools that help users collaborate in the development of their 3D printer models. But for the typical 3D printing enthusiast (like yourself), the best part of the site is their large library of 3D printer files — available in STL files and other formats — created by a community of over a million engineers.
The "most downloaded" 3D prints on GrabCAD are listed here
3. Pinshape
Pinshape is a great-looking website that describes itself as a "3D marketplace full of high-quality designs". That means you can find plenty of free STL files to download, but it also functions as a platform to buy and sell premium 3D printer models.
Want to know what the world is printing? Check out the latest trending models on Pinshape here
4. MyMiniFactory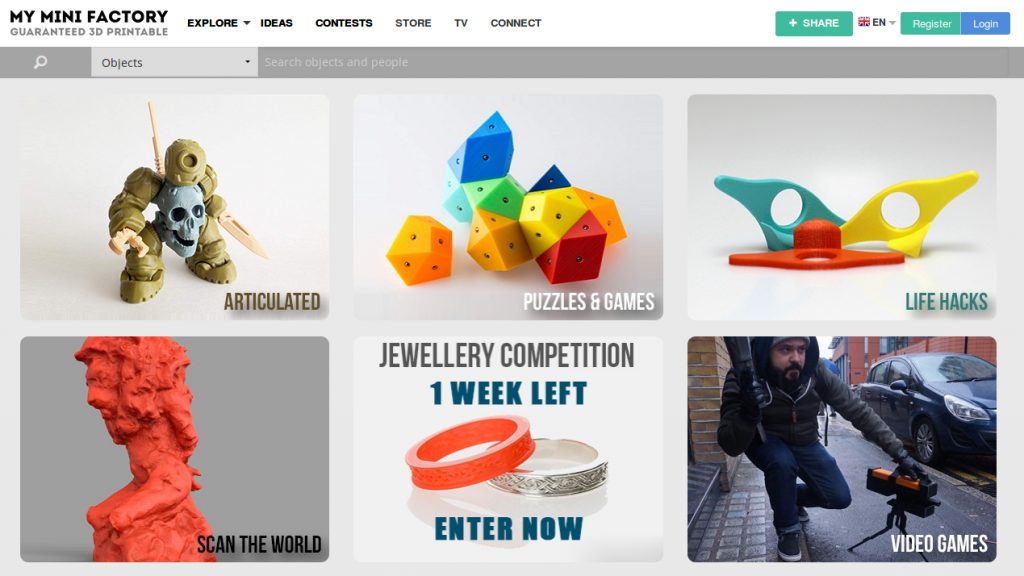 Another top repository for free 3D printer files is MyMiniFactory which is a community as well. It has close ties with iMakr, an online store that sells 3D printers and accessories. The site offers 3D printer models made by professional designers, with a guarantee that they've been quality tested. You can also log a request for a specific 3D printable design that their designers will create and then share. An added bonus is that the site is available in seven different languages.
MyMiniFactory has an incredible variety of categories to choose from. From gadgets and toys to fashion and jewelry, explore them here
5. Sketchfab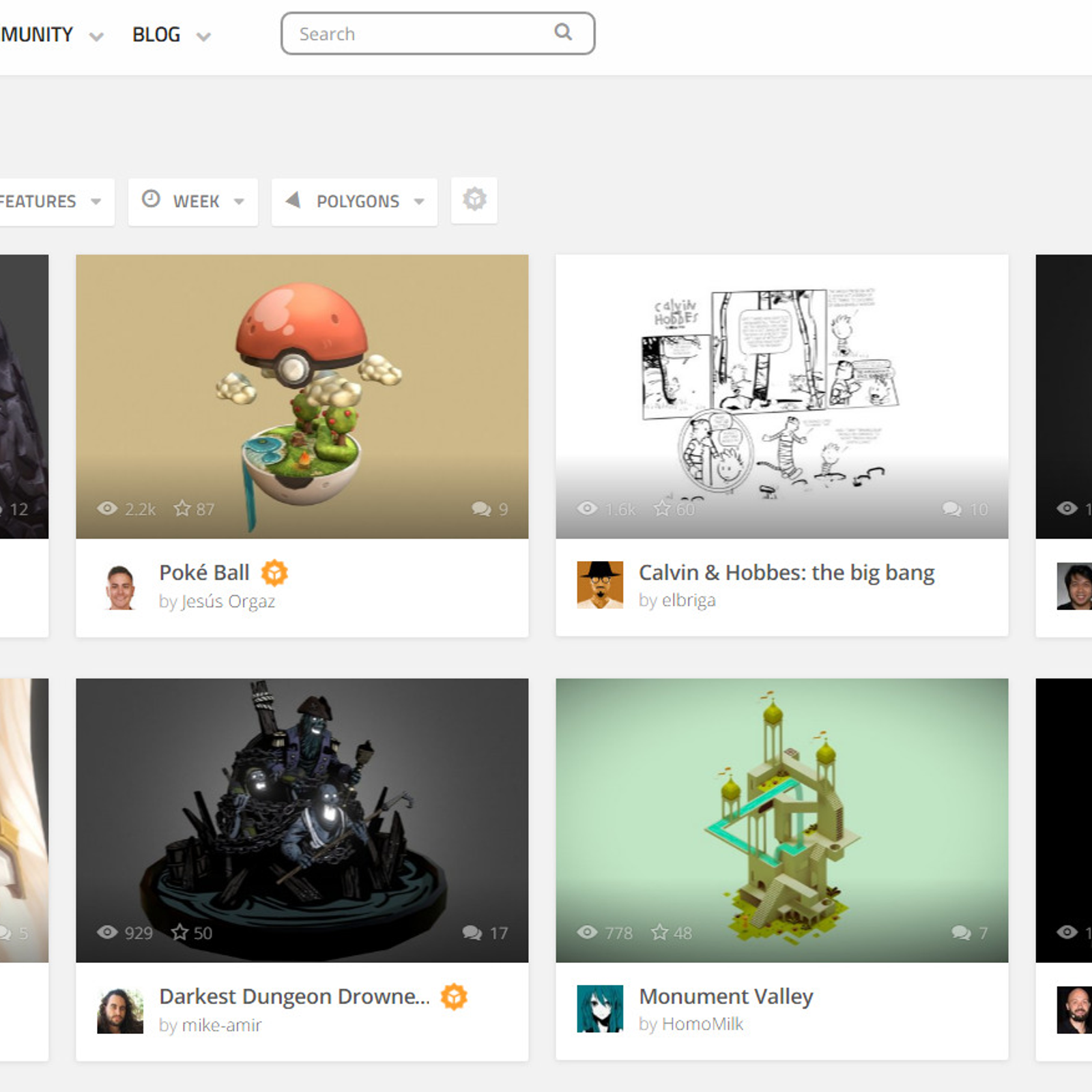 Looking for a great source of user-generated 3D designs? Head to  Sketchfab- it has amazing designs with an emphasis on character design and sculpture. Their downloadable 3D printer files are only a sub-category of a larger collection, and these are available as either STL files or OBJ files (the difference is that OBJ format contains color information for advanced printing).
If you're looking for something unusual then this is the place. Check out the staff picks here
6. Yeggi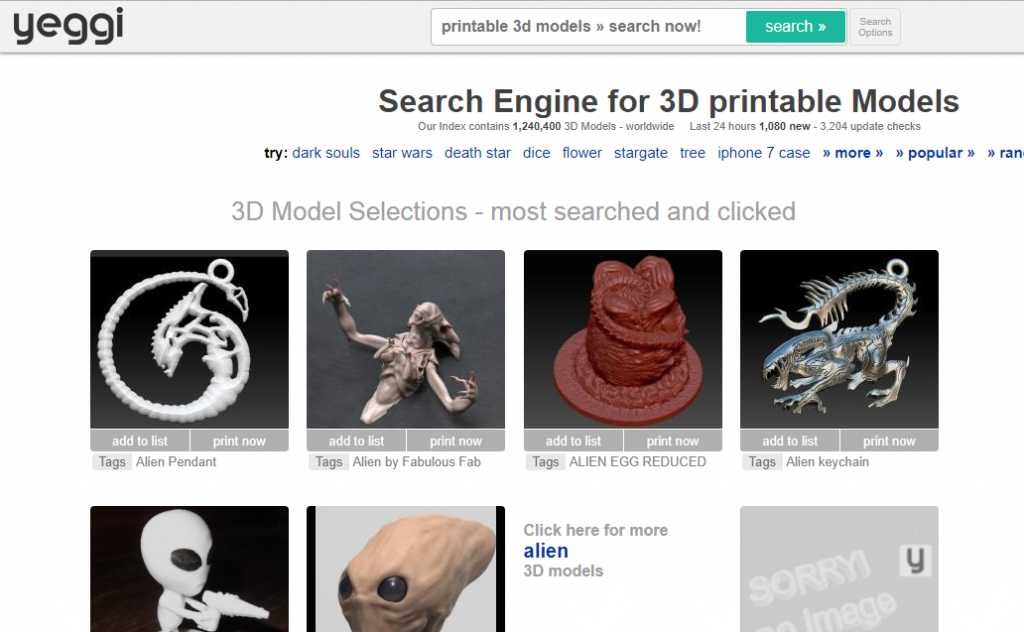 Yeggi is a dedicated search engine that will crawl through many 3D printing websites for 3D printer files. You can also look up some of the popular searches to get an idea of trends the community is currently interested in. The user interface isn't going to win prizes anytime soon, but it's an effective tool for finding free STL files for 3D printing fast.
You can find the most popular designs on Yeggi, here
7. CGTrader
CGTrader is a marketplace to buy and sell 3D designs. They're not just limited to CAD files and the site also offers a nice selection of free 3D printer files to download which can be fabricated on any 3D printer.
Browse through the currently trending 3D models that CGTrader marketplace has to offer here
8. Yobi3D
Yobi3D is a bleeding edge search engine that helps you find free STL files, and then offers comprehensive features like 3D visualization, sharing, and even one-click 3D printing. With this workflow, you can select any number of 3D printer files and have them fabricated without even touching a 3D printer.
Try out Yobi3D's handy little website for yourself here
9. STLFinder
The name is pretty self-explanatory, right? STLFinder is another simple search engine for 3D printer files that will crawl the internet, bringing up hundreds of results for free STL files. You can also create an account to bookmark your favorite 3D printer models for future reference and to create your own online collections.
Find anything and everything on STLFinder here
10. Cults3D
Cults3D, based in France, is not only a community but also a marketplace where makers can share or sell their 3D printer model designs. The standard of free STL files is very high, and users can follow their favorite designers or get instant updates when a new creation is posted. The website supports both English, French and Spanish languages.
Take a look at the most liked 3D models on Cults3d right here
Credits- all3dp.com